Smarty Jones, Merchandise Very Hot Commodities
by Tom LaMarra
Date Posted: 5/28/2004 1:08:53 PM
Last Updated: 5/28/2004 1:18:30 PM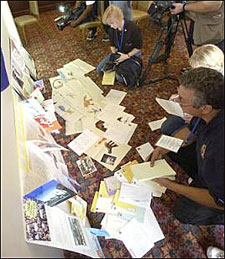 Reporters and photographers study some of the fan mail sent to Smarty Jones on display at Philadelphia Park Racetrack.
Photo: AP/Mike Mergen

It seems everyone wants a piece of Smarty Jones.Merchandise, now on sale at major chains in the Philadelphia area, is selling quickly. Media requests are pouring in, even one for an appearance by Smarty Jones on the "Tonight Show" the evening of June 7 should he win the Belmont Stakes (gr. I) and Visa Triple Crown Challenge two days before."It wasn't presented in jest," said Eric Wing, who handles media relations for the National Thoroughbred Racing Association and is assisting trainer John Servis in particular given the Smarty Jones hype. "It's under no consideration. Even if it were logistically possible, it wouldn't be rationally possible. But it was requested."Wing said Servis, who is based at Philadelphia Park, gets requests for interviews and appearances from 6 in the morning until 9 at night every day. Television and print reporters have called from as far away as Australia and Japan, while coverage has come from the smallest newspapers to the largest media outlets.The NTRA, which recently signed a merchandising agreement with Roy and Patricia Chapman, who own Smarty Jones, has found new markets for the merchandise. Keith Chamblin, senior vice president of marketing and industry relations for the NTRA, said the Kmart, Wal-Mart, and Modells Sporting Goods chains in the Philly area are selling the goods, and Dillard's stores in the area recently placed an order.Chamblin said the NTRA hadn't received new numbers since May 26, but in the first 72 hours, $200,000 worth of Smarty Jones merchandise had been sold."The demand is really far exceeding the demand for other potential Triple Crown horses we marketed in the past," Chamblin said. "It has even exceeded the demand for Seabiscuit merchandise."Chamblin said 40 racetracks have ordered merchandise. Wagering outlets are expecting healthy crowds and business June 5 because of the Triple Crown bid.Chamblin said he didn't know how much "Smarty" merchandise would be available at Belmont Park because the track also sells Triple Crown merchandise. Belmont will handle the particulars, he said.Should Smarty Jones win, the NTRA plans to advertise the merchandise on the post-race Triple Crown program on ESPN, Chamblin said. The NTRA also plans some sort of celebration in Philadelphia June 9, the Wednesday after the race, should the colt win.



Copyright © 2015 The Blood-Horse, Inc. All Rights Reserved.