Smarty Ready For Friday's Big Work
by Steve Haskin
Date Posted: 5/27/2004 4:01:26 PM
Last Updated: 5/28/2004 9:13:08 AM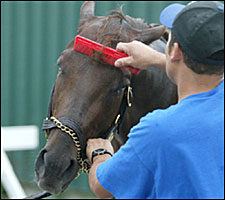 Smarty Jones gets his forelock combed by groom Mario Arriagas.
Photo: AP/Equi-Photo, Bill Denver

Smarty Jones, who stands on the threshold of Triple Crown immortality, will have his one and only all-important work for the mile and a half Belmont Stakes (gr. I) Friday morning at 5:30. Trainer John Servis said he's not looking for anything quick, and is anticipating the colt will go between 1:28 and 1:29."I think he's going to enjoy the mile and a half," Servis said on a national teleconference. "This horse doesn't seem to get tired. He's really learned to settle, and that has taken him to the next level. That's what's made him the horse he is."Smarty Jones gets so much out of his gallops, Servis doesn't need to work him much, and in fact did not work him at all between the Kentucky Derby (gr. I) and Preakness Stakes (gr. I).Right now, Servis is attempting to remained focused on the Belmont Stakes, despite all the media attention and the fan mail and phone calls from around the world. Like a national celebrity, he is recognized everywhere he goes."People come up to me when I'm out at dinner, and I hear from friends I haven't heard from in years," he said. "It's great to be a part of it. I'm very fortunate to be part of the Smarty Jones story."If he's fortunate enough to win the Belmont, it's probably going to hit me like a sledgehammer," he said. "It'll probably be like the floodgates coming down on me."Servis said Smarty Jones' jockey, Stewart Elliott, will be aboard for the work. There is a chance the horse will now ship to Belmont as early as Tuesday night, depending on the weather. NYRA officials would love nothing than to get the colt to New York as early as possible, and have readied the spacious Barn 5 for his arrival. The barn is close to the entrance to the track and to the tunnel leading to the paddock, so Smarty can come and go quickly.



Copyright © 2015 The Blood-Horse, Inc. All Rights Reserved.