Consolidation of Racing, Gaming Sought in New York
by Tom Precious
Date Posted: 5/27/2004 3:58:12 PM
Last Updated: 5/28/2004 6:21:07 PM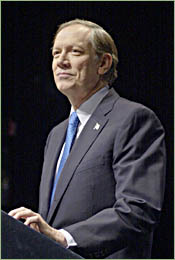 New York Gov. George Pataki, has proposed overhaul of racing laws.
Photo: File

New York Gov. George Pataki May 27 proposed a complete overhaul of racing laws in the state, a move that would block the New York Racing Association's bid to get its racetrack franchise extended this year, and provide incentives to get video lottery terminals in operation at Aqueduct.The proposal includes elimination of the New York State Racing and Wagering Board and various breed and development funds, as well as the Thoroughbred Capital Investment Fund. It would create a new state Gaming Commission with broad powers, including the ability to step in and take control of a faltering racetrack or VLT facility.The package appears to be a major setback for NYRA's bid to extend its franchise to run Aqueduct, Belmont, and Saratoga, which will expire at the end of 2007. NYRA, still trying to overcome its slew of legal and financial problems the past few years, had been seeking at least two additional years on its franchise in order to entice MGM Mirage, its VLT partner, to begin construction of a racino at Aqueduct.NYRA chairman Barry Schwartz insisted he isn't disappointed with the governor's proposal, even though it means the end to NYRA's bid to get a franchise extension this year."There are some things I'm glad to see," said Schwartz, who cited the dissolution of the CIF, which NYRA has battled with fiercely over the years. "We lobbied for that for a long time. It cost the state a lot of money, it cost us a lot of grief, and it served no purpose."Though it won't be getting the franchise extension this year, NYRA looks forward to quickly getting the VLT parlor up and running, Schwartz said. "At least we can start to build our casino, and then we still have almost three years left on the franchise," he said. " We will demonstrate to the governor and the state the kind of good corporate citizens that we are."Schwartz said NYRA would use the three years to convince the state NYRA deserves another franchise extension after 2007."The state is in dire need of the money," he said. "We're going to make a big contribution, and hopefully they'll decide what to do with the franchise based on merit. I just want to have the chance to operate the next few years."Schwartz said he talked to one of Pataki's chief advisors, John Cahill, who briefed him on the governor's plan. Schwartz said he also talked to MGM officials.He said there is no hint any other company besides MGM Mirage would handle the Aqueduct VLT program. "The state is very happy with MGM," he said. "They are the premier gaming company in America."If there is an instant winner from the governor's package it is Magna Entertainment Corp., which has been waging a fierce lobbying war to force a partnership with NYRA or, at the very least, block its franchise extension bid.MGM Mirage has been tapped by NYRA to run its VLT operation, though MEC has been quietly pitching to state officials that take over the much-delayed racino plan at Aqueduct. NYRA had insisted it needed extra years on its franchise in order to ensure a longer payback period for the $140 million that must be financed to build the VLT parlor.But the governor's bill would guarantee that whoever runs the VLT program at Aqueduct would, pending contract terms, continue to do so even if NYRA's franchise expires in 2007 and a new franchise-holder takes over in 2008.Senate Majority Leader Joseph Bruno, a longtime NYRA ally whose son is lobbying for MEC, praised the Pataki plan. "Over the past year, there has been a growing consensus that greater oversight will be needed as gaming and casino operations expand in New York state," Bruno said in a written statement. "The governor's proposals address those needs in terms of an effective plan to strengthen oversight, and we intend to support the governor and help get them enacted into law this session."Bennett Liebman, a former New York racing board member and now head of a racing and wagering law think tank at Albany Law School, has suggested consolidating the state's various gambling industry regulatory agencies for more than a decade. "The state should be speaking with one voice on gambling policy, and it doesn't make sense to have a wide variety of gubernatorial agencies taking different positions on gambling," he said.The governor has been desperate to raise more cash for the state government to help pay for education aid. He has said VLTs at eight racinos, as well as eight new gambling halls he wants to build, would bring in at least $2 billion a year, and Aqueduct is expected to be the state's major cash cow in the VLT program.At a time when a federal court-appointed monitor already is checking on NYRA's operations, the governor also proposed to create a new state entity to check on NYRA. The racing entity would monitor all NYRA's "financial practices and procedures during the remaining three-and-one-half years of its franchise" and come up with recommendations for Pataki and lawmakers "regarding the future of the franchise."The panel would include a five-member board, with three members named by Pataki and two by legislative leaders.In addition, the governor said he wants to eliminate the racing and wagering board and the TCIF. It would take their functions, as well as gaming and racing activities now also controlled by the Division of the Lottery and State Police, and consolidate them into a new gaming commission. Breed and development funds would be eliminated, with their duties taken over by the state Agriculture Department.The commission, which would be funded by industry revenue, including funds from Indian casinos, would allow the state to more "effectively and efficiently administer the regulation of racing and gaming," and eliminate overlapping work of the various agencies. A unit from the State Police would be permanently assigned to the new commission to handle enforcement issues.The commission, assigned to regulate everything from racetracks and Indian casinos to bingo parlors, would be run by a five-member board, all appointees of the governor."The sweeping reforms we are proposing will fundamentally restructure and strengthen the regulation of gaming and horse racing in New York state," Pataki said. "By centralizing all of the state's regulatory functions for gaming under one agency and providing for stronger oversight, we will eliminate redundant functions, remove obsolete entities, and instill a higher degree of accountability that will promote public confidence in the racing and gaming industry. The people of New York deserve no less."



Copyright © 2015 The Blood-Horse, Inc. All Rights Reserved.