Tapit Has Unknown Factor On His Side
by Steve Haskin
Date Posted: 5/27/2004 3:26:13 PM
Last Updated: 5/29/2004 2:23:54 PM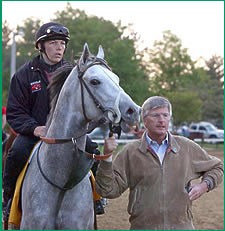 Tapit, with trainer Michael Dickinson.
Photo: Anne M. Eberhardt

The past performances certainly indicate that Smarty Jones should win the Belmont Stakes (gr. I) and become racing 12th Triple Crown winner. But then there is the X-factor, Tapit, who looks to be the unknown quantity that could turn the past performances upside down.Tapit, as everyone knows, is trained by Michael Dickinson, and there is no bigger X-factor in racing than the eccentric genius of Dickinson. After some of the illogical feats he's managed to pull off in recent years, mainly with Da Hoss and A Huevo, no one really knows what he's capable of.He's already pulled off a doozy this year with Tapit, winning the Wood Memorial (gr. I), despite the son of

Pulpit

being only partially fit after battling a severe lung infection and abscessed foot. In addition, the colt had only one prior start in 2004, due to a shin injury that caused him to miss almost three weeks of training.A big effort was expected in the Kentucky Derby (gr. I), but a torrential rain just before the race turned the track to slop, which all but eliminated his chances.David Fiske, racing manager for owner Ron Winchell, knew immediately that Tapit had little chance on that track."The catch phrase before the Derby had been 'Game on," Fiske said on national teleconference. "It had started when Tapit's exercise rider, John Ferriday, came back after a gallop at Churchill Downs and said, 'Game on.' I was standing in the box with Ron when the rains came, and I turned to him and said, 'Game off.'"They've had four sloppy tracks for the Derby and we've been in two of them," he said, referring to Tapit and Valiant Nature in 1994. "They should pay us not to show up. Tapit has a big, long stride and he just couldn't get hold of the track at all. We were 50-50 about running in the Preakness, but decided to wait for the Belmont. So far, we've been half right, because no one was going to beat Smarty Jones that day."Fiske also is hoping that Tapit's pedigree will help move him up at a mile and a half. "His big, fluid stride should move him up at Belmont with those sweeping turns," he said. "Michael said he worked fine the other day. He's put back the weight he lost in Kentucky, he's not showing any wear or tear, so we have no complaints."Dickinson worked Tapit a slow five furlongs in 1:07 2/5 on May 22, then came back four days later and worked him on the turf with a pair of workmates, and the colt went six furlongs in 1:15 2/5.As far as beating Smarty Jones, Fiske put it simply: "We have to run faster than he does. The race goes to the fastest, and hopefully, we can lay closer in the smaller field and be running at the end. When we enter in a race we always expect to win. We usually don't go running for second or third."Like everyone else, Fiske said if it can't be him he'd love to see Smarty Jones win. "If we can't win I'd love to see the Chapmans pull it off," he said.The one thing you can count on is that Tapit will come well prepared, with Dickinson's usual bag of tricks. And with Dickinson, you just never know when he's going to pull that proverbial rabbit out of his hat.As is his custom, he will ship Tapit to New York from his Tapeta Farm in Maryland as late as possible. "He'll get in as late as he can," Fiske said. "Seven o'clock Friday night is the latest he can arrive, so I imagine he'll be there sometime late Friday afternoon."



Copyright © 2015 The Blood-Horse, Inc. All Rights Reserved.