Smart Start
by Evan Hammonds
Date Posted: 5/27/2004 10:24:42 AM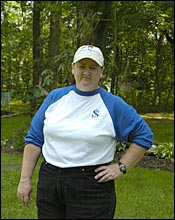 Debbie Given, managed Someday Farm.
Photo: Lydia Williams

Published in the May 29 issue of The Blood-Horse
Standing to the side of the press conference proceedings following Smarty Jones' historic victory in the Preakness Stakes (gr. I) was a diminutive lady named Debbie Given. During the colt's formative days, however, Given was no bystander, she was the farm manager of Roy and Patricia Chapman's Someday Farm in Pennsylvania. She was there to help I'll Get Along foal her Elusive Quality colt at 9 p.m. on Feb. 28, 2001. "I just love the Chapmans," she said, a smile of satisfaction on her face. "This was their dream. Roy always wanted a homebred to run in the Derby. He got that...and then some." Given managed the farm for nine years starting in 1991 and foaled and raised all of the Chapman's horses, including Smarty Jones. She recalled Smarty Jones' foaling as "uneventful; a quick delivery. He was coming out fast." As a foal, Smarty Jones "was ornery," she said. "His mother was ornery, too. You had to clear the shedrow when you were walking her." Given remembers Smarty Jones as "just another colt. He wasn't very big. They had another chestnut colt that year that was bigger than him, but Smarty used to run circles around him. You had to go into the field to feed him, and you had to watch out, because he'd come a running." Given, 49, was born in Elkton, Md., and has had a lifelong love of horses. At 16, she helped her father mow lawns to raise money, $125, to buy her first horse. She worked at several area farms before getting a call from Roy Chapman. "He called a year before I took the job, but I didn't want to take it," she said. "I thought it was a lot to take on at the time. He kept pestering me and finally I said, 'I'll give you three months.' He said, 'No, I'll give you three months.' " Given, who lives in Fair Hill, Md., still works with horses. She's now employed by the University of Pennsylvania's New Bolton Center in Chester County, Pa., where she works in the sterilization unit and assists in the operating room when needed. "Debbie's been here two years and she's just wonderful," said Anne Hope, the operating room supervisor at New Bolton and Given's immediate supervisor. "She's hard-working and dedicated. She's a very detailed-type person, which is something she probably picked up by working at the farm," Hope said. "She picks up on the little changes, which is so important when you're working with horses every day." Given is enjoying celebrity status at the New Bolton Center these days. She's received plenty of calls, like one from Sports Illustrated. The walls of the Center are filled with "Go Smarty Jones" signs and recent clippings from newspapers. "We're thrilled," Hope said. "It's very exciting. I don't think she's taken off her Smarty Jones cap in the last week." Given joked that in the coming weeks, she'll need a bigger cap for her swelling ego. However, she'd still rather be at Someday Farm, working for the Chapmans. "I would still be there if they hadn't sold the farm," she said.



Copyright © 2015 The Blood-Horse, Inc. All Rights Reserved.