Blessings Continue: Local Priest Visits 'Smarty'
by Linda Dougherty
Date Posted: 5/27/2004 8:27:54 AM
Last Updated: 5/27/2004 6:44:45 PM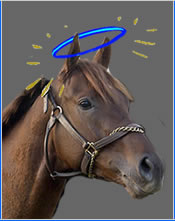 Smarty Jones blessed by local clergy.


If Smarty Jones wins the June 5 Belmont Stakes (gr. I) and the Visa Triple Crown Challenge, it may be because he has had a little extra help from the "Man upstairs."The morning of May 25, Someday Farm's undefeated colt was blessed by Father Thomas Homa of Our Lady of Fatima, a Catholic church that sits on property directly in front of Philadelphia Park on Street Road in Bensalem, Pa. The grandstand of the track is visible from the church's parking lot, and when the wind is right, racecalls often can be heard by the children in Our Lady of Fatima's school.Homa, accompanied by Philly Park chaplain Jack Cordell, arrived at trainer John Servis' barn at about 6:20 a.m. EDT after Smarty Jones had returned from exercise and finished his bath. He then blessed the colt."I asked the Lord to give Smarty Jones good health, I asked Him to protect him during the Belmont Stakes, and I asked Him to give him the special gift of the Triple Crown," said Homa, 74, who has been the pastor at Our Lady of Fatima for 19 years. "I was going to sprinkle holy water on him, but I forgot it. It was just as well, because I didn't want to startle or scare him. I hope he wins, because I don't want anyone saying I brought him bad luck."Several years ago, a trainer and his wife who were parishioners at Our Lady of Fatima asked Homa if they could name a racehorse after him. He agreed, and the horse was christened "Father Homa." The horse ran several times at Philly Park."Unfortunately, the horse bled twice and then was sent to New Bolton Center for some treatment and retired without winning," Homa said. "But it was funny to open up the Philadelphia Inquirer to Philadelphia Park entries and see 'Father Homa' entered in the fifth race."Smarty Jones was also blessed before the May 15 Preakness Stakes (gr. I) by Cordell, who is a Baptist minister. Cordell said a prayer while standing in front of the colt's stall with Servis and jockey Stewart Elliott present."The nature of what I did was bless the horse, and prayed for Stewart and John to be safe," Cordell said. "I asked the Lord to guide John in his decisions and to be strong, as well as Stewart."Cordell said he plans to again bless Smarty Jones the morning of June 1, shortly before he leaves Philly Park for New York.



Copyright © 2015 The Blood-Horse, Inc. All Rights Reserved.