KEEP Meeting Draws Strong Horse Industry Response
by Tom LaMarra
Date Posted: 5/27/2004 8:18:51 AM
Last Updated: 5/28/2004 6:20:20 PM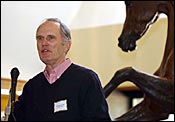 KEEP chairman Brereton C. Jones.
Photo: Anne M. Eberhardt

In a strong display of solidarity, more than 600 members of the horse industry packed the visitors' center at the Kentucky Horse Park near Lexington May 26 for the first town hall meeting held by the Kentucky Equine Education Project. Several participants said they were blown away by the turnout.KEEP, officially launched in early May, set forth its goals and objectives for 2004. One of them is to raise $1.5 million to support its mission of educating the public and the legislature of the importance of the horse industry to the Kentucky economy.The horse industry--racing and breeding in particular--received a cold shoulder if not rejection during the 2004 legislative session. For the past three years, a racetrack-led coalition has pushed for alternative gaming with no success. KEEP has shied away from even discussing the issue or any proposed legislation.KEEP vice chairman Bill Casner of WinStar Farm said the objective is to "make sure Kentucky remains the horse capital of the United States, and the horse capital of the world." He said there would be a "campaign for recognition in Frankfort," but he didn't discuss specifics.KEEP chairman Brereton Jones of Airdrie Stud said no decisions have been made on legislative initiatives, and in fact it could be almost two years before KEEP is ready to flex its muscles with the legislature. The 2005 session is a short 30 days."I don't think we'll be ready to influence the General Assembly in 2005," Jones said. "We won't be ready to be a major influence until 2006. This is a common-sense plan, but it's not doable overnight. This is a sweat-equity operation."KEEP unveiled is charter membership structure with various categories and contributions that range from $100,000 to $5. Jones said the plan was to keep the minimum at $100, but he got an e-mail message from a good friend, Ed Ashcraft, who told him not to forget the little guys.The $10 membership is dubbed "cavalry." Ashcraft, who operates Ashcraft Farm in Owenton, happened to be on hand for the town hall meeting."You're going to have to call them out (to make trips to Frankfort)," Ashcraft said of the many smaller horse farmers and horse industry supporters that may not be able to afford large contributions. "You need the numbers. Otherwise, you'll have an elitist organization."Ashcraft raises Thoroughbreds, Paints, and Quarter Horses. Though many attendees at the meeting are in the Thoroughbred business, many other breeds were represented. Jones offered statistics that show Kentucky has one horse per every 20.5 people, the highest per capita of major racing states.Among the Standardbred breeders on hand was Dr. Luel Overstreet, who has a farm in western Kentucky. In the 1970s and 1980s, Overstreet would breed about 70 mares in Kentucky, and most to his own stallions. Now, he has about 30 mares, all of which are bred in Indiana.Catherine Parke, who owns Valkyre Stud near Georgetown, said she hooked up with a client who wanted to purchase three 2-year-olds in training this year. She picked out horses--all Kentucky-breds--and was astounded at his response."I showed him my list and he said, 'I don't want a Kentucky-bred. I want a New York-bred, a Maryland-bred, or a Pennsylvania-bred.' He ended up buying two New York-breds and a Pennsylvania-bred. It devastated me."KEEP officials said the number of mares bred in Kentucky dropped by 1,052 in 2001-2002. New York, meanwhile, has registered seven years of growth.The plan is to hire an executive director and support staff by July 1, and have a board of directors in place by the same date. (Jones said representatives of every breed of horse in the state would "have a voice on the board.") KEEP will develop an advisory council, recruit chairpersons for each of the state's 120 counties, and develop new economic data.John Long, chief executive officer of the United States Equestrian Federation, remembered when he used to work as a top-level official for Churchill Downs Inc. and Ladbrokes. The companies were pursuing alternative gaming and frequently had to deal with various legislatures."There has not been another state in the country that has put together this organization this quickly," Long said. "It's not too little, too late."



Copyright © 2015 The Blood-Horse, Inc. All Rights Reserved.