Servis: Foot Bruise Didn't Hinder 'Smarty'
by Linda Dougherty
Date Posted: 5/26/2004 1:18:28 PM
Last Updated: 5/27/2004 10:31:11 AM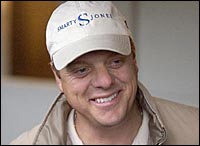 Trainer John Servis, said foot bruise did not affect Smarty Jones in the Kentucky Derby.
Photo: Associated Press

Trainer John Servis revealed at a press conference at Philadelphia Park Wednesday that Someday Farm's undefeated Smarty Jones suffered a foot bruise before the May 1 Kentucky Derby (gr. I), but it quickly cleared up and the colt was able to maintain a normal training schedule."I noticed that he was a little tender on his right front foot," Servis said, "and the blacksmith was able to cut out the bruise in time. It explained a lot of things, like why he wasn't doing so well at Keeneland. He's doing good now."After the April 10 Arkansas Derby (gr. II), Smarty Jones shipped to Keeneland, then to Churchill Downs for the Derby. The son of Elusive Quality is scheduled for a seven-furlong workout Friday at Philly Park with Stewart Elliott scheduled to ride.Servis said the work would take place regardless of weather conditions."The weather won't affect the work," he said. "The only way I wouldn't work him is if the track is bad."Servis said his shipping plans to Belmont Park were uncertain, though he said he could ship up as early as the evening of June 1. The Belmont Stakes (gr. I) is on June 5.On May 26, Smarty Jones galloped 1 5/8 miles under Pete Van Trump, and Servis said he was "full of himself. I'm going to go easy on him tomorrow."



Copyright © 2015 The Blood-Horse, Inc. All Rights Reserved.