Phlashback: A Phew Philly Phenoms
by Tom LaMarra
Date Posted: 5/20/2004 8:56:01 AM
Last Updated: 5/20/2004 2:43:00 PM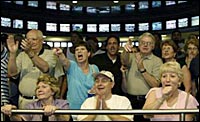 Patrons at Philadelphia Park watch as Smarty Jones wins the Preakness. The colt is one of many top horses that have called Philly Park home.
Photo: Associated Press

It has been said undefeated Smarty Jones has put Philadelphia Park on the map, but the racetrack adjacent to the Pennsylvania Turnpike in Bensalem Township actually has been home to some outstanding racehorses, including a few that were downright freakish.Philly Park opened as Keystone Race Track in November 1974 after the two racing associations that offered Thoroughbred meets at nearby Liberty Bell Park built their own facility. The Delaware Valley circuit was strong at that time, and Keystone wasn't left out of the mix.Robert Horton's Gallant Bob, the champion sprinter of 1975, was based at Keystone for trainer J.D. Marquette. A Kentucky-bred by Gallant Romeo out of the New Policy mare Wisp O'Will, won 23 races in 77 starts and earned $489,992 over a six-year career.Gallant Bob had his finest season as a 3-year-old, when he won 14 of 18 starts and bagged the sprint championship. Amazingly, all 14 wins were in stakes, the first one on Jan. 1, and the last on Dec. 27.Six of the victories came at Keystone: the Sentinel Stakes, the Patriot Stakes (gr. III), the Philmont Handicap, the Penn Treaty Stakes, the Flintlock Stakes, and the Squires Handicap. In his career, Gallant Bob won 17 stakes at eight different tracks, and equaled the six-furlong track record at Keeneland when he won the Phoenix Handicap.Keystone also claimed the 1976 sprint champion in My Juliet, like Gallant Bob a foal of 1972. Bred in Kentucky and owned by George Weasel Jr., My Juliet won 24 of 36 career starts for earnings of $548,859 in four seasons of racing from 1974-1977.My Juliet, by Gallant Romeo out of the Bupers mare My Bupers, won 17 stakes, three of them at Keystone. In 1975, the year Gallant Bob won the sprint title, My Juliet won nine of 15 starts, including the Cotillion Stakes (gr. I) at Keystone, where she never lost a race.My Juliet, trained by Eugene Euster, made her first career start at Fonner Park in Nebraska, and spent much of her time competing in the Midwest and at other tracks in the East. Her victory over males in the Vosburgh Handicap (gr. II) at Aqueduct in late October of 1976 sealed her championship season as top sprinter in the nation, and in 1977, she defeated males twice--in the Neshaminy Handicap at Keystone and in the Michigan Mile and One-Eighth Handicap (gr. II) at Detroit Race Course.Perhaps the biggest Philly freak was a filly named Dainty Dotsie, who won her career debut in December of 1976 at Keystone by 17 lengths, and proceeded to win 20 of 24 career starts for earnings of $315,189. A Kentucky-bred by Olden Times out of the Mito mare Mitomite, Dainty Dotsie won 10 stakes in her career.Owned by James Cowden Sr. and trained by James Cowden Jr., Dainty Dotsie was pure speed and pure sprinter. After her big maiden score, she won a Keystone allowance race by nine lengths a few weeks later. She then won her first four starts as a 3-year-old in 1977 before she tasted defeat in the Ashland Stakes (gr. III) at Keeneland.It would be her only loss of 1977. After the Ashland, Dainty Dotsie rattled off victories in an allowance test at Penn National Race Course, where she equaled the track record for six furlongs; the Trevose Stakes at Keystone; the Egret Handicap at Meadowlands; an allowance event at Meadowlands; the Doylestown Handicap at Keystone; and the Mademoiselle Stakes at Keystone. In all, she won 10 of 11 starts that year.In 1978, Dainty Dotsie won eight of 11 starts. Though known as a dirt sprinter, the filly won her two starts on the grass at one mile in allowance races at Atlantic City Race Course and Penn National. Her biggest win came in that year in the Vagrancy Handicap (gr. III) at Aqueduct, in which she defeated What a Summer and Navajo Princess.In 11 career starts at Keystone, Dainty Dotsie lost only once--she finished second to Gladiolus in the 1978 Liberation Handicap.In late November of 1988, a colt named Mr. Nickerson caught everyone's eye at Philly Park with a sharp 10-length victory in his career debut. Trained locally by Mark Reid for owner Robert Nixon, Mr. Nickerson showed so much promise he made his next three starts at Aqueduct in the Swift Stakes (gr. III), Bay Shore Stakes (gr. II), and Best Turn Stakes (gr. III), and finished second in all three races.Mr. Nickerson (Slewpy--Municipal Bond, by Nashua) went on to win 10 of 25 starts, including two grade II stakes and two grade III stakes. He competed in the Breeders' Cup Sprint (gr. I) in 1989 and 1990, but collapsed and died in the latter event. He raced at Philly Park three times, and would have been perfect there if not for a nose loss to Glitterman in the 1990 Philadelphia Park Budweiser Breeders' Cup Handicap (gr. III).



Copyright © 2015 The Blood-Horse, Inc. All Rights Reserved.