Valenzuela to Sit Out Month of June; Can Ride Through Rest of May
by Margaret Ransom
Date Posted: 5/19/2004 7:18:01 AM
Last Updated: 5/22/2004 1:08:42 PM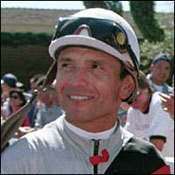 Jockey Pat Valenzuela.
Photo: Benoit

The California Horse Racing Board Tuesday suspended jockey Patrick Valenzuela for four months, with three months' credit for time served, and ordered the rider to serve out his remaining 30 days during the month of June. The decision came after the board listened to the rider's appeal during a 90- minute hearing before the board and a room full of about 50 people, which included several trainers and jockeys' agents, at Hollywood Park.Valenzuela must also complete 100 hours of community service, as well as submit to hair-follicle drug testing in addition to his regular series of random urinalysis tests and will not be allowed to ride in designated races during the final 30 days of his suspension. However, the rider will be allowed to continue riding through the end of May and will also have access to the restricted areas of the racetrack while suspended, which allows him to continue to exercise horses in the mornings.Valenzuela's conditional license had been voided by Santa Anita stewards on April 2 after they concluded he had violated the terms of his one-year conditional license, issued Dec. 31, 2003, when he failed to show up for a mandatory drug test after taking off his mounts on Jan. 22 citing a sprained ankle. They also recommended the rider not be eligible for a license fitness
hearing until Jan 1, 2005.He appealed the ruling and was granted a stay by CHRB chairman John Harris on April 16, allowing him to resume riding on April 25 at Hollywood Park. Since then, the 41-year-old rider has vaulted to the top of the jockey standings with 24 victories from 103 starts, five more wins than Corey Nakatani.During the hearing, which was presided over by administrative law judge David Rosenman, Valenzuela's attorney, Terry Giles, presented the jockey's case to the seven-member board and called three witnesses --Valenzuela, horse owner and longtime friend Ron Waranch and psychotherapist Dr. Larry Lewis. The rider was the first to testify and swore under oath as to his mental state during December and January and the dissolution of his marriage, which led him to seek psychiatric counseling as well as medications to treat what he termed as "severe depression."In December, Valenzuela testified, a psychiatrist prescribed the sleeping aid Ambien, as well as the drug Topomax, which is typically used to treat epilepsy and depression. Valenzuela testified that the doctor continued to increase his dosage of Topomax as he continued to slip into depression and that by the time he injured his ankle, he was in a "dark place" and unable to function normally.Valenzuela said he went to see Dr. Lewis on Feb. 4, nearly two weeks after being suspended, at which time, the rider testified, the doctor suggested he was having a negative reaction to the Topamax and recommended the rider cease taking it. Several days later, Valenzuela said, he began to emerge from his depression and, "began to focus on what was important in life and what I needed to do to get better."The jockey said he continues to see Dr. Lewis twice a week, as well as attend 12-step meetings on his own three times a week and church as often as he can.During his testimony before the board, Waranch verified Valenzuela's mental state following his suspension and that he advised the rider to seek medical help for his condition. He said he also perceived the rider to be in a deep depression over his failed marriage, as well as the fact that most of Valenzuela's money appeared to be missing from his bank accounts. Waranch testified that Valenzuela's estranged wife took over the jockey's financial dealings in April, 2003.Lewis was the final witness to be called by Giles and he testified as to his concerns over the use of Topomax to treat the kind of depression Valenzuela was likely suffering from. Lewis indicated that the sedating effects the drugs have don't work well on recovering addicts such as Valenzuela. He also said that Valenzuela "woke up" after he stopped taking the Topamax and that the rider has appeared to be clean and sober during every appointment since.Deputy Attorney General Mark Beckington presented the CHRB's case and though he didn't call any witnesses, suggested that reinstating the jockey wasn't in the best interests of the entire sport of horseracing from a safety standpoint, as well as from an integrity standpoint. He said the CHRB's position was that there was no question the rider violated the terms of his conditional license and it was in everyone's best interests to uphold the stewards ruling.After deliberating for nearly two hours, the board issued their unanimous ruling, which won't become official until Rosenman issues his official order.During June, Valenzuela will not be allowed to ride at any American track, ending his hope of possibly riding Preakness runner-up Rock Hard Ten in the Belmont Stakes on June 5. The Associated Press reported that Corey Black, Valenzuela's agent, said his client had been asked to ride Rock Hard Ten in the Belmont because Gary Stevens, who rode the colt in the Preakness, has conflicting competitive commitments in Europe that day. Valenzuela rode Sunday Silence to victory in the Kentucky Derby and Preakness in 1989, but was beaten by Easy Goer in the Belmont.



Copyright © 2015 The Blood-Horse, Inc. All Rights Reserved.