Cinderella Story
by Steve Haskin
Date Posted: 5/18/2004 1:09:53 PM
Last Updated: 6/17/2004 11:41:53 AM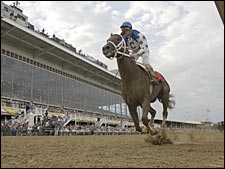 Will Smarty Jones duplicate his Preakness win in the Belmont and take home the coveted Triple Crown trophy?
Photo: Skip Dickstein

This story appeared in the May 22, 2004 issue of The Blood-Horse magazineGet the golden coach ready; we're heading to the ball again. After so many failed attempts, maybe this time Smarty Jones can fit into that elusive glass slipper, and Thoroughbred racing and the Visa Triple Crown finally can live happily ever after. If it's going to happen, this is the year. You can feel it. No one writes a fairy tale with such a flawless script only to have reality creep in and spoil the ending. After watching the son of Elusive Quality put on a display for the ages in the 129th Preakness Stakes (gr. I), is there anyone now who has doubts that divine forces are guiding this remarkable colt and his supporting cast of colorful characters? Following his 11 1/2-length annihilation of nine talented opponents May 15, the largest margin in Preakness history, people all through Pimlico wept openly, touched by the magic of Smarty Jones. Not even the sweltering heat and high humidity could prevent goose bumps from popping up on even the most hardened of skeptics. It was a time for hugs and high-fives, as chants of "Smarty! Smarty! Smarty" resounded throughout Old Hilltop. Smarty Jones' groom, Mario Arriaga, threw his arms around barn foreman Bill Foster and said, "My heart go boom, boom, boom." That could have easily been the sound of the Pimlico grandstand rocking like it hadn't rocked since a plain bay colt named Seabiscuit showed up one November afternoon in 1938. "Awesome," said Foster, as he looked off in the distance for his horse. "He's a runnin' machine." Donna Chapman, daughter of Smarty Jones' owners, Roy and Pat Chapman, was sobbing uncontrollably. "Oh, my God, I can't believe it," she said, cupping her hands over her mouth. "He blew everybody away." Also having difficulty holding back the tears was trainer John Servis' wife, Sherry. "I'm so shaken," she said, her voice quavering noticeably. "It's just a gift from God." Two days earlier, Sherry had trouble speaking for another reason. She had come down with a case of laryngitis that she admitted could have been stress-related. "But it's a good stress," she said as she followed Smarty Jones to the track for his first gallop over the Pimlico strip. She was still trying to make sense of the Smarty Jones hysteria that had swept the country following the Kentucky Derby (gr. I), and disrupted her and John's once-quiet life in the Philadelphia suburb of Bensalem. "I feel like I'm in a dream and I'm watching everything moving around me," she said. "It gives me chills every time I think that it's really happening. You think of all the years of hard work, and you ask, 'OK, when is it all going to stop?' And whenever you think it's going to stop it gets harder again. And then, out of nowhere, something like this happens. It's scary how everything has fallen into place and worked out just as John had planned. It's like you're reading it in a book." The previous chapter of the Smarty Jones saga ended with his victory in the Derby. Then came the Seven Days in May that turned what was an already incredible tale into an epic. That's when the city of Philadelphia opened its heart to Smarty, and an instant love affair was born. The people of Philadelphia embrace their heroes like small-town folk. They turned the fictitious character of Rocky into a living, breathing legend. Now, in Smarty Jones they have the real Rocky, a four-legged brawler with a heart as big as the Liberty Bell. After the Derby, the colt arrived at his home base of Philadelphia Park with police sirens blaring and the whirring sounds of TV helicopters that had followed his van all the way from Baltimore-Washington International Airport. The media flocked to Philly Park. And then the fans came, 5,000 strong, young and old, to watch Smarty gallop on the Saturday after the Derby. They came with cameras of all kinds and Smarty Jones hats and T-shirts. Young children sat atop the shoulders of their fathers straining to get a quick glimpse of this equine legend in the making. Servis' fellow Philly Park trainers took time out from their daily chores and gathered along the outside rail on the backside to see the horse they all have dreamed about having. One of those trainers was Marty Ciresa, who was so excited his only regret was that he didn't bring his camera. And this was a trainer who was preparing his colt, Little Matth Man, to take on Smarty Jones in the Preakness. "This is just great," Ciresa said as he watched the fans begin to gather across the track just after 8 o'clock. "You sit around here year after year, and everyone hopes and dreams, and you don't think it could really happen. And then the guy a few barns down wins the Kentucky Derby. It's a strange feeling. I want to win the Preakness, but I don't want to beat him." On the front side, as fans filled the apron and lined up along the rail nine- and 10-deep, Philly Park CEO Hal Handel took pride in his track and the state of Pennsylvania. It was that pride that made Handel toss back a dart thrown at the state by Churchill Downs CEO Tom Meeker. "After Meeker made a crack about Pennsylvania, I sent him a basket of Pennsylvania produce and other stuff, from scrapple to soft pretzels, and told him to get used to it," Handel said. Smarty Jones came out to a hero's welcome, then put on a show galloping twice past the stands before returning to the barn. Although the show was short, everyone was thrilled to have gotten a quick look at this Philly phenom. Afterward, presentations were made in the winner's circle by local and state dignitaries, and the following day, Pennsylvania Gov. Ed Rendell read a proclamation honoring Smarty Jones. The festivities concluded on Monday when Oaklawn Park president Charles Cella presented the Chapmans with a $5-million bonus check for winning the Rebel, Arkansas Derby (gr. II), and Kentucky Derby. The day before he was scheduled to leave for Baltimore, Smarty Jones galloped so strongly that Servis, on the 23-year-old pony Butterscotch, had a hard time reining him in. "Whoa, big boy, whoa," he shouted to Smarty. As he returned, Servis said, "Man, I do this every day and I'll be down to riding weight. I'm trying my best to slow him down, but the last three-eighths he was hurtin' me." The next morning, Smarty Jones boarded a van to Baltimore to continue his remarkable Triple Crown odyssey that had begun on a cold winter's day in January at Aqueduct. Servis felt the Preakness would be the toughest race of Smarty's career. Kentucky Derby runner-up Lion Heart was back, and with three 2004 starts under him now, he figured to be tougher this time. The connections of third-place finisher Imperialism, who had a disastrous trip in the Derby, decided to try Smarty Jones again. Also returning from the Derby field were The Cliff's Edge, who lost two front shoes in the race; Borrego, who had chased Smarty home in the Arkansas Derby; and Song of the Sword. Two new dangers were the fresh horses, Rock Hard Ten and Eddington, who both failed to get in the Derby field due to a lack of graded earnings. The field was completed with Maryland's hero, Water Cannon, winner of five straight, Derby Trial (gr. III) winner Sir Shackleton, and Little Matth Man. Lion Heart's trainer, Patrick Biancone, offered only a sly grin and a French twinkle in his eye to anyone who asked him about strategy. It was like Napoleon divulging his plans for the battle of Austerlitz. But when Biancone selected post one, the secret was pretty much out. Biancone commended Smarty Jones' jockey, Stewart Elliott, for his ride in the Derby. He had been hoping Elliott would tackle Lion Heart at the half-mile pole, because his colt was much stronger going into turns than coming out of them, and Biancone was confident Lion Heart could have repulsed the challenge. But Elliott didn't go for it. He waited, taking on the gutsy chestnut nearing the quarter pole. Biancone also praised Servis for selecting post seven at the Wednesday night draw. "He's shrewd," Biancone said the following morning. "He looks at the statistics. He knows that (post) eight and out on this track you're dead. So he takes seven to make sure I don't go outside of him. Yes, he's shrewd. Trust me, he's a good trainer. He knows what he's doing. All I can do is try to beat (Smarty Jones), and if we don't I will take my hat off to him again. He's a tough cookie and a great champion." Jason Orman, trainer of Rock Hard Ten, who missed the Derby because he was disqualified from second and placed third in the Santa Anita Derby (gr. I), knew it was asking a lot of his big colt to take on Smarty Jones and some of the others off only three career starts. But he felt the colt's natural talent would make him competitive in the Preakness, while also serving as a prep for the June 5 Belmont Stakes (gr. I). And, he had Hall of Fame jockey Gary Stevens flying in from France to ride the colt. As in 2003, a jockey controversy surfaced when it was discovered Elliott had failed to mention on his license application in Kentucky that he pleaded guilty to assault charges several years earlier, adding to the soap opera part of the story. But the rider, who was slapped with a $1,000 fine, put it all behind him and focused on the Preakness. On Friday, Nick Zito, who has had more than his share of bad luck this year, was forced to scratch The Cliff's Edge after the Toyota Blue Grass (gr. I) winner suffered a foot bruise two days earlier. The closer the Preakness got the more frenzied Smarty Fever became. Credential requests went from a record high 1,548 last year with Funny Cide to 1,706. Requests from Philadelphia newspapers and TV and radio stations skyrocketed from two in 2003 to more than 100. By the end of Friday's early bird wagering, $600,000 had been bet on Smarty Jones at Philadelphia Park, which was more than its fans bet on the entire 18-horse Kentucky Derby field. Preakness morning brought with it a blanket of stagnant air and an oppressive heat that increased as the day went on. Servis showed up at the barn and appeared cool and calm. "I'm calm now after yesterday," he said, referring to his near disaster while saddling Stephan's Angel in Friday's Adena Stallions' Miss Preakness Stakes (gr. III). "She almost killed me in the paddock," he said. "She jumped in the air on all fours, and both hind legs fired at me (see page 2942). I had nowhere to go and she nailed me on the shoulder, and almost kicked me in the head. I'll tell you, that was close." Servis need not have worried. Divine forces; remember? He did remember on Saturday afternoon in the dining room when someone came over to him and said, "Mr. Servis, I know you'll appreciate this." He then proceeded to show him a copy of the program from the 1934 Kentucky Derby. Although that particular Derby had no significance, Servis opened the program to the Derby field, and there among the starters was a horse named Quasimodo, the nickname given Smarty Jones when he was at the New Jersey Equine Clinic to be treated for an eye injury that had left him "hideous looking." Servis was shocked later that afternoon when he was told Smarty Jones was the 2-5 favorite, up from 1-5. "No way," he said. "That's the kiss of death." Smarty closed at 7-10, with Lion Heart next at 9-2, and Rock Hard Ten and Imperialism at 6-1. A record crowd of 112,668 poured through the gate, topping the old record of 104,454. The start was delayed when Imperialism threw a shoe in the saddling area, and then again when Rock Hard Ten refused to be loaded. Finally, at 6:25, they were off, with Smarty Jones almost out-breaking the gate. Lion Heart came charging up along the inside to take a narrow lead into the clubhouse turn, with Imperialism surprisingly third, followed by Song of the Sword and Sir Shackleton. Rock Hard Ten was back in seventh, but only about five lengths off the lead. Lion Heart again surged to the lead, cutting through fractions of :23.65 and :47.32 over the deep track. Although the Derby runner-up took the first turn wide, Elliott elected to stay outside him and remain in control. Smarty Jones and Elliott, as usual, were poetry in motion down the backstretch. Smarty stalks his opponents like a cheetah waiting to pounce on its prey. Once he does, the attack is swift and deadly. Lion Heart increased his lead to 21?2 lengths, but was still wide, remaining out in the middle of the track around the far turn. "My horse was running so easy, I just took him to the inside and he did the rest," Elliott said. Smarty Jones' power and class and smooth, effortless way of moving are something that hasn't been seen in a long time. Unlike the Derby, Lion Heart had no answer for Smarty, who charged past him on the inside. No one was threatening from behind, and the crowd, sensing the procession that was to follow, let out a long, sustained roar. Elliott gave a couple of underhanded flicks of the whip, then sat back and enjoyed the rest of the trip, as Smarty tore through the wall of noise, increasing his margin with every stride. He kept throwing his ears around as if he were out for an afternoon romp in the field, then cocked them straight up as he crossed the finish line. Stevens made a good run to finish second with Rock Hard Ten, but could only admire the chestnut figure getting smaller and smaller off in the distance. "That horse is as good as any horse I've ever seen," Stevens said. "He really reminded me of Secretariat the way he pulled away." Eddington just got up to beat out Lion Heart and Imperialism in a three-horse photo for third. Smarty's final fractions on the way to a final clocking of 1:55.59 were :24.91 and :19.15, which were amazing on such a deep racetrack. With the victory, Smarty Jones is now undefeated in eight starts. Everywhere you went after the race, the word "freak" was heard, as emotions ran rampant. Gov. Rendell, who has become one of Smarty Jones' biggest fans, spoke with a fervor reminiscent of one of his own political rallies. "That was just awesome, wasn't it?" he said. "It was great for Pennsylvania, but it was great for racing. You look at this little horse and you compare him size-wise to the others and you ask, 'How does he do it?' It's right in here (pointing to his heart). If he wins the Triple Crown, people in Philadelphia will want him to be trucked down Broad Street. The best thing to be tonight in terms of money is a Philadelphia bar owner." Even from afar, Smarty Jones' greatness could be felt by hard-core realists. "I believe he's as good as any Triple Crown winner, and one of the greatest horses of all time," said Hall of Fame trainer Bobby Frankel, who watched in New York. "He has no chinks in his armor. When they made this horse they threw away the mold." Looking ahead to the next three weeks, Servis said, "We're gonna have fun in Philly. We're gonna have a good time and root the Flyers home, and hopefully, we can all have a parade down Broad Street." Roy Chapman, as crusty as ever, had everyone in stitches in his defense of his rider, who had just given a description of the running of the race. "When he was getting aboard that horse in Kentucky, someone called him 'Stu Who, a novice rider,' " Chapman said. "You just heard him describe that race. If that sounds like a novice rider I'll kiss your you know what." He later added, "I want to make one announcement. I love the press, but my wife and I are going to take up residence in Nome, Alaska, for the next three weeks. We'll see you in New York." Back home in Philly, several thousand fans attending the Flyers/Lightning Stanley Cup playoff game remained at the Wachovia Center after the Flyers' victory to cheer on Smarty Jones. Following the post-race interviews, John and Sherry Servis made their way through the grandstand, stopping briefly to watch the replay of the Preakness for the first time. When it was over, John turned around and shook his head in amazement. "Oh man," was all he could say. Sherry continued walking, still shaken by the experience. "I've got chills all over," she said. By now, a crowd had gathered and was following the Servises, with the chant of "Smarty! Smarty!" starting up again. Sherry could only watch with pride as John signed autographs and posed for pictures. As they finally broke free and headed to a party at the stakes barn, John turned to the security officer leading him and said, "I'm glad you're with me; I know that." The party lasted well into the night, and as morning broke, the only remnants remaining outside the stakes barn were littered beer cans and water bottles. Smarty Jones nibbled on hay, occasionally nuzzling Butterscotch next door. When Servis showed up, he went over to check on Smarty, and Arriaga showed him the colt's feed tub that had been licked clean. "You're like Smarty," he told Arriaga. "You're a machine." Amazingly, Smarty was on the muscle as he had his poultice removed and was washed down. He shoved Servis around and kept nipping at him until the trainer finally had to give him the leather strap of the shank to bite on to keep him occupied. At around 10 o'clock, Smarty headed home to Philly Park and another hero's welcome. Soon, he will be off to Belmont Park, where immortality awaits. People all over the country truly believe this time there will be a happy ending when the clock strikes midnight. There is a saying, "Greatness is a road leading towards the unknown." Smarty Jones has taken us to the unknown...and beyond.



Copyright © 2015 The Blood-Horse, Inc. All Rights Reserved.