The Morning After: Preakness Top Three to Return in Belmont
by Blood-Horse Staff
Date Posted: 5/16/2004 12:16:44 PM
Last Updated: 5/19/2004 7:55:43 PM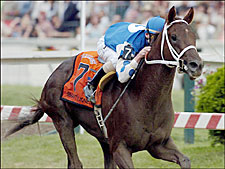 Only Rock Hard Ten and Eddington will follow Smarty Jones to Belmont.
Photo: Mike Corrado

On the morning following Smarty Jones' record performance in the Preakness Stakes (gr. I), trainer John Servis appeared on national television and prepared to move his colt out of Pimlico. Meanwhile, the trainers of Rock Hard Ten and Eddington, the second- and third-place finishers, said they will attempt to upset a Triple Crown bid by going on to the June 5 Belmont Stakes (gr. I).Edited from Maryland Jockey Club notes
SMARTY JONES
Trainer John Servis, looking a lot more tired than the Preakness winner, had a busy morning Sunday as he packed up his tack and prepared to head home to Philadelphia Park. Smarty Jones, who won the Preakness by a record 11 ? lengths, will train at his home track for the third leg of the Triple Crown, the Belmont Stakes on June 5. Servis appeared on the NBC "Today" show with Campbell Brown, answered yet more questions from the media, and supervised preparations for shipping Smarty Jones out later in the morning. For his part, Smarty Jones looked like he'd done nothing more taxing than a stroll in the park. The unbeaten colt by Elusive Quality relaxed as he was being bathed, and posed with his ears pricked as photographers shot him from every angle. "He came out of the race terrific," Servis said. There was not one oat in that feed tub this morning. Mario (the groom) pulled the tub out and he's showing me the tub. As I'm looking at it, Smarty comes from the back of the stall and dives into the tub like he's looking for more." Servis said that he and the horse will appreciate the three-week gap between the Preakness and the Belmont. "I'm tickled to death to get the extra week," the trainer said. "I was a little concerned going into the Preakness. I thought he was a little vulnerable, the fact that we were coming right back in two weeks, and there were two fresh horses in there (Rock Hard Ten and Eddington) that I was pretty worried about. The race he ran yesterday was incredible, and I'm sure he'll enjoy the extra week going into the Belmont." Servis is a newcomer to the Triple Crown grind, where young 3-year-olds are asked to run in three demanding races in a seven-week span. "This is the first time I've been on this road and I realize now why there has only been a handful of horses to win the Triple Crown. It's a very grueling road and we've been on it since January. But I've got a good horse, and he's doing real well. I was real happy with him this morning. He seemed to come out of the race real well. As long as he continues to do how he is, we're going to go into the Belmont with a loaded gun." ROCK HARD TEN
The Preakness runner-up is ready to take on Smarty Jones again in the Belmont Stakes on June 5. "I think he came out of the race fine," trainer Jason Orman said. "He's eating good and acting his normal self as well. Right now we are pointing him to the Belmont. We will stay here at Pimlico until either Monday or Tuesday and ship Rock Hard Ten to New York then," Orman said. EDDINGTON
The Preakness third-place finisher left Pimlico's stakes barn at 5 a.m. Sunday en route to his Belmont Park home. "He looks good and I think he came out of the race okay," trainer Mark Hennig said. "If he continues to do well we are planning to go in the Belmont Stakes. The final decision will be made at the appropriate time, but that's the plan now." LION HEART
The Preakness pacesetter, who ended up finishing fourth in the race, shipped to Saratoga on Sunday. "He ate up well and came out good," said Patrick Biancone, trainer of the speedy son of Tale of the Cat, prior to leaving Old Hilltop." It's too early to tell what's next for the colt," the trainer said. Biancone's horses will be stabled at Saratoga for the summer. IMPERIALISM
The Preakness fifth shipped from Pimlico on Sunday morning, headed for his home at Hollywood Park. The son of Langfuhr came out of the first two legs of the Triple Crown reportedly in good shape. Trainer Kristin Mulhall said she is not sure of immediate future plans for the Steven Taub-owned runner. SIR SHACKLETON/THE CLIFF'S EDGE
The Nick Zito-trained colts shipped back to Belmont Sunday morning. Tracy Farmer's Sir Shackleton finished sixth in the Preakness and Zito has hopes he'll be an important member of his stable in the future, but said there is no Belmont Stakes for the son of

Miswaki

. The future of Robert LaPenta's The Cliff's Edge, who was scratched from Saturday's race when he developed an abscess in his right front foot from a stone bruise, is a day-to-day proposition, the trainer said. "I would like to run him in the Belmont, but we'll have to wait and see how he is," Zito said. "You never know with this kind of thing. It could take two hours, two days, two weeks or two months for him to get over it. We'll just play it by ear." A third Zito-trained horse, Royal Assault, took a step forward by winning the Sir Barton Stakes on the Preakness card. The Kris S. colt, also owned by Tracy Farmer, is definitely heading for the Belmont. "He can go a mile and a half," Zito said. "Pat Day, who was on him Saturday, will ride." Zito said they all still have to get past Smarty Jones in the third leg of the Triple Crown. "He's just an amazing horse," Zito said. "It's not going to be easy trying to beat him." BORREGO
The Preakness seventh finisher returned to his Hollywood base after a spring racing in Arkansas, Kentucky and Maryland. Trainer Beau Greely indicated that the colt will probably be given a rest before he embarks on a summer campaign. The son of

El Prado

began his career on the grass as a 2-year-old, where he broke his maiden the second time out. This year, he has run only on dirt, finishing second in both the Louisiana Derby and Arkansas Derby. LITTLE MATTH MAN
The

Matty G.

colt, who lives in the same Philadelphia Park stable area as Smarty Jones, vanned back home from Pimlico Sunday night after finishing eighth in the Preakness. "Like the rest of them, he's not a good enough horse to beat Smarty Jones," trainer Marty Ciresa said. "We'll turn him out a few weeks, and get ready for the New York-bred stakes program. Those races start at the end of June. I'll get him ready to shorten up for the first race in the series." Ciresa said he was impressed by Smarty Jones. "He's the best horse I ever saw," Ciresa said. "He came back looking like he never ran, like he was just getting ready for the next race. Amazing." SONG OF THE SWORD
The Jennifer Pedersen trainee came out of the Preakness with undiagnosed problems and shipped back to Aqueduct soon after the Preakness Saturday night "We scoped him after the race and he was sick," the trainer said prior to leaving Pimlico. "It looks like he has some sort of breathing problem." In the Preakness, Ernie Paragallo's homebred son of

Unbridled's Song

was ninth. WATER CANNON
The Maryland-bred, who finished 10th in the Preakness, returned to his Bowie base home at 9:30 p.m. Saturday." He looks fine this morning," trainer Linda Albert said Sunday. "He got a little worked up before the race, but he is doing fine. I wish we could have done better, but I'm still proud of this horse." Future plans for the son of Waquoit could include the Deputed Testamony Stakes. "The Deputed Testamony is certainly an option, but we will see how the horse feels about that by his day to day actions," the trainer said.



Copyright © 2015 The Blood-Horse, Inc. All Rights Reserved.