Smarty Arrives at Pimlico
by Steve Haskin
Date Posted: 5/12/2004 3:23:53 PM
Last Updated: 5/13/2004 11:47:34 AM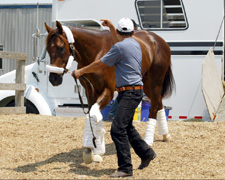 Smarty Jones arrives at Pimlico.
Photo: Barbara D. Livingston

Mark it down...12:48 p.m. That's when Kentucky Derby (gr. I) winner Smarty Jones stepped off the van at Pimlico following his two and a half-hour trip from Philadelphia Park, where has been treated like royalty for the past week. Oh, yes, 20 minutes earlier, Rock Hard Ten and Borrego arrived from Louisville.Although Smarty fever has swept the Delaware Valley, there is still a race to be run Saturday, and a competitive one at that, especially with fresh faces like Rock Hard Ten and Eddington, whose Hall of Fame riders, Gary Stevens and Jerry Bailey, respectively, should be clocking Smarty Jones from the start.At first I was a bit apprehensive about them shipping Imperialism back to California after his troubled third-place finish in the Derby, then deciding to try for the Preakness and having to ship back East again, and to 90-degree heat and humidity no less. When the flight took off late from Ontario, Cal. Tuesday morning, then had to make a detour around bad weather in Colorado and finally stop in Louisville to refuel, resulting in a 12-hour trip barn to barn, I was expecting to see a drained-looking Imperialism step off the van.But, it was just the opposite. When the gray son of Langfuhr came off he looked as if he had just taken a five-minute van ride. His coat did not have a bead of sweat or even a speck of straw on it, he was carrying good flesh, and he was bright and alert, taking in the new surroundings. With trainer Kristin Mulhall delayed, flying into Dulles Airport in Wash D.C., instead of Baltimore-Washington International Airport, it was up to owner Steve Taub to welcome the colt. And he did his best impersonation of Mulhall, lavishing affection on Imperialism, who has to be one of the classiest, most professional horses you'll ever see.As for Wednesday's arrivals, a large assemblage of photographers and a long line of cameramen gathered outside the stakes barn waiting for Rock Hard Ten and Borrego, followed shortly after by Smarty Jones. Borrego, on the muscle as usual, looked good, as did Rock Hard Ten, who looks as if he's still filling out around the shoulders. Both colts were a bit warm, but no more than one would expect following a flight leaving in hot weather and arriving in hot weather. They cooled out quickly after walking the shed and settled nicely into their new homes.Then came the much-anticipated arrival of Smarty Jones, who looked, well, the same as he did yesterday and the day before that. Trainer John Servis, sensing the colt was pretty strong and on the muscle yesterday morning, elected to gallop him with the pony. By the end of the gallop, Smarty had Servis, on the pony, bent back in the saddle trying to keep him on a close rein. It's just amazing how strong this colt is, especially for his size. Yet it is a contained strength, done naturally and smoothly. Servis said this will be Smarty's toughest race ever, having to contend again with Lion Heart, and others coming out of the Derby, as well as several new threats in Rock Hard Ten and Eddington.With Smarty Jones getting the second post selection and Lion Heart the third, it will be interesting to see where trainer Patrick Biancone puts his colt this time. Does he go way on the inside again and try to outrun everyone, which actually may be easier this time than in the Derby, or does he change tactics and choose to break just outside Smarty Jones and make him commit first? It also will be interesting to see where the connections of Rock Hard Ten, who will select 10th, elect to do. Although it would seem as if the outside is where they'd go, they may decide to go to the inside if it's available and try to save ground over a track that can be bad news for horses trapped wide on the first turn.If The Cliff's Edge isn't able to make the race due to his bruised foot, it would be yet another obstacle in the already rocky Triple Crown road for trainer Nick Zito. "I almost died when I saw him walk out his stall this morning," a drained and forlorn Zito said as he watched the arrival of Smarty Jones and the pair of colts from Kentucky. Someone from ESPN came over to Zito today and said he had just seen an isolated camera on The Cliff's Edge, which clearly shows that the colt lost his first shoe only three strides out of the gate, and you can see it dangling for several strides before falling off. That means, of course, that The Cliff's Edge, ran the entire Derby on that horrible track with one shoe missing, which is amazing considering he still managed to finish fifth. No one knows when he lost the other shoe. If "Cliff" can't make the race, Zito will have to depend on Derby Trial (gr. III) winner Sir Shackleton, who will be one of the longest prices in the field.Lion Heart was expected to arrive at Pimlico at around 4 p.m. on the second flight from Louisville, with Eddington expected from New York sometime this afternoon.



Copyright © 2015 The Blood-Horse, Inc. All Rights Reserved.