Sign of Growth: NTRA Purchasing Moves to New Office
by Tom LaMarra
Date Posted: 5/11/2004 1:33:12 PM
Last Updated: 5/13/2004 11:42:06 AM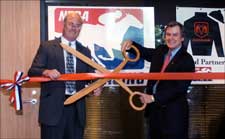 NTRA Commissioner Tim Smith (right) and NTRA Purchasing President Joe Morris celebrate the grand opening of the new NTRA Purchasing offices in Lexington.
Photo: Horsephotos/NTRA

NTRA Purchasing officially opened its new office in Lexington May 11, a move officials said is a sign of growth for not only the National Thoroughbred Racing Association but the racing and breeding industry at large.The old NTRA Purchasing offices were in the main NTRA office. Now, they're on the first floor but in the same building. The department has added staff as the NTRA has continued to pick up sponsors and marketing partners."Since John Deere (first signed on), NTRA Purchasing has become one of the biggest success stories of the NTRA," said Tim Smith, NTRA commissioner. "It's extremely important for our future that NTRA Purchasing continues to grow."The value of the NTRA's group purchasing efforts has gone from $12 million to $40 million in short order. Joe Morris, president of NTRA Purchasing, said the numbers represent growth in the industry."We need to get continued support from the industry to make sure we can keep hitting our goals," Morris said.NTRA officials have long held that growth in sponsorship is tied to group purchasing. In addition, Smith said NTRA members have saved about $10 million on products provided by sponsors and marketing partners.On May 11, the front of the new NTRA Purchasing office was adorned with banners naming sponsors and marketing partners. They are PMC Consolidated Graphics, Boise, Nextel, John Deere, Dodge, FedEx, Sherwin Williams, NetJets, Daktronics, Hallway Feeds, Presort Services, and KBC.



Copyright © 2015 The Blood-Horse, Inc. All Rights Reserved.