Cella Pays Up; Chapmans Get Their Bonus
Date Posted: 5/10/2004 2:49:33 PM
Last Updated: 5/11/2004 2:04:34 PM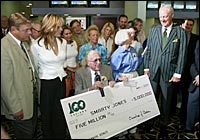 Roy and Pat Chapman, center, hold enlarged copy of a $5 million bonus check given them by Oaklawn Park owner Charles Cella, far right, while trainer John Servis and his wife, Sherry, far left, look on.
Photo: Bill Denver/Equi-Photo

Pat Chapman barely met the deadline to name her young colt. In a rush, Chapman called him Get Along, forgetting the horse was born on her mother's birthday. When the paperwork returned, Chapman realized she wanted to name the colt after her mother, Mildred, who was nicknamed ``Smarty.'' ``I never told my husband, but I paid $100 to change the name,'' Chapman said, laughing. So Get Along became Smarty Jones. And look at the colt now. Pat and Roy Chapman more than made their money back on the smallish red chestnut son of Elusive Quality who went on to win the Kentucky Derby (gr. I). Another big payout came Monday when they received a $5 million Centennial Bonus check from Oaklawn Park for Smarty Jones' wins at the Rebel Stakes, Arkansas Derby (gr. II) and Kentucky Derby. ``It's unbelievable,'' Pat Chapman said. ``I think we should take him out and let him run up the art museum's steps.'' The bonus check, the largest in North American horse racing history, was offered by Oaklawn Park owner Charles J. Cella to the horse who could win all three races. ``It was a wonderful concept, never to be duplicated again in Thoroughbred racing,'' said Cella, who announced the bonus last fall to honor the track's 100th birthday and his family, which has owned Oaklawn since it opened. Because of Roy Chapman's health, Cella decided to travel to Pennsylvania instead of awarding the prize in Arkansas. Roy Chapman, in his wheelchair and suffering from severe emphysema, kept interviews brief but spoke long enough to credit trainer John Servis for making the colt the talk of the racing world. ``When he told me we're going to Arkansas, trust me, Arkansas was the last place in the world I wanted to go. I live in Florida all winter,'' Chapman said. ``John said we'd take him to Arkansas, let him mature and we'd go to the Derby from there. That's exactly what he did.'' Smarty Jones, the first unbeaten Kentucky Derby winner since Seattle Slew in 1977, is preparing for the Preakness (gr. I) on his home turf. The paydays will continue to skyrocket if he can win in Baltimore, then the Belmont Stakes (gr. I) three weeks later for a Triple Crown sweep. There was plenty of cash to go around Monday. Roy Chapman said he'd make someone's life better. Servis planned to share his portion with the rest of the training staff. ``It's going to be a really good start for a lot of those guys back there,'' Servis said. Cella said Arkansas Gov. Mike Huckabee proclaimed Friday ``Smarty Jones Day'' and the mayor of Hot Springs also proclaimed the same honor for Saturday. On Monday, Smarty Jones took an easy 1 1/2 -mile gallop with a pony on a closed Philadelphia Park track. Servis may give the colt at least one more day on his own before the Preakness. ``I want him where he's ready to beat someone up,'' Servis said. Servis wants to keep the colt sound, fit and happy going into Saturday's race. Smarty Jones is enjoying a daily high-fat diet of mostly oats and 1 1/2 pounds of carrots. Every three days, the colt slurps a sloppy oat bran mash mixed with lots of water. ``He looks forward to that,'' Servis said, smiling.



Copyright © 2015 The Blood-Horse, Inc. All Rights Reserved.