Smarty Wows 'Em at Philly
Updated: Sunday, May 9, 2004 2:22 PM
Posted: Saturday, May 8, 2004 4:06 PM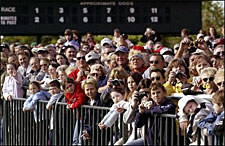 Photo: AP/Joseph Kaczmarek
Spectators gather to watch Kentucky Derby winner Smarty Jones work out on his home track at Philadelphia Park Saturday morning.
From tots in strollers to old men in wheel chairs, Smarty Jones fans showed up at Philadelphia Park in full force Saturday morning to watch their hero gallop and receive accolades by local and state dignitaries.An estimated crowd of over 5,000, almost double the attendance for a typical Saturday live racing card, jammed Philly Park to cheer on Smarty Jones. Traffic on Street Road backed up well before the 8 a.m. opening, and they were still piling in 30 minutes later.Young children sat atop their father's shoulders to get a better look at this equine Rocky, some wearing Smarty Jones hats and t-shirts and others wearing Philadelphia Phillies and Flyers hats. By 8:15, the rail was lined nine and 10 deep, and the area outside the winner's circle was a mass of humanity that stretched almost to the grandstand.Sitting in his wheel chair was octogenarian Frank Gilmore, who lives in Rhode Island and was visiting his in-laws in Yardley, Pa.. This was his first visit to Philadelphia Park. "It's amazing the size of the crowd that has come here just to watch a horse run up and down the stretch," he said. "But he's a celebrity, and my wife and my son-in-law had to be here to see him. It's fabulous; what a great story."As the crowd continued to grow, Philadelphia Park's Thoroughbred Racing Protective Bueau (TRPB) agent Lance Morell stood there in amazement and said, "Everytime I think I've seen everything, something else happens.""It's hard to believe," echoed CEO Hal Handel.Finally, the moment everyone had been waiting for arrived. As the last tractor made its way off the track following the renovation break, announcer Pat Cummings, who had been keeping the crowd informed of Smarty's whereabouts, bellowed, "And now, coming on to the track wearing a white martingale bridle and blue wraps...a horse to be immortalized as Philadelphia Park's Kentucky Derby champion...ladies and gentlemen, please welcome Smarty Jones!"The crowd let out a roar, even though Smarty still was only a mere speck off in the distance. Then, trainer John Servis came galloping down the stretch on a pony, as if announcing the arrival of the Roman legion returning from battle. As the cheers increased, Servis waved to the crowd, then came to a stop and, like everyone else, turned his attention to the solitary figure building up steam around the far turn."Now, coming around the turn, and the horse looks full of run, folks, here comes Smarty Jones!" announced Cummings, his voice rising to a glorious crescendo.Smarty Jones, as if knowing his solo act would be short and sweet, made the most of it, arching his neck in regal splendor and tearing down the track at a full gallop with exercise rider Pete Van Trump, as usual, straight up in the irons.A wave a of cheers followed Smarty Jones down the stretch, and from those cheers came a chorus of whistles and hoots, and several "wows.""Look at that horse," shouted a woman standing by the finish line, as if amazed by the powerful and graceful figure hurtling past her.The second time around, Smarty was still flying down the stretch, and Servis broke off in a gallop well before the horse arrived in order to get a good head start on him. Once he caught Smarty on the clubhouse turn and reined him in, he turned around and headed back in front of the stands. Smarty, as usual, turned the switch off as soon as he knew his work was done. By the time he passed by the crowd, his head was down and he ambled by like an old cow strolling in his pasture. Servis waved to the crowd and shouted, "Thank you everybody very much."After Servis and Smarty headed back off the track, the winner's circle ceremonies commenced. Bensalem mayor Joseph DiGirolomo presented a plaque to Donna Chapman, daughter of Smarty Jones' owners Roy and Pat Chapman."Who would ever think this could have happened," DiGirolomo said. "You talk about a people's hero, let's hear it for
our
people's hero."He then presented small horse statues to jockey Stewart Elliott and Servis' wife, Sherry, who said, "On behalf of John and Servis Racing Stable and Smarty Jones, we are so fortunate to have you, Bensalem and Philadelphia, as the fans to cheer us on and be behind us. There would be nothing better to hear your roars and cheers when we win the next race, hopefully." That brought another loud ovation from the fans gathered around the winner's circle.Also addressing the crowd were Pennsylvania State Senator, Robert "Tommy" Tomlinson (R-Pa.), State Representative Gene DiGirolomo, and Robert Green, chairman and president of Greenwood Racing, owners of Philadelphia Park.When the festivities were over, the majority of the fans remained, milling about in the grandstand, having coffee and donuts, while others attempted to make their way through the large crowd that had converged on the merchandise stand, where Smarty Jones photos, t-shirts, and hats were a hot commodity.So, ended yet another surreal day in the saga of Smarty Jones, certainly unlike anything ever seen at Philadelphia Park, or perhaps any racetrack for that matter. The revelry continues on Sunday with a proclamation by Pennsylvania governor Ed Rendell, followed on Monday by the presentation of the $5-million bonus check to the Chapmans by Oaklawn president Charles Cella. As Senator Tomlinson said after the ceremonies, "This is as good as Seabiscuit; absolutely as good as Seabiscuit." There was no one at Philadelphia Park on this day who would disagree with him.
FREE! E-Newsletters from The Blood-Horse!...
Follow the top stories of major racing events, racing previews and results with FREE e-newsletters from bloodhorse.com. As news develops, we'll deliver updates to your inbox. Follow important events moment by moment, step by step!