The Return of Smarty Jones: Hail the Conquering Hero
Updated: Wednesday, May 5, 2004 8:40 PM
Posted: Wednesday, May 5, 2004 6:11 PM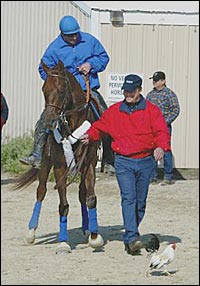 Photo: Associated Press
A rooster crosses in front of Kentucky Derby winner Smarty Jones as he is led by trainer John Servis at Philadelphia Park on Wednesday.
The full moon had all but faded from the morning sky, and a salmon pink sunrise was now illuminating the tan sheet-metal barns on the Philadelphia Park backstretch. Inside Barn 11, peering out of his once-familiar stall 38, was Kentucky Derby (gr. I) winner Smarty Jones.That's right, Kentucky Derby winner, Philadelphia Park. To many, the two may seem as closely related as the Belle of Louisville and the Liberty Bell, but there he was, his rich chestnut coat still glistening after a grueling, unforgettable four-month odyssey.Gone were the lush green grazing areas and airy barns of Churchill Downs. Outside Barn 11, life was as it had been back in January before he embarked on his magical journey into history. Horses ambled about connected to automatic hotwalking machines. Exercise riders and grooms went about their daily chores, their thoughts light years away from the world from which Smarty Jones had just returned.The night before, at around 9 p.m., Philadelphia's conquering hero had made an entrance worthy of Julius Caesar returning from battle. With his van escorted by two Bensalem police cars, their sirens blaring, and a pair of TV helicopters that had followed him all the way from Baltimore hovering overhead, Smarty Jones' arrival was announced well in advance.Philadelphia Park did all they could to make his return home as pleasant and comfortable as possible. B.J. Sasser, the construction, carpentry, and maintenance foreman, put new plywood in the colt's stall, and made sure everything possible was spotless. "We cleaned up as best we could," Sasser said. "I've been here 30 years and never even thought about having a Derby winner here. We just felt fortunate to even have one running in the damn race. Shoot, I can't even imagine what it's going to be like if he wins the next two."Hanging outside trainer John Servis' barn were two blue and white signs (owners Roy and Pat Chapman's colors) that read, "Congratulations Smarty Jones." Painted on a large flower box resting on the ground outside the barn were the words, "Home of Smarty Jones."Servis received the biggest surprise when he returned to his Bensalem home last night. "You come around the bend to our street, and the whole way down the development, every single mailbox has got blue and white balloons," he said. "And in front of our house is a great big sign that says, 'Congratulations Kentucky Derby Winner Smarty Jones.' I coach a little league football team, and everything was made up by the kids. There also was a big congratulatory wreath from the mayor (of Bensalem). Since I got home, it's all finally starting to sink in. I get a little emotional when I start thinking about it."Shortly after Servis arrived Wednesday morning, Sasser and his crew began setting up a breakfast spread for the media under an awning just outside the barn, complete with coffee, danish, donuts, fruits, and juices, as well as a cake with a blue frosted figure of Smarty Jones.Assistant trainer Maureen Donnelly was thrilled to have Smarty Jones back home after being away from him so long. "He's pretty much the same horse that left," she said. "He looks the same as I remember him. I'm sure it was like leaving the Hilton to come back here, but this is still his home. This is where he came from. He's still so great to be around. After he won the Derby, at first I got goose bumps, then I started crying hysterically. He's been through so much and came out of it a champ. When something like this happens it's the pinnacle of your life."Standing outside the barn, soaking it all in was Servis' father, Joe, a former rider for 11 years, a longtime representative of the Jockey's Guild, and now a steward. "When I was with the Jockeys' Guild all through the '60s, Churchill Downs was my territory, and I had access to anywhere I wanted to go," he recalled. "I've been everywhere at Churchill Downs except one place. I've never been in the winner's circle...until now. When I headed to the airport yesterday, I started to get choked up. It's just so emotional, and to have everything go so perfectly from the first of January is amazing. This horse at no time missed even a single feeding."Servis couldn't hold back the pride he felt in his son. "John has always been a very professional, kind person ever since he was a kid," he said. "He was always taught values and to always try to be around good people. Don't keep any deadbeats. If a guy don't belong in the business you gotta let him go and take your losses. He's a special person, and his mother and I are very proud of him. He has a great horse with a great demeanor, and they haven't even emptied his tank yet. The only bad thing is, they won't let me gallop him. I thought the father would have a little more pull."For John, it was great seeing old familar faces again. He spotted one, an exercise rider known only as Shorty, who passed by the barn on a horse. "Hey, where's that crystal ball of yours? You're the man," Servis shouted. "The guy is unbelievable," Servis explained. "Over a year ago, he stops me one day and says out of nowhere, 'You know what? I'm watchin' you, and you're gonna be in Kentucky next year.' I told him I was going to be there for the sale, and he says, 'No, no, no, I'm tellin' you, you're goin' to the Derby.' I figured he was just trying to get a mount, so I didn't think anything of it. Now, it's over a year later, and I'm thinkin' that's pretty strange."By 7:30, members of the media began trickling in, then more showed up, and more. And finally, a massive crowd of photographers, TV camera crews, and journalists had assembled outside Barn 11.One person to whom several flocked was exercise rider and trainer Bobby Velez, who had galloped Smarty Jones on numerous occasions, while maintaining his small string of four horses two barns down. It was Velez who was the regular exercise rider for Kentucky Derby winner Spend a Buck in 1985. So, here he was, 19 years later, riding another Derby winner at a Delaware Valley track. Spend a Buck had been based at the now-defunct Garden State Park, and ironically, both colts had earned huge bonuses with their Derby victory."You think something like this happens only once in your life, but to have it happen twice is amazing," Velez said. "Last night when John came back, he gave me a hug and said, 'You should have gone to Oaklawn.' I said, 'You're right.' I couldn't leave my horses, but while Smarty was at Oaklawn my horses didn't do very well. They're cheap horses, but they're still my babies."When asked to compare Smarty Jones and Spend a Buck, Velez said, "The main difference is that Spend a Buck was a little taller and easier to gallop. This horse likes to take a lot of hold. You had to use two kinds of bridles to gallop him, he was taking so much of a hold. The power you feel in him is unbelievable. One morning, he worked before his first start, with Hector Ramos on him. I happened to be on the frontside, between the eighth pole and sixteenth pole. Hector threw a cross on him, and he got very low and just took off. That day I knew he was a very special horse. Like Spend a Buck, he's one of those freaks that shows up every 15 or 20 years. And I've been very lucky to have been on two of them."At 8:20, an announcement was made over the public address system: "Attention on the backstretch, the track will remain closed for 15 minutes from 8:30 to 8:45 to allow Smarty Jones to train."Philadelphia Park officials had come up with the idea and approached Servis about it. "I told them I thought it was a great idea," Servis said. "You don't want anything to go wrong. It just shows you how much Philadelphia Park is loving this horse."The track has other festivities planned this weekend, which will include visits from the mayor on Saturday, and Pennsylvania Governor Edward G. Rendell on Sunday. With hordes of media stationed outside the barn and up the grassy hill leading to the track, Smarty Jones strolled out of Barn 11 and headed on to the track in isolated splendor. At each gap were clusters of backstretch workers out to see the Derby winner. It was a scene best described as surreal. Even families of geese sauntered up from the infield lake to the outer edge of the turf course to watch Smarty Jones go by. After walking down the backstretch, he had a little half-mile jog before heading back to the barn.Servis then met with the media for at least 45 minutes, answering all questions thrown at him with grace and eloquence. He summed up his home track and his horse best by saying, "We're from Philadelphia Park, and even back to when we went to Oaklawn, it's been like, 'Hey, he's a Philadelphia Park horse; how good can he be?' But he's given everybody something to grasp on to. With everything that's been happening in Iraq and Afghanistan, he's been a bright light in the midst of a lot of dark stories."
FREE! E-Newsletters from The Blood-Horse!...
Follow the top stories of major racing events, racing previews and results with FREE e-newsletters from bloodhorse.com. As news develops, we'll deliver updates to your inbox. Follow important events moment by moment, step by step!