Kentucky Horse Industry Springs to Life With Plan
by Tom LaMarra
Date Posted: 5/5/2004 2:25:13 PM
Last Updated: 5/6/2004 4:57:52 PM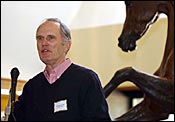 Former Kentucky Gov. Brereton C. Jones, speaking at KEEA launch.
Photo: Anne M. Eberhardt

The Kentucky Equine Education Alliance launched May 5 with an ambitious agenda of educating the state residents on the importance of the horse industry to the economy. To say the plan was well-received would be an understatement, as more than 100 people--including 14 legislators--were on hand for a press conference.The crowd and its enthusiasm may have marked a major turning point for an industry that has taken a beating in recent years. Mare reproductive loss syndrome, competition from other racing and breeding states, and failure to win support for major initiatives in the legislature have stymied growth and impacted its health.Members of the horse industry packed the International Museum of the Horse to hear about the launch of the KEEA, which embraces all breeds of horse in the state. If anyone had doubts, the industry does in fact have a pulse, and on this day, it was racing."I feel like we're seeing history in the making," said Rep. Susan Westrom, a Lexington Democrat who got emotional at times as she discussed the state's threatened signature industry and the plight of others--coal and tobacco--that have fallen on hard times. "This day has been long overdue."Former Kentucky Gov. Brereton Jones, owner of Airdrie Stud, chairs the KEEA, while John Gaines, the Breeders' Cup founder, is honorary chairman. Bill Casner, chairman and co-founder of WinStar Farm near Versailles, Ky., is vice chairman.The organization's mission is quite simple, but achieving it will require a lot of time and effort. The plan is to educate people in all 120 counties on the horse industry's $4-billion economic impact, 53,000 jobs, strong link to tourism, and contributions to land preservation.The KEEA will hire an executive director to head an effort that will include developing a grassroots network in every county and build a coalition of diverse organizations that support the horse-related economy in the state. The price tag for the effort isn't clear, but fundraising will be necessary."We all know anything worth having is worth fighting for," Jones said. "If we're not willing to fight for what we want, we're not deserving of it. We have not united the way we should. We must be strong enough and have enough support behind us. Then, maybe (legislators) will get the message."Jones said most legislators are good ones, but he suggested the public, and in fact, the KEEA, must have a role in strengthening the General Assembly. He went so far as to say when there are weak links, they must be "culled out to make it stronger."The presence of 14 legislators at the press conference was viewed by industry representatives a huge indication of future success. Westrom and Republican Sen. Damon Thayer, co-chairs of the Joint Interim Subcommittee on Horse Farming, were joined by Representatives Rocky Adkins, Adrian Arnold, Joe Barrows, Bill Farmer, Tom McKee, Harry Moberly Jr., Fred Nesler, Don Pasley, and Roger Thomas, and Senators Tom Buford, Ernesto Scorsone, and Ed Worley.Adkins, of Sandy Hook, is the Majority Floor Leader in the House. After the press conference, he said grassroots efforts are paramount to success in the legislature."The step they took today is a major step," Adkins said. "It's really important to educate the public about what the industry means to the commonwealth of Kentucky. ... It's really like a campaign."On the financial end, Casner said a "great deal" of money has been committed to the project. "We'll be looking to everyone in the industry to contribute what they can," he said. "We've already had a number of individuals commit to everything from $50 on up. This is essential to the survival of our industry, and I think everyone understands that."Trainer John Ward, president of the Kentucky Thoroughbred Association, said the KTA is "totally supportive" of the KEEA and its goals. He said the industry must develop a plan to educate the public.Ward agrees with Gaines, who said every horse farm or stallion should be looked at as a "factory." On average, a stallion produces $8.5 million to the gross domestic product in Kentucky, said Gaines, who noted the state spent $120 million to get Toyota to locate in Central Kentucky.In 1986, Kentucky had 626 Thoroughbred stallions, but now it has 386. "If we were to lose 220 manufacturing plants, it would be called a disaster," Gaines said.Kentucky racetrack representatives were on hand for the press conference, and a few said they view the KEEA as a very positive step. The tracks in recent years have led the push for alternative gaming, but legislators haven't been receptive to the plan.In response to questions, KEEA organizers said the organization isn't about a push for racetrack gaming. But they did say casino gambling is one of the issues that could be addressed in the future as the public becomes more aware of the importance of horse racing and breeding in the state.



Copyright © 2015 The Blood-Horse, Inc. All Rights Reserved.