Rain Cannot Dampen Glow of Derby Win for Servis
by Ron Mitchell
Date Posted: 5/2/2004 11:24:12 AM
Last Updated: 5/3/2004 8:23:30 PM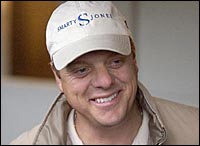 Trainer John Servis, addressing the media on the Sunday after the Derby.
Photo: Associated Press

Although rain continued to fall in Louisville, Ky. Sunday morning, trainer John Servis basked in the glow of a Kentucky Derby (gr. I) victory Saturday by Someday Farm's Smarty Jones.Undeterred by the wet conditions, which were similar to the scene Saturday when 'Smarty won the Derby by 2 3/4 lengths on a sloppy track, Servis and his wife, Sherry, stood just inside the barn and patiently answered questions from the media and discussed the improbable journey of Smarty Jones from a farm in Pennsylvania to wearing the garland of roses.Servis said provided he continues to train as well as he had leading up to the Derby, Smarty Jones will go on to contest the May 15 Preakness Stakes (gr. I) at Pimlico.Smarty Jones, who was given to Servis by Someday Farm owners Roy and Patricia Chapman after their regular trainer Robert Camac was murdered, became the first horse since Seattle Slew to emerge from the Derby with an undefeated record. The Elusive Quality colt has won all seven starts. In winning the Derby, Smarty Jones earned a $5-million bonus from Oaklawn Park, where he won two Derby preps, and increased his career bankroll to $6,733,155. Not bad for a colt who early in his career was seriously injured when he banged his head on a starting gate.Noting all that the Chapmans, who sold most of their horses after Camac died, and their horse had been through, Servis said in some ways Saturday's victory may have been "destiny."Servis said he did not alter his training scheme with Smarty Jones, from the time he started on the Derby trail with him in January, because of the possibility that the colt would win the Derby and be going on to the Preakness and Belmont Stakes (gr. I)."We stuck to our game plan and we take it one step at a time. We trained him pretty much the same way since those races were all three weeks apart."Servis expressed confidence in Smarty Jones' ability to continue on to the Preakness at Pimlico after an already rigorous spring campaign."He's amazed me," Servis said. "After the Arkansas Derby, in the back of my mind I am thinking, three races, three weeks apart, is he starting to show a little fatigue? Is he starting to tail off at the wrong time? But when we got here, he stepped into the elite stage. His work here was just phenomenal."Servis said he was happy for the Derby victory by Philadelphia Park-based jockey Stewart Elliott, who was riding in his first classic."I don't know anybody who doesn't like Stew," Servis said, noting that Pat Day and other jockeys at Churchill Downs had offered the jockey advice on his first Derby ride.Now that he has accomplished a goal that began in January, Servis said he has one thing on his mind:"I am just looking forward to getting home and I know my crew is looking forward to getting back home," Servis said of his 13-year-old and 16-year-old sons. "We have been on the road a long time."



Copyright © 2015 The Blood-Horse, Inc. All Rights Reserved.