Steve Haskin's Derby Report: Putting the Pieces Together
Updated: Friday, April 30, 2004 3:19 PM
Posted: Friday, April 30, 2004 3:00 PM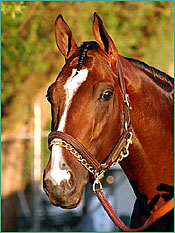 Photo: Anne M. Eberhardt
Haskin: "...one horse who has been flawless in every category is Castledale."
So, we're suddenly down to 18, and Eddington's and Rock Hard Ten's connections can only wonder what if. Now, finally comes the question: how do you make sense of one of the wildest and most perplexing Kentucky Derby's (gr I) ever.It is difficult to say with any conviction that you love one particular horse. There are so many variables to take into account this year, and with the condition of the track uncertain, it makes it even more confusing. So, it's best to start off by creating exotics packages, where you at least have some rhyme or reason for selecting horses to put in exactas, trifectas, and superfectas.There will be the selections based on works, gallops, looks, and behavior, which could wind up being the deciding factor in such a wide-open race. And finally, I'll discuss some of the relevant Sheets and Thoro-Graph figures for those who are numbers conscious. Many of the horses mentioned below will be based on value, as there are sure to be some enticing overlays.The following couple of graphs reflect possible gimmick wagers. Let's start with the condition of the track. If it's sloppy, that will throw everything into more disarray. But there are two horses who should move way up in the mud, and they are
Pollard's Vision
and
Master David
, the only two to trace to Ribot through full-brothers His Majesty and Graustark, both huge slop influences. Both colts also have other slop influences, and have the right kind of grinding style you want to see on an off track. Also,
Read the Footnotes
, inbred to Mr. Prospector and Northern Dancer, and
Friends Lake
, inbred to Buckpasser should relish the wet ground. But if it comes up sloppy, you might want to put a saver on Pollard's Vision, knowing that he will love it and help negate the Carson City sprint influence.The gray on a cloudy day – a centuries old belief that Arabs and Europeans firmly believe in is that grays move up on cloudy days. The cloudier and more miserable, the better (no, it can't be explained). Taking into account the weather and the fact that May 1 marks the 50th anniversary to the day of the first gray ever to win the Derby and you might want to box
Imperialism
,
Tapit
, and
Pro Prado
or use them with whomever you like.Looking at some speed sheet numbers,
The Cliff's Edge
went from an 8 and 9 to a zero on the Ragozin Sheets, which spells bounce. But Thoro-Graph doesn't have him jumping up that much, and has him running another big race, based on the Blue Grass in comparison to his best 2-year-old numbers.
Lion Heart
also ran a zero in the Blue Grass (gr. I) on the Ragozins, but was coming off a 2, and ran big numbers last year. One longshot who could surprise is megabomb
Pro Prado
, who I like based on his training and overall appearance. Ragozin has him coming off a 7, 5, and 4 ½, while Thoro-Graph, whose numbers are lower, has him with three straight 1's. While Smarty Jones got a ½ in the Rebel from Ragozin, Thoro-Graph gave him a minus 3 ¾, the lowest number they've ever given to the 3-year-old.
Castledale
is coming off a 7 and a 2 on Thoro-Graph, and a 9 and a 5 on Ragozin, so he'll have to improve off the Santa Anita Derby (gr. I).
Borrego
, with a 6, 2, and 2 on Thoro-Graph, also needs to take one more step forward. Thoro-Graph has four horses – Smarty Jones, Lion Heart, The Cliff's Edge, and Read the Footnotes -- running below zero this year, indicating horses are continuing to get faster each year, according to Thoro-Graph founder Jerry Brown.Now, for the observations over the past two weeks, taking into consideration I haven't seen enough of Lion Heart and Tapit to put them in the mix, although they may be the two most talented horses in the race, and have a big shot to win. So, play them as you see fit. As for The Cliff's Edge, I've had him on top of my Derby Dozen since before the Blue Grass, and his last two works were very strong. But again, this is about value. If he gets a good trip, there is no reason why he can't run another big race. Certainly, put him in all exotics, and remember, with Wimbledon out, Nick Zito is the only Derby-winning trainer in the race. The one horse who has been flawless in every category is
Castledale
. Normally, not having any works over the Churchill Downs track would be a drawback, but Funny Cide did it last year, and this colt's last work at Hollywood Park, which was discussed in an earlier report, was nothing short of sensational. He is all class in everything he does, his coat looks great, and he has a feisty streak in him that should help him stand up against the bigger, burlier colts when the going gets tough.No horse worked better at Churchill Downs than
Smarty Jones
. In fact, I can't recall seeing a better Derby work than his effortless :58 breeze last week. He's smooth, but powerful, galloping each morning like a charging rhino, dragging his 170-pound exercise around the track. You don't like to see a horse like this with that much aggression in his gallops, but he was the same way at Oaklawn Park. But, again, this is about looking for value, and he'll be no worse than second or third choice. So, if you like him, use him with confidence.Although
Borrego's
works were nothing out of the ordinary, he was the first horse to catch my eye two weeks ago, and he's continued to blossom and fill out. He just seems to be thriving at Churchill Downs. One colt who looks dead-fit, with excellent muscle tone, and just the right amount of aggressiveness is
Read the Footnotes
. Yes, the seven-weeks off is something to ponder, but Rick Violette has put two stamina-building mile works in him, followed by sharp 5-furlong and 4-furlong works, and has him primed for a big race. And remember, earlier in the year, he was the fastest of the fast. I'm really starting to feel good about this horse.Completing the physical aspect of the superfecta are Master David, and the horse many people love to knock, Friends Lake. Master David is a picture of good health and is coming up to a big effort, especially on an off track, and Friends Lake is simply a horse I love watching. Yes, his ribs are showing; yes, he hasn't any fast works; yes, he's also coming off a seven-week layoff; and yes, he has a stubborn streak and can be a bad actor. But he is very talented, he has a sensational pedigree, he looks like a European stayer, and he has the right running style and a big closing kick. If there is one thing to be wary of with him, it is the possibility of self destruction in the paddock or at the gate in front of that big crowd.Although, they're not in my top four, Imperialism and Birdstone have been looking good in their gallops, and Action This Day has responded to various forms of therapy on his back, and you never know if and to what extent that will result in a major turnaround.So, from a value standpoint and a chance at a big payday, the key horses in the exactas, trifectas, and superfectas, are
Castledale
,
Borrego
,
Master David
, and
Read the Footnotes
. If you want, you can also throw Friends Lake in, in case he's on his best behavior.Bombs away – However, you want to play this, if you combine speed numbers, his :24-second quarters throughout the Arkansas Derby (gr. II), his sharp works and gallops, and overall enthusiasm, you might want to consider taking a wild shot and putting a few bucks on
Pro Prado
at a huge price. But, he might be at a bit of a disadvantage breaking from the 19 post, so keep that in mind. And remember,
Pollard's Vision
if it's sloppy.
FREE! E-Newsletters from The Blood-Horse!...
Follow the top stories of major racing events, racing previews and results with FREE e-newsletters from bloodhorse.com. As news develops, we'll deliver updates to your inbox. Follow important events moment by moment, step by step!