Pollard's Vision Team Doesn't Lack Heart
by Kristin Ingwell Goode
Date Posted: 4/29/2004 4:27:11 PM
Last Updated: 4/30/2004 8:42:35 AM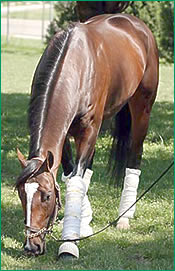 Pollard's Vision grazes at Churchill Downs.
Photo: Anne M. Eberhardt

In David Moore's family, horse racing becomes a hobby at an early age. Moore, 47, was introduced to Delaware Park by his grandfather, Charles (Crip) Moore, at age six. That introduction stuck with him and about 39 years later, Moore decided to enter the Thoroughbred business. He named his farm Edgewood Farm, after his grandfather's home in Chester Country, Penn., and his 7-year-old daughter, Charlotte, is responsible for naming the Edgewood Farm runners. Among them is Kentucky Derby (gr. I) contender Pollard's Vision.Moore said he and Charlotte had just finished reading Seabiscuit together when he bought Pollard's Vision in April of 2003. Like the title character's jockey, Red Pollard, this horse happens to be blind in his right eye. Charlotte, a fan of the Harry Potter series, also named runners Hermione's Magic and Flitwick's Charms. Although David Moore happens to have a similar problem--he suffers from low vision in his left eye--he said that's not why he bought the horse. It was because bloodstock agent Ed Rosen loved the pedigree, and trainer Todd Pletcher loved the horse's looks."I was amused by it (his eye problem), but that wasn't why we did it," said Moore. Moore, who lives in Summit, N.J., now owns seven horses individually and in partnership. He retired from investment banking two years ago and decided to get into horse racing with some of his newfound free time. However, it was a work connection that brought him to Rosen. Moore and James Scatuorchio both worked at Donaldson Lufkin & Jenrette in New York City. Scatuorchio and his family owned More Than Ready, who was one of Pletcher's four entrants in the 2000 Derby. Although that Pletcher connection was there, Moore said he interviewed six trainers before choosing one. "I was looking for something to run as a business, and that's my plan," he said. "Todd stood out head and shoulders above the rest."Beyond the business model, Moore understands even the best-laid plans don't necessarily result in such speedy success. "We just think the horse has a huge heart," said Moore. "If you watch his tapes he comes back a second time, a third time, and a fourth time. I realize how incredibly lucky I am."



Copyright © 2015 The Blood-Horse, Inc. All Rights Reserved.