An Unlikely Life with Horses for Frank Lyons
by Margaret Ransom
Date Posted: 4/29/2004 4:03:58 PM
Last Updated: 4/29/2004 6:32:24 PM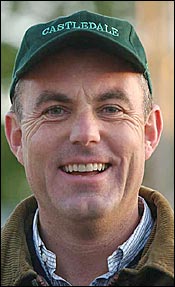 Frank Lyons, TVG analyst and co-owner of Castledale.
Photo: Anne M. Eberhardt

For as far back as he can remember, Frank Lyons wanted to spend his life with horses. The 40-year-old native of Ireland used his entire youth to prepare for a career as a horse trainer, learning his craft from some of the best conditioners in his homeland and at the biggest Thoroughbred breeding operations in the world. It was at the relatively young age of 31 that he reached a rare peak in racing when he saddled Desert Stormer to win the 1995 Breeders' Cup Sprint (gr. I). He was the talk of the sport and his future could not have been brighter. Unfortunately, things didn't work out as planned for Lyons and, thanks mostly to "the high cost of doing business in the state of California," he was forced to close down his public stable for the relative security of television and a position as racing analyst for TVG. Not surprisingly, though, Lyons was as much of a natural in front of the camera as he was a trainer, quickly establishing a huge fan following, thanks mostly to his extensive racing knowledge and witty sense of humor.So even though giving up training was the hardest thing he ever had to do, Lyons quickly became content in his new position, as well as his new-found celebrity as a television personality. He also discovered great enjoyment spending his free time scouring the globe looking for top foreign prospects with bright futures in America. It was on a trip home to Ireland last September that Lyons stumbled across Castledale, a slight son of Peintre Celebre, who was disqualified from his first career stakes win just days earlier."What I noticed first about him was that he's a fighter," Lyons said. "What I found to be most impressive is that he'd raced seven times in a 10-week period and he fought harder in his last race than in any of his previous races. He also was stepped back in distance and should have been going longer."Though Lyons and partner Greg Knee knew they had a special horse from the minute he stepped off the plane (as evidenced by his Generous Stakes (gr. IIIT) victory in his very first stateside attempt in November), they never dreamed he'd be good enough to win the Santa Anita Derby (gr. I). Neither did anyone else, for that matter, as the bay colt shocked the crowd at odds of 30-1 and survived a nail-biting 10-minute stewards' inquiry. Lyons and Knee have spent the last four weeks in a bit of a dumfounded state of euphoria, not quite absorbing the magnitude of what's happening to them and their little bay Irish-bred."The thing about this horse right now is that there aren't a lot of people in his corner," Lyons explained. "I don't really know why. He's got the talent and the pedigree and unlike many of the others, you can't say he's not going to get better as the distance stretches out."Though he misses the action of training from time to time, Lyons has become content in his new life as racing expert/racehorse owner, preferring to leave the higher stress position getting a runner ready for the Derby to Jeff Mullins. The transition from training big-time racehorses to owning big-time horses has been largely smooth, thanks in large part to Mullins."(Mullins) is just a trainer I think the world of," Lyons says. "I don't worry about anything with Jeff. He knows exactly what he's doing.So what will be going through Lyons' head as the horses make their way to the gate for Derby 130?"The Kentucky Derby--for anyone from any walk of life with any sort of ambition thinks that winning it is a most outstanding achievement. I've though a lot about walking from the paddock to the stands while they're singing "My Old Kentucky Home" with our little Castledale out there. It's a moment I've always dreamed of. Win or lose, it's a moment I won't ever forget either."



Copyright © 2015 The Blood-Horse, Inc. All Rights Reserved.