Kristin Mulhall, Racing's Newest Media Darling
by Margaret Ransom
Date Posted: 4/29/2004 3:53:06 PM
Last Updated: 4/29/2004 6:33:29 PM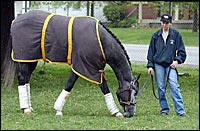 Trainer Krisin Mulhall, with Imperialism.
Photo: Anne M. Eberhardt

It seems like there's not much about trainer Kristin Mulhall that die-hard horse racing fans don't know by now. The 21-year-old has taken center stage in the sport of Thoroughbred racing and held it steadily for the past month thanks in large part to the growing popularity of her one-eyed Kentucky Derby (gr. I) contender Imperialism. Through it all, Mulhall's easy-going nature and desire to let the world be a part of her exciting first Derby experience has come through.She's been profiled on NBC's national "Nightly News" program, appeared on the front page of several major metropolitan newspapers, and is even getting recognized by complete strangers walking by while she shops in one of Louisville's malls. To say fame has hit is an understatement, but being around her makes one feel as if someone forgot to tell her that.All morning, every morning, outside barn 42 at Churchill Downs, Mulhall can be found surrounded by microphones or with dozens of cameras pointed straight in her direction, clicking away and capturing every move she or her horse makes. She never turns down interviews and makes it a point to accommodate every media request, from newspaper features to television specials and live newscasts. While many would crack under the intense pressure and media scrutiny, Mulhall simply takes it in stride."I really don't mind it," Mulhall said. "Sometimes it's a little frustrating because I'm still running a business (training 40 horses at her base of Hollywood Park) back home, so I can't spend every minute doing (interviews). But I know they have a job to do, too, so I work it out if I can. I like to talk about the horses and that's what they want to know about. I'm sure if (Imperialism) could do it himself he would, but since he can't, it's up to me."Mulhall's cell phone rings steadily with the callers varying widely, from her assistant and right-hand man, Yan Durepaire in California, to old friends from her days in the horse show world and, of course, the press. Always polite to a fault, the only time she refuses to answer is when she's otherwise occupied in front of a tape recorder or video camera. Mostly, she says, the questions she's asked are good and insightful, but one in particular made her chuckle."A reporter came by and asked if I could be available one morning for an interview," Mulhall said. "I told her that I had to train the horses during that time, but that I would be happy to when I was finished. She said to me, 'Well Steve Taub owns your horses, right?' And I told her, 'Yes, he does.' She said, 'Maybe we can just call him and get you out of work for a couple hours.' I thought that was the funniest thing. She didn't know how the business works so it wasn't her fault, but it was funny."Mulhall admits her excitement of Derby day is growing, but she refuses to give in to any pressure and is determined to continue to enjoy the ride despite the attention. At 21 it's hard to imagine this could be the only shot most trainers only dream of, but few who've met her, interviewed her or watched her work with Imperialism for the past two weeks would ever believe it anyway."It's all a learning experience," Mulhall said. "I'm actually enjoying myself. I guess I just want everyone else to, too."



Copyright © 2015 The Blood-Horse, Inc. All Rights Reserved.