Steve Haskin's Derby Report: A Morning at the Gate
by Steve Haskin
Date Posted: 4/29/2004 3:44:27 PM
Last Updated: 4/30/2004 7:40:13 PM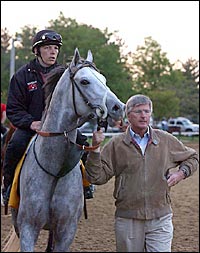 Tapit, with trainer Michael Dickinson, preparing to work in the gate.
Photo: Anne M. Eberhardt

With the serious works out of the way, it was time to get a different perspective on things. The starting gate is a hotbed of activity, as you get to see many of the Derby horses close up and observe how they're acting, how they're looking, and how they handle the gate. It's also a great vantage point to watch the gallops.Michael Dickinson had Tapit out at 6:30, and the son of

Pulpit

jogged a half-mile, galloped a mile, then walked around the paddock until gate schooling began at 7. Tapit, as would be expected from Dickinson, was the first to arrive at the gate and the first to school. He walked right in and back out with no problem.Dickinson, never one to leave even a pebble unturned, brought with him four large tubs of home-grown grass, about 6-7 inches long, and proceeded to empty them outside the barn, forming a 20-foot long smorgasbord for Tapit to munch on. He also installed a humidifier and air purifier in Tapit's stall. All the while, a puzzled Castledale looked on at the dramatic change in his neighborhood.Dickinson said Tapit would repeat today's procedure on Friday. He wasn't crazy about winding up with post position 18, but Dickinson would be dangerous even if Tapit was breaking from post 21 in the 20-horse field.A bit of controversy has been brewing concerning Friend's Lake's starting gate antics. Trainer John Kimmel has had New York Racing Association's longtime starter and now consultant Bob Duncan working with the son of

A.P. Indy

since last year, including a three-day session back in January at Payson Park. But when Duncan asked Churchill Downs starter Roger Nagle for permission to work with him during schooling, Nagle, who watched the colt's hissy fit before the Florida Derby (gr. I), refused, feeling it would disrupt his own methods. Although Friends Lake has gone into the gate fine the past two days after a so-so session on Tuesday, he did briefly balk 20 yards behind the gate, refusing to move until he was ready to go in. Once he was ready, he went in twice with no trouble. Nagle, afraid what the colt might do in the frenzied atmosphere of the Derby, has received permission from Churchill Downs officials to load Friends Lake first. Another factor in Nagle's decision is that Friends Lake has the six-hole, which is right in the middle of the load.Smarty Jones, the other colt who could prove troublesome at the gate, will school again on Friday. He has improved each time, according to Nagle, but he was far from a gentleman two days ago. Tomorrow's session likely will determine whether Smarty Jones also will load first, along with Friends Lake.Of the Derby horses who schooled today, all were very well-behaved, although Song of the Song did get a bit antsy inside the gate. Those schooling beautifully were Quintons Gold Rush, Master David, Read the Footnotes, and St Averil. But the one horse who really stood out was Castledale, who has proven to be a class act. The Santa Anita Derby (gr. I) winner looked a picture, with a regal air about him. His coat looks magnificent, he was bright-eyed and alert, checking out the surroundings, yet did everything perfectly without turning a hair. He came out of the gate smoothly to begin his gallop. "He could have his head down between his legs and still break smoothly," trainer Jeff Mullins said.Castledale showed his class once again later in the day when he schooled in the paddock as if he hadn't a care in the world. This definitely is a horse to reckon with on Saturday.One of the topics of conversation around the backstretch was the post position draw, and it was the consensus of opinion among several Derby trainers that Lion Heart is going to be very dangerous breaking from post 3, with the three other horses with speed - Smarty Jones, Pollard's Vision, and Quintons Gold Rush -- coming out of posts 15, 17, and 20, respectively. Many were surprised when Limehouse's connections, selecting 19th, chose to break from the dreaded post 1 instead of taking post 20. That may have an effect on the race. Limehouse does have speed, but he's not a front runner, and he'll have to break very sharply for fear of getting shuffled back. If Quintons Gold Rush had wound up on the rail, he'd break like a bullet and likely would be have been right there eyeballing Lion Heart. But his connections want to see him around three or four lengths off the lead, and he'll have a better shot to do that from post 20.With Lion Heart now free to break quickly and get to the rail without any pressure, he will be a tiger (or a lion) and it's up to the jockeys on the three aforementioned horses to decide whether they want to try to take him on early or sit back and hope they can rein him in at some point. If they try to outrun him from the outside, they'll have to really use their horses, and likely would have nothing left in the stretch. After Lion Heart's gutsy and brilliant performance in the Blue Grass Stakes (gr. I), some trainers are fearful he could pull a War Emblem. Trainer Patrick Biancone could have picked post 15 and placed himself right outside Smarty Jones, but he chose post 3, which pretty much is the same as issuing a proclamation what his strategy will be.Some people were surprised when Nick Zito chose post 11 for The Cliff's Edge. That means that the Blue Grass winner will have to load first, although that would change to second with Friends Lake and Smarty Jones loading first. Zito could have selected posts 14 or 15, giving him space between the main gate and the auxiliary gate, but Zito said he going by gut instinct, and simply liked the 11 post.Zito was taken aback when Churchill linemaker Mike Battaglia made Birdstone, once one of the leading Derby contenders, the only 50-1 shot in the race. "That's insane," Zito said. "I like Mike, but please..."Bobby Frankel seems to be enjoying himself more this year and is more relaxed not having to deal with saddling the big favorite for the Derby, dealing with a bruised foot, and participating in those 9:30 mob interviews outside barn. After watching Master David work, his confidence is building, especially drawing the number 2 post position order. Even the threat of rain has him excited, as he's convinced Master David has the foot and the pedigree to relish a sloppy track.One horse way, way under the radar is Minister Eric, who just may be the best looking horse in the race. He is a beautifully balanced chestnut with a beautiful blazed face. And even though the Derby is far from a beauty contest, he has been galloping, uh, beautifully.Enjoying the Derby scene this morning and reliving last year's memories were Jack Knowlton and Dave Mahan, co-owners of Funny Cide. They are looking forward to returning to Pimlico in two weeks to run last year's Derby and Preakness (gr. I) winner in the Pimlico Special (gr. I) against Ten Most Wanted and Dynever.



Copyright © 2015 The Blood-Horse, Inc. All Rights Reserved.