Two Becerras Side-by-Side with St Averil
by Margaret Ransom
Date Posted: 4/29/2004 2:59:59 PM
Last Updated: 5/1/2004 2:30:06 PM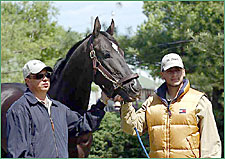 Trainer Rafael Becerra (left) with St Averil and his son Rafael Becerra Jr.
Photo: Anne M. Eberhardt

Rafael Becerra Jr. never wanted to be a horse trainer. Despite spending much of his youth going to the races and visiting the backside often with his trainer father, the 22-year-old was more interested in a career in finance, not furlongs. Until, that is, a horse named St Averil came along."I've been with him since the beginning," Becerra said. "I've seen all his races and watched him go to the track nearly every day for six months, maybe more. He's my buddy."It was sometime last summer, Becerra said, that he became disillusioned with the finance business and decided he needed some changes in his life. Finance was, "too much about greed and it didn't make me happy," he said. At a crossroads, he turned to the one constant in his life and something that always made his father happy: the racetrack. He figured he could, for at least a little while, take some classes in other fields and work at the track under his father to pay his bills."I started working when I was 16 and liked to make money," Becerra said. "I always went to the track with my dad, but I never learned the business."The early days were a bit of a surprise for Becerra as he easily got into the routine of "early to bed, early to rise." His position as barn foreman/assistant/gopher for his father's stable made him surprisingly happy. There are good horses, too, which he quickly points out make racetrack life more exciting. Good horses like St Averil, he says, who his father trains for Stan Fulton.The young man and the nearly black son of Saint Ballado bonded right from the beginning. They've been side by side through all the ups and downs of trying to make it to the Kentucky Derby (gr. I) and despite the disappointments, Becerra never lost faith in his four-footed friend. Visitors to the Becerra barn at Santa Anita will rarely see St Averil without his human shadow, or vice-versa."He's special," Becerra said. "He's got a nice personality and is extremely good looking. I don't know why I like him so much, but I do. And he likes me."Becerra's father, Rafael Sr., beams with pride when he sees his son and his horse together. He's also grateful to St Averil for giving his son some direction."At first he didn't want to go to Kentucky because he didn't want to miss some school," Becerra said. "But when he got to the barn the day after he shipped and realized (St Averil) wasn't there he missed him. He said, 'Dad I really want to go to Kentucky.' How could I say no?"Even though young Becerra's current career motivation lies squarely with St Averil, it's his father he looks to for inspiration, guidance and acceptance. Someday, he says, he wants to be just like his father."He's serious, committed, dedicated," Becerra said. "He doesn't gamble or drink or smoke. He's good with people, including the help in the barn and the owners. And he's an awesome horse trainer. Who wouldn't want to be like him? He gives me great advice and I love to spend time with him, especially in the mornings when he's training the horses. We talk about life. I have the best father and without him, neither St Averil or I would be here. But I'm mostly happy for my father. He deserves to be here. He earned it."



Copyright © 2015 The Blood-Horse, Inc. All Rights Reserved.