Trainer Speak: Notes from the Trainers Dinner
by Evan Hammonds
Date Posted: 4/28/2004 12:30:34 AM
Last Updated: 4/28/2004 1:30:36 PM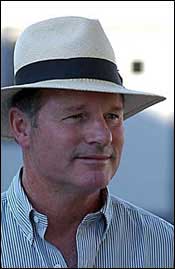 Trainer Richard Mandella, drew laughter with his comments at the trainers' dinner.
Photo: Anne M. Eberhardt

There were plenty of quips and comments from trainers and connections with Kentucky Derby (gr. I) hopefuls Tuesday night at the annual Kentucky Thoroughbred Owners and Breeders trainers' dinner in Louisville. Held in the Hyatt Regency ballroom in downtown Louisville, the post-dinner interviews gave the packed house some insights into the running of Derby 130 on Saturday.The emcees for the evening were Louisville radio personality Paul Rogers and a new-look Chris Lincoln, who was showing off a svelte figure after having shed 180 pounds.The KTOB and the KTA started the evening by presenting its first Humanitarian Award to the late W. T. Young Jr., master of Overbrook Farm. Long-time trainer and friend D. Wayne Lukas gave his regards to Young and presented the award to Young's children: Lucy Hamilton and Bill Young; and grandson, Chris Young.The trainers were introduced, in reverse order of their graded earnings status. Earnings in graded stakes will determine the entrants into the Derby. Following are some of their comments:Bob Holthus, trainer of Pro Prado:"I like to show up every 16 years," he said in regards to his two previous Derby starters: Our Trade Winds in 1972 and Proper Reality in 1988. "He's doing great. He's run third to Smarty Jones the last three times. He got beat three lengths in the Arkansas Derby, but hopefully we can catch him going 1 ¼ miles."Steve Asmussen, trainer of Quintons Gold Rush:"He ran a very good race in the (Coolmore) Lexington and we've just had him a little over two weeks now. Mike Mitchell had the horse out in California and he's been a great help. We're based in Kentucky and he's out there and the horse had to run in the Lexington to earn his way into the Derby and we had some other horses for Padua."When asked about the Lexington's 1 1/16-mile distance as a prep, Asmussen said, "Wayne (Lukas) said it worked for Charismatic, so we'll go with that."Beau Greely, trainer of Borrego:"It's a great experience and we're having fun."Greely was questioned about his past performances. His great-grandfather, John Greely Sr. trained 1937 Derby starter Burning Star (8th); father John J. "Bud" Greely co-bred 1970 Derby starter Admiral's Shield (6th): "Well, they sent me here to win this one."I can't lie to you, I ran him on the turf in his first race. Did I think he'd be a Derby horse? No. But we got lucky, and he's here, and I couldn't be more delighted. I've never felt the feeling of the Derby. At this time, God willing, in the next four days we will feel it and it's a lot of fun right now, knock on wood."Steve Taub, owner of Imperialism, subbing for trainer Kristin Mulhall:"First of all, Kristin's in bed. I don't want this week to end it's been too fantastic. It's a humbling experience. I'm blessed to be here. I think all 20 of us would say the same thing. Like Beau said, we didn't really expect to be here. On hooking up with Mulhall: "It was by accident. I was exiting the horse industry because I really wasn't having a lot of fun. I met her, and a light switch was turned on. I did a lot of homework on her and her talent goes without even saying. "There's a superstition that you're not supposed to say too much. I think all 20 horses belong here. I think we do. (long pause) I hope I prevail on Saturday. It'd be great."John Goodwin, assistant to Bob Baffert, trainer of Wimbledon:"I think Bob was disappointed (in his last race). The horse didn't run the same type of race. We didn't really use the same tactics, but we'll use the same tactics that we used in the Louisiana Derby on Saturday."Rick Violette, trainer of Read the Footnotes:After watching a replay of the Fountain of Youth: "My heart pounded too much that day -- it cost us in our next start (laughter). We knew going into the Florida Derby that he'd probably regress; not so much to get us beat, but maybe go backwards a little bit. It just didn't work out. We thought about (not making another start) even before the Florida Derby. There was really no up-side to running in between, except maybe making ourselves feel better and leave another race on the table before the Kentucky Derby."This time the trainers were right (about the Florida Derby). Todd (Pletcher), John Kimmel, and I all said it was a much better race than all the 'Sheet' guys and the numbers guys. I think the way The Cliff's Edge and Tapit came out of it and rebounded kind of vindicated the bunch of us."Patrick Biancone, trainer of Lion Heart:"The horse seems to be ready for Saturday. I hope the other horses don't finish too fast. We came last year and finished last. We hope to improve this year."We've stayed and Keeneland and we'll come on Saturday morning and try to do our best. We fit so well at Keeneland. We're expecting a good experience this year."Todd Pletcher, trainer of Pollard's Vision and Limehouse:"The Illinois Derby (Pollard's Vision's last race, a wire-to-wire victory) has seemed to become more of key race than it was in years past, with War Emblem winning and Ten Most Wanted winning it last year. He's not a horse that has to be on the lead. He has natural speed, so he can be close to the pace. It just worked out well at Hawthorne. We had an inside post and we wanted a good position going into the first turn. On Limehouse, winner of last year's Three Chimneys Juvenile Stakes winner on Derby day: "Obviously the crowd didn't bother him and the fact that he likes Churchill, he's two-for-two here, is a plus. On his last race, a third-place finish in the Toyota Blue Grass: "We didn't feel like, tactically, we designed a good race. I was concerned about Lion Heart getting away at Keeneland and that's normally a speed-favoring track, so I told Jose (Santos) to be a little closer."Frank Lyons, co-owner of Castledale, subbing for Jeff Mullins:"One thing that stood out in my mind is that Julie Krone rode him in the Generous (Stakes). Then she got hurt, and when she came back she came out and only worked two horses: Halfbridled and Castledale. Her agent called and said Julie just worked your horse today and she called me later today and she said, 'Brian (Beech), I hope I don't have to choose between Castledale and Halfbridled."He's by Peintre Celebre, who is a son of Nureyev. He was only beaten twice in his life. He knocked two seconds off the track record in the Arc de Triomphe. I believe he was Nureyev's best son to race. He's a tremendous sire. What really excites me about this horse is that if you go back to his third generation, the four stallions that are represented are, first of all, Northern Dancer; the second one is Alydar, who is maybe the most unlucky horse in the Triple Crown, ever; the third one is Roberto, who was an English Derby; and the fourth one is Secretariat."David Fiske, representing Winchell Thoroughbreds' Tapit:"This was the last horse that Mr. (Verne) Winchell bought. We dedicate all our wins to Verne. He was a great guy. We thought he'd bring about $400,000, but we blew by that pretty quicky and brought the colt home for $625,000. So far, it's worked out. On trainer Michael Dickinson, known as the "Mad Genius:" Michael's at home right now. I think he's got his cauldron out and he's stirrin'. And he's wearing that pointy hat (laughter). John Servis, trainer of Smarty Jones:"Everybody's horses are doing well. I've watched them out there this week. We're excited. We can't wait for Saturday."On going through Oaklawn, and having no graded earnings until the Arkansas Derby: "I felt some pressure going in. I knew the horse was doing real well. We were just hoping nothing out of the ordinary would happen, like stumble leaving the gate or the jockey falling off. That's the route we decided to take, we put all our eggs in one basket and it worked out."John Kimmel, trainer of Friends Lake:"I told Mr. (Chester) Broman even before the Florida Derby that I thought I could bring the horse in well off a long layoff and we'd have a better chance to run well in the Derby with a fresh horse rather than go in a succession of races. He doesn't carry a whole lot of flesh. I think the horse has tremendous talent and should improve. "Friends Lake has just been a real good student, from the first time I put my eyes on him, from the guy breaking him in Florida, to every step of the way. The horse has been an easy keeper. The only incidents we've have are a few moments when either he didn't want to load in the gate or act up in the paddock. We're constantly working on that quirk and hope to have it ironed out by Saturday."Richard Mandella, trainer of Minister Eric and Action This Day:"Mr. Hughes had a meeting earlier in the day and we've decided to give in to the jinx of the 2-year-old Breeders' Cup winner not winning the Derby, so we're going to give that money back and donate it charity (laughter). That's going to put the pressure on Minister Eric. But I'm stuck now. I can't run him in a non-winners of two, so I'm going to go ahead and run him in the Derby (laughter)."It was hard to find my level at Keeneland. The first two didn't run that well, so I dropped down to non-winners of two and I got the job done. I was afraid I was going into claimers. Nick Zito, trainer of The Cliff's Edge and Birdstone:On The Cliff's Edge win in the Blue Grass: "It was a big turn around for us. It's got to be one of the most gratifying wins I've ever had. We didn't know where we were going.Looking at the way he's been training the last couple of weeks, I have a lot of confidence. I have great help. We feed off each other. The horse couldn't be doing any better. I know you guys don't like that line, but he's a worthy horse."On Birdstone: "We have a lot of tradition with this horse. Besides my great owner, Marylou Whitney, this horse is by Grindstone, who was bred by W.T. Young...trained by Wayne Lukas. If you remember last year, there's another filly called Bird Town, who won the Oaks. By Cape Town...W.T. Young...Wayne Lukas."



Copyright © 2015 The Blood-Horse, Inc. All Rights Reserved.