Teen Tracks: The Cliff's Edge Doesn't Fit His Stereotype
Date Posted: 4/27/2004 5:24:55 PM
Last Updated: 4/28/2004 1:34:13 PM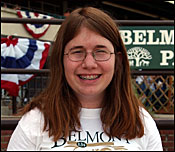 Carly Silver


When a horse wins a race at a particular distance, oftentimes the horse is labeled as a runner only suitable for that certain distance. Usually, this generalization is not justified; that horse can win at many other distances. Such was the case that was made with

Gulch

, sire of The Cliff's Edge, a Derby contender this year.The Cliff's Edge himself is a victim of this generalization. Last year, The Cliff's Edge won the Kentucky Jockey Club Stakes (gr. II). But, once he hit the track this year, he suffered several consecutive losses. Handicappers dismissed him as a legitimate Derby contender, due to his less than perfect performances during the first few months of the year. But in April, The Cliff's Edge proved all the skeptics wrong by scoring a resounding victory in the Toyota Blue Grass Stakes (gr. I), long one of the most important Derby preps. The Cliff's Edge is extremely well-suited to the 1 1/4 distance of the Run for the Roses, due to his pedigree, which some may overlook as speed-oriented, but, in truth, is filled with stamina influences.The Cliff's Edge's sire is Gulch, the 1988 champion sprinter. As previously stated, many people believed Gulch to be a pure sprinter, due to his triumph in the Breeders' Cup Sprint. But Gulch was much more versatile than handicappers gave him credit for. He triumphed in races longer than the typical sprint distance of six furlongs--he won the Carter H (gr. I), 1 1/8 mile Wood Memorial (gr. I), and back-to-back runnings of the Met Mile (gr. I)--proving he could stretch his speed at least 1 1/8 miles, only a furlong shorter than the Derby.Gulch's sire was the great Mr. Prospector, himself the sire of a winner of each of the Triple Crown races (Fusaichi Pegasus, Tank's Prospect, and Conquistador Cielo--a runaway winner of the 1 1/2 mile Belmont). Mr. P's grandsire was Native Dancer, the "Gray Ghost," who triumphed in the Preakness and Belmont.Gulch's dam was the hardy grade I winning mare Jameela, and his broodmare sire was Rambunctious, a stakes-winning descendant of Epsom Derby winners Owen Tudor and Hyperion. This line traces back to the Mortemer mare Wanda, a champion in her own right, who was the ancestress of Gazelle Handicap winner Fairy Wand, Futurity winner L'Alouette, Hopeful Stakes winner Epithet, Derby winners Clyde Van Dusen, Swaps, and Iron Liege, and the great matron Courtly Dee, dam of Althea. Selima is also the ancestress of the great sire Hanover and Timoleon, sire of Boston.The female family of The Cliff's Edge may look speed-oriented, but it actually contains many influences of classic horses. The Cliff's Edge's dam, Zigember, is a daughter of the excellent sire Danzig. In order for Danzig's progeny to excel over longer distances, and for their progeny to do so as well, there needs to be several strains of stamina horses on the broodmare's side. Zigember's pedigree has this.Zigember's dam, Red Ember, was a California stakes winner. Although Red Ember was by speed sire Crimson Satan, the latter's family is classic-oriented--his second dam is inbred 3x3 to English Triple Crown winner Flying Fox. Red Ember's dam, Everglow, is the dam of grade I winner Comedy Act. Comedy Act is the dam of grade III winner Ziggy's Act. Everglow was by Jacinto, a stakes-winning son of Bold Ruler. Jacinto is descended from Sister Sarah, dam of Lady Angela, in turn dam of Nearctic, sire of Northern Dancer.Everglow's dam, Strike Oil, was the dam of Oil Power, victor of the Lawrence Realization. In turn, Strike Oil was out of Oil Princess, the dam of major stakes winner Oil Royalty. Oil Princess' broodmare sire was Reaping Reward, a half-brother brother to Whirlaway. Her dam was Big Harvest, whose dam was Summer Time.Most importantly, Summer Time was a full sister to the great sire Bull Lea, being by Bull Dog and out of Rose Leaves. Bull Lea was the star sire for Calumet Farm in the 1940s and '50s, turning out champions on a regular basis, such as Triple Crown winner Citation, Bewitch, Coaltown, Real Delight, and the 1944 distaff Horse of the Year, Twilight Tear. This line traces back to the Toxophilite mare, ancestress of the very good sire Star Shoot, sire of Sir Barton. This family is Bruce Lowe Family No. 9, and other members include Epsom Derby victors Mahmoud, Benny the Dip, and Galileo, English Filly Triple Crown winner Oh So Sharp, Alydar, Fair Play, and Nasrullah,Even though many incorrect generalizations have been made about The Cliff's Edge and his family's "distance limitations," his pedigree proves he is more than capable of handling 1 1/4 miles in the Kentucky Derby.



Copyright © 2015 The Blood-Horse, Inc. All Rights Reserved.