Steve Haskin's Derby Report: Serving Up an Early Overlay
by Steve Haskin
Date Posted: 4/25/2004 5:59:22 PM
Last Updated: 4/26/2004 5:42:55 PM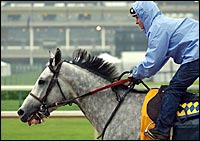 Wimbledon, could be an overlay in Saturday's Kentucky Derby.
Photo: Anne M. Eberhardt

This year's Kentucky Derby (gr. I) can be broken up into three categories – Favorites, live longshots, and potential overlays. The favorites are obvious and the longshots will be dealt with at a later date. But if there is one horse who can have bettors pulling their hair out for not having him, it's Wimbledon.This is one impressive horse when he's motoring, unlike his gallops, when he legs are all over the place and his lead changes are more pronounced. But when he's at full speed, as he was this morning, he's a powerhouse. With the overall favorable impression of Borrego, which was discussed last week, and today's work by Wimbledon, the Louisiana Derby (gr. II) could turn out to be a key race. Then again, so can the Arkansas Derby (gr. II), which has produced Smarty Jones, who worked awesome yesterday, and Borrego. Borrego's name seems to be popping up quite a bit. It's difficult to say whether the son of

El Prado

is good enough to reverse the tables on Master David, Wimbledon, and Smarty Jones, but he's sure looking like a good exotics play, considering the company he's been keeping. And a victory certainly would not be a surprise.But a horse like Wimbledon, despite, his poor effort in the Santa Anita Derby (gr. I), definitely is a horse who can bounce back and win the Derby at a good price, especially for a Bob Baffert-trained horse.Earlier in the day, Todd Pletcher sent Limehouse and Pollard's Vision out for early five-furlong works before the rain, which was getting harder by the minute, turned the track to soup. Both colts worked with other horses and were strong, getting their five-furlong drills in 1:00 4/5. Limehouse went out at 5:45, with Pollard's Vision hitting the track at 6:15. John Kimmel, who had planned on working Friends Lake after break, also tried to get a better track by going early, but he went out well after Pletcher's pair, and by the time he sent the Florida Derby (gr. I) winner out, the rains had gotten heavier and the track was a mess, with horses slipping and sliding. Kimmel had been looking for a solid five furlongs as the colt's final move following a seven-week layoff, but it turned more into a defensive work, just trying to get around there in one piece. Both Kimmel and exercise rider/assistant Amanda Roxborough said they were pleased with the colt's five panels in 1:03, out six furlongs in 1:17. "I hope he got what he needed," Kimmel said..Baffert and Borrego's trainer, Beau Greely, decided to wait until after the renovation break, during which the track was floated. Borrego was the first horse on the track after the break, and basically cruised around there in 1:03 3/5, galloping out in 1:19 3/5, pulling up just after the three-quarter pole.Shortly after, it was time for Wimbledon's work, and this one was on a totally different level than the others. As mentioned earlier, Wimbledon is not a smooth galloper, nor does he change leads smoothly. But when you put him in full gear and step on the gas, he is transformed into a completely different horse. An imposing 16.3 hands gray, with long legs and powerhouse of a body, Wimbledon broke off at the five-furlong pole, a couple of lengths behind workmate Determined, who was bred and is owned by Baffert and his wife Jill. Baffert has unofficially changed his name to Wimbledon's Punching Bag.Exercise rider Dana Barnes kept Wimbledon behind Determined until midway on the far turn, when the big gray got in gear and blew past his workmate. Despite the sticky going, he rattled off an eighth in :11 and change. Now well clear of Determined, he changed leads on cue, hitting the eighth pole in :47 4/5. With a final eighth in :12 2/5, he completed the five furlongs in 1:00 1/5. The Churchill clockers, whom Baffert said are usually faster in their times, got him in :59 2/5, with a final eighth in :11 flat, a pretty big discrepancy from Baffert's time. Wimbledon continued on strongly, galloping out six furlongs in 1:13. Other clockers also had him in out in 1:13, which makes the 1:00 1/5 more feasible, considering the clockers had him galloping out in 1:12 2/5, which would be considered a mind-boggling work in itself. Baffert had him pulling up seven furlongs in a very strong 1:26 3/5 over a track he called demanding.Barnes wasn't able to pull Wimbledon up until she had negotiated the entire length of the backstretch, down by the half-mile pole. Coming back, the big gray still was strong, and was bouncing along as if he were coming back from a routine gallop. As she came off the track," Barnes said, "The harder you work him the more he does."If Jerry Bailey, or whoever winds up riding him, times his move right, and doesn't ask him to do too much too soon, there is no reason to think Wimbledon can't return to his Louisiana Derby form. Remember, Baffert trained this colt very lightly for the Santa Anita, and now that's he's turning the screws again, Wimbledon seems to be responding and could be sitting on a big race...at a generous price.Speaking of Bailey, he and agent Ron Anderson are eagerly awaiting the decision from California whether or not St Averil's connections will ship him to Kentucky following the colt's six-furlong work Saturday in 1:12. Even more anxious is Baffert, who would have to start from scratch in his search for a new rider for Wimbledon. When the subject of a new rider was brought up, Baffert said, "Don't even mention that. You have to think positive."If anyone drops out before entries are taken, it would let Eddington in the race, and that is who Bailey likely will ride. "The chances of him getting in were so remote when I talked to Bob, the subject wasn't even discussed," Anderson said. Eddington worked at Belmont Sunday morning, going five furlongs in a sharp 1:00.One horse who definitely will be on the flight from California Monday is Santa Anita Derby (gr. I) winner following his exceptional six-furlong work in 1:11 4/5 at Hollywood Park Saturday. The son of Peintre Celebre worked in company and looked super as he sat well behind a workmate, and didn't go after him until they turned into the stretch. He wore him down with no urging whatsoever and eased clear in the final furlong, while traveling very smoothly throughout. This work was somewhat reminiscent visually of Fusaichi Pegasus's six-furlong work in 2000, even though the diminutive Castledale is pony-sized compared to the ground-devouring Fusaichi Pegasus. But it was the methodical way he did it, the total command of the situation, and the way he drew clear with ease that resembled Fusaichi's work. If this colt is out of sight, out of mind, you're looking at another potential huge overlay in the Derby.Imperialism was the first Derby horse on the track this morning, turning in a solid gallop under trainer Kristin Mulhall, who said she'll probably let the son of Langfuhr blow out two furlongs on Wednesday. Mulhall was still beaming over Cheiron's victory in the Snow Chief Stakes at Hollywood Park Saturday. She said there was a good chance the son of

Maria's Mon

will run next in the Preakness Stakes (gr. I).Patrick Biancone said he will van Lion Heart to Churchill Downs Monday morning to work at Churchill Downs, then ship back to Keeneland.The long-range forecast for Derby Day is a chance of thunder showers on Friday and showers on Saturday. Now, before anyone panics, predicting the weather in Kentucky is as difficult as predicting who is going to win this year's Derby...well, almost.



Copyright © 2015 The Blood-Horse, Inc. All Rights Reserved.