New York Racing Association Privatization Plan Approved
by Tom Precious
Date Posted: 4/8/2017 9:17:00 AM
Last Updated: 4/8/2017 4:32:42 PM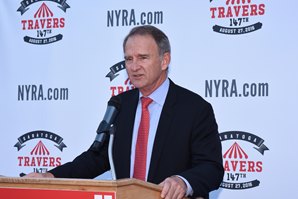 NYRA chief executive officer Chris Kay
Photo: Coglianese Photos
The New York Racing Association, operating under the control of the state government since 2012, will be returned to private hands under a deal that came together April 7 at the New York Capitol.
The measure was quietly and tentatively agreed to days ago, but it was caught up in a larger fight over the state budget that halted passage of it and dozens of other unrelated matters. That fight ended late Friday night.
Terms of the deal were not released until the early morning hours April 8.
The agreement between Gov. Andrew Cuomo and state lawmakers calls for the new board to be composed of 17 members. Eight are to be chosen by the current board's executive committee, and Cuomo gets two selections while the leaders of the state Senate and Assembly get two appointments. The NYRA chief executive officer, currently Chris Kay, has a seat on the board.
"As a private entity, we look forward to continue to grow interest in our racing, expand our fan base and promote New York's important tourism and agriculture sectors,'' Kay said.
Though Cuomo sought to make them ex-officio members, the New York Thoroughbred Horsemen's Association and New York Breeders Inc. will each get a seat on the NYRA board with full voting powers.
"New York racing is second to none, and reprivatization will allow NYRA to move forward and optimize what is an invaluable asset to our state," said NYTHA president Rick Violette Jr. "The flexibility provided to the Jockey Injury Compensation Fund will open the door to lower costs, making New York a more attractive place to do business and creating an atmosphere of growth for the thousands of Thoroughbred owners and trainers and the tens of thousands of workers they employ.
"As the state's second largest agribusiness, horses are responsible for $4.2 billion in economic impact, 1.3 million acres of green space, and 33,000 full-time jobs. We thank the governor and our representatives for the confidence and commitment they have shown in embracing initiatives so important to our industry."
NYTB executive director Jeff Cannizzo said the action protects the industry's 33,000 jobs.
"Thanks to Gov. Cuomo's ongoing commitment to preserving this diverse agricultural industry that touches every county of New York State, the most prestigious racing in the United States will continue for decades at NYRA," Cannizzo said. "We also want to thank Senate Majority Leader John Flanagan, Assembly Speaker Carl Heastie, Senators John Bonacic and Kathleen Marchione, and Assemblymembers J. Gary Pretlow and Carrie Woerner for their hard work on our behalf."
One top lawmaker involved in negotiating the measure said it was time the state got out of the business of Thoroughbred racing.
"I feel more confident they will do a better job,'' Sen. John Bonacic, chairman of the Senate's racing and wagering committee, said of the new panel.
The Republican senator said having representatives from the breeder and horsemen groups will bring other voices with expertise in various aspects of racing to the board.
"I expect greater things from the new board than what we've seen in the past,'' Bonacic said.
The Senate and Assembly also changed Cuomo's plan to greatly strengthen the powers of a state panel that oversees parts of NYRA's budget. The governor wanted the Franchise Oversight Board, created in 2008 when NYRA's racing franchise was extended, to be able to impound NYRA's funds, such as money it gets from the Aqueduct casino for operating aid and purses. He also wanted to give the board powers to take "corrective" actions if the board, in its opinion, believes there were "significant" risks to NYRA's finances.
Lawmakers said the powers sought by the governor were too vague and that the panel could end up serving as a de facto NYRA board. The oversight board is dominated by Cuomo appointees.
Many of the oversight board powers sought by Cuomo are in the final agreement to re-privatize NYRA, but lawmakers restricted potential actions by the panel by requiring a unanimous vote by the board's members. That could favor NYRA, because the unanimous votes would have to come from members appointed by the Legislature, which has had its problems with NYRA but tends to look upon the racing corporation more favorably than a long list of New York governors over time.
The measure states that the law takes effect immediately as soon as the Senate okays the legislation in which the NYRA provisions are buried. The Senate is due back in Albany Sunday evening and will all but certainly pass the bill Sunday night or sometime early Monday.
However, the return to a privately run NYRA can also only occur when a majority of the board—nine members—are appointed. That provision can be met swiftly since Kay is automatically on the new board and it would then only take NYRA's executive committee board members to select its eight appointees.
The NYRA board members will be term-limited out of office. They can serve a maximum of three, three-year terms. The initial members tapped by the breeders and horsemen each get to serve until March 31, 2018. Those appointed by Cuomo and lawmakers serve an initial term until March 31, 2019, with the rest of the initial board's first term lasting a period of three years.
The measure requires NYRA to create new audit and governance committees, as well as a panel of board members to monitor equine safety issues. Board members, who must get a state racetrack management license, are also barred from financial interests in casinos in New York or ties to any development deals at NYRA, including those pertaining to "real estate development parcels" at NYRA tracks.
The state took over NYRA's board in 2012 after a series of episodes at the racing corporation, including a pari-mutuel takeout scandal and a series of equine deaths at Aqueduct Racetrack. At the time, state officials predicted the takeover would give New York an opportunity to address long-standing issues within the racing industry, including wrestling with the decades of fight for declining betting dollars between tracks and off-track betting corporations. No such work was accomplished since 2012.
"The NYRA Reorganization Board will restore public trust, accountability, and transparency to the racing industry in our state, so New York can continue to offer one of the most exciting, enjoyable, safe horse racing experiences in the nation,'' Cuomo said in 2012.
The former NYRA board in 2012 had 25 members on it. Cuomo at the time threatened to strip NYRA of its exclusive franchise to operate Aqueduct, Belmont Park and Saratoga Race Course if its leaders did not agree to what originally was to have been a three-year state control period.
The agreement places back into the industry's hands determinations over the future operations of NYRA. The racing corporation will now also be a bit less transparent. It will not be required to conduct its board meetings—which occurred on an irregular basis anyway—in public.
Copyright © 2017 Blood-Horse, LLC. All Rights Reserved.