California Jockeys Protest Valenzuela Ruling
by Margaret Ransom
Date Posted: 4/23/2004 8:45:28 AM
Last Updated: 4/24/2004 2:49:52 PM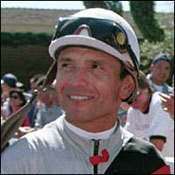 Jockey Pat Valenzuela.
Photo: Benoit

The Southern California jockey colony April 22 expressed its displeasure with the April 16 decision by California Horse Racing Board chairman John Harris to grant jockey Patrick Valenzuela a stay of his recent suspension that allows him to ride while he appeals the termination of his conditional license.Santa Anita Park stewards suspended Valenzuela Jan. 23 for having failed to submit to a drug test as required by his conditional license. On April 2, the stewards voided his license and recommended he not be eligible for a license-fitness hearing until Jan. 1, 2005.In a letter signed by Jockeys' Guild vice president Albert Fiss and addressed to Harris, the jockeys expressed their concern regarding Valenzuela and his ability to ride on his appeal despite his continually having violated the terms of his conditional license. They also said the CHRB didn't "err on the side of caution in order to ensure the safety of (racing's) participants."Four riders, including Kent Desormeaux and David Flores, attended the CHRB meeting to lend support to Fiss and fellow riders. They also requested the board revisit the ruling by Harris.The letter also pointed out that because of Valenzuela's conditional license, he should be held to a higher standard than other riders and that his conduct is "a detriment to the horseracing industry and all those who abide by its rules. He continues to tarnish the professionalism and integrity that jockeys must display to the public for the betterment of the entire industry."Further, the jockeys maintained in the letter they aren't satisfied with the evaluation by Valenzuela's psychotherapist that he's fit, both mentally and physically, to ride. They said the doctor has no knowledge of race riding and what kind of mental state is required to be a "safe and capable race rider."Also, the jockeys requested Valenzuela submit to a hair-sample drug test to evaluate potential drug use over the past six months, and that it was their opinion, as a group, that Valenzuela "is not mentally fit to resume riding, and has not been properly evaluated for both mental capacity and substance abuse. We are requesting that you reverse your decision of April 16.""Should the CHRB continue to allow Mr. Valenzuela's presence on the racetrack without clear and convincing evidence of his rehabilitation, we will be forced to hold the CHRB responsible and will support any jockey who may become injured by your acts of omission."Harris couldn't comment on the situation citing legal restrictions, but assured the riders there would be an "expeditious hearing" on the appeal. The appeal, which could take several months, probably will be sent to the Office of Administrative Hearings, where a judge would hear the case and issue an opinion to the board."Some of us have been in trouble like him before," Flores said. "But I've been clean for eight years and it's a daily struggle, but I do it. The big question we're asking is what kind of a frame of mind he's in and if it will affect (the races)."Said Danny Sorenson, who has been the most outspoken critic of Harris' decision: "It's a double standard. I was given one chance only, and I think they should treat him the same way they treat everyone else."Eighteen riders signed the letter: Paul Atkinson, Tyler Baze, Omar Berrio, Alex Bisono, Jon Court, Desormeaux, Victor Espinoza, Matt Garcia, Angel Gonzalez Jr., Luis Jauregui, Corey Nakatani, Mick Ruis, Chris Russell, Mike Smith, Javier Santiago, Alex Solis, Jose Valdivia Jr., and Octavio Vergara.



Copyright © 2015 The Blood-Horse, Inc. All Rights Reserved.