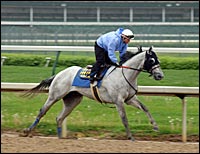 Langfuhr breezed six furlongs in 1:17 2/5, a time over a track labeled "sloppy" that the trainer said was "OK."Mulhall, who has attracted a lot of media attention because 21-year-old is on the verge of becoming the youngest trainer to saddle a Derby starter, noted that Imperilism "works better in company than he does on his own."Actually, the colt had some uninvited company for part of the work when he picked up Azeri, the 2002 Horse of the Year, who was on the rail. Mulhall took Imperialism out and then let him gallop out."I let him gallop out strongly because (the work) was a little slow," Mulhall said.Although Mulhall was following her regular schedule with the early work, her timing proved more prophetic as a steady rain had begun to fall by the time two other Derby hopefuls -- Preachinatthebar and Pro Prodo -- went to the track shortly after the track maintenance break concluded at 8 a.m.As of Thursday, neither Preachinatthebar nor Pro Prado would be permitted to start in the Derby if more than 20 horses are entered. Under Derby rules, the actual starting field of 20 will be determined by purses earned in graded stakes. Preachinatthebar is 21st on the list with $159,000 and Pro Prado is 23rd, with $105,685.Preachinatthebar, a son of Derby winner

Silver Charm

owned by Mike Pegram, went six furlongs in 1:14 4/5 while equipped with blinkers.Later, after conferring with Pegram, Baffert said Preachinatthebar was no longer being pointed toward the Derby. That withdrawal will have the effect of moving Pro Prado a step closer to starting in the classic, leaving him 22nd on the list of contenders, based on stakes earnings.Trainer Bob Holthus said Pro Prado worked six furlongs in 1:13 2/5 and galloped out seven furlongs in 1:27 under jockey John McKee. "He worked good and finished good," Holthus said. "The main thing is that he came back good."If the son of

El Prado

owned by breeder Mrs. James Winn does not get to run in the Derby, he will work toward the May 15 Preakness Stakes (gr. I) at Pimlico.