Consignors Have Mixed Emotions About Keeneland April Sale's Prospects
by Deirdre B. Biles
Date Posted: 4/12/2004 2:50:29 PM
Last Updated: 4/26/2004 4:56:58 PM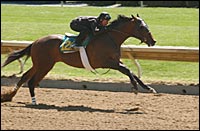 Pulpit colt, during first under tack show for Keeneland's April 2-year-olds in training sale.
Photo: Anne M. Eberhardt

As Tuesday's Keeneland April sale of 2-year-old's in training approached, consignors expressed a mixture of optimism and concern about the market."It is very hard to imagine that the momentum that has been generated from the earlier select 2-year-old sales is going to screech to a halt here at Keeneland, especially with the quality of horses that has been assembled for this catalogue," said Nick de Meric. "I expect it to be a strong sale--certainly at the top--and I hope it has the depth that we have been experiencing at some of the other sales."However, on the negative side, consignors faced some hurdles in the under tack shows leading up to the auction. In the first show on April 5, many sellers said the track was significantly deeper than usual and that some of their horses couldn't handle the surface. Then came Monday's show in the slop, which was cancelled soon after it began following the fatal breakdown of a Pulpit filly."I think now it's going to be like being at the yearling sales," said Murray Smith. "The buyers will need to have a good eye to find a good runner. They'll have to come back to the barns and look at horses like they look at yearlings -- watch them walk and look at conformation."Even though Monday's cancellation prevented many horses from working a second time and redeeming themselves after slow first works, Smith agreed with Keeneland's decision to call off the under tack show. Prior to the announcement, she had already decided not to breeze her horses."I would rather have a slow, sound one to sell than nothing to sell," she said.Said Niall Brennan: "It's unfortunate because it (the cancellation of the under tack show) hurts the sale because people have to go on last week's breezes. We know our horses are better than that. But I'm happy not to have to put them through it. When you're doing this (crossing yourself) before your horse goes, that's not right. You shouldn't have to do that. The riders said the track was very deep and they (the horses) were going right through to the bottom."As for shoppers, they did not seem to be overly impressed with the physical attributes of horses in the catalogue. One member of major buying team, who asked not to be identified, called the group "weak."Dr. Steve Carr of Centennial Farms rated the horses as "okay." But he added that he had given the same lukewarm opinion about the stock at other juvenile auctions and then watched the horses bring a lot of money.In a year when demand for 2-year-olds is so high, that one big positive might very well outweigh all the negatives.The auction begins Tuesday at 1:30 p.m. (EDT).



Copyright © 2015 The Blood-Horse, Inc. All Rights Reserved.