Maryland Jockey Club Bags Plans For Third Track
by Tom Keyser
Date Posted: 12/13/2000 9:54:54 AM
Last Updated: 12/13/2000 2:58:18 PM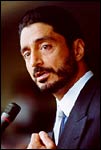 Joe De Francis: Led alliance that concluded western Maryland market could not support new track.
Photo: Skip Dickstein

An alliance led by the Maryland Jockey Club has dropped plans for building a horse track in Western Maryland and instead plans on constructing two off-track-betting parlors in that remote region of the state.This shift in strategy would leave William Rickman Jr. as the lone applicant for building the track. But it would not end the battle for control of horse racing in Western Maryland. The two sides would merely compete with different weapons: Rickman with a racetrack, the MJC-led alliance with two OTBs.Joe De Francis, president and CEO of the Maryland Jockey Club, which owns and operates Pimlico and Laurel Park, said that his group concluded that the potential market in Western Maryland was not sufficient to support a horse track."As time has passed," De Francis said, "it's become more and more obvious that the concept makes less and less sense."Aligned with the owners of Rosecroft Raceway, a harness track in Maryland, the MJC applied for the license primarily to block Rickman's advance into Maryland. Rickman, a Maryland resident, owns Delaware Park. But since the two sides submitted applications for the new track, Rickman purchased Ocean Downs, a harness track on Maryland's Eastern Shore.Asked whether Rickman's already gaining a foothold in Maryland influenced his group's decision, De Francis said: "Not at all. "We based our decision on the narrow issue of whether or not it makes sense to have a thoroughbred track in Allegany County."De Francis said that building two OTBs instead of one horse track would be cheaper and more beneficial to Maryland racing because it would not detract from the state's other tracks. His group will formally withdraw its application for building the track when it files applications for the OTBs with the Maryland Racing Commission, he said.De Francis said that he plans on doing that "as quickly as possible." He said he and his partners have begun looking for sites in or near Hagerstown and Cumberland, the largest cities in Western Maryland.State legislators have given approval for a track in Allegany County - but only in Allegany County. The racing commission plans on holding a hearing in late January on the track. It doesn't have to grant a license if it decides a track would not benefit the state or not be economically viable. Residents in Allegany County have loudly protested construction of a horse track.Rickman said he was not surprised that De Francis's group planned on withdrawing its application."I think it's about time, honestly," Rickman said. "Their site simply did not work. . . . We're still going forward. We'd still like the opportunity to participate in thoroughbred racing in Maryland."Both proposals outlined thoroughbred and harness meets of only a few weeks. The rest of the year the track would operate as an OTB. Rickman's application also includes OTBs in other counties to help subsidize the track.



Copyright © 2015 The Blood-Horse, Inc. All Rights Reserved.