In a Dilemma Over Saturday's Derby Preps? Might As Well Swing For the Fences
by Steve Haskin
Date Posted: 4/9/2004 2:22:50 PM
Last Updated: 4/10/2004 1:44:20 PM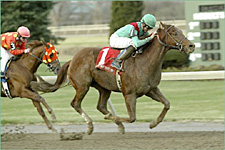 Shadowland, given a shot to "rebound big time."
Photo: Team Valor

You can go over Value Plus, Eddington, Master David, Tapit, Lion Heart, Preachinatthebar, The Cliff's Edge, Action This Day, Smarty Jones, Borrego, and Purge all you want and you'll still likely come away confused. So, why not follow the trend this year and start looking at some bombs this weekend.On paper, there are several to choose from, but from a visual standpoint, there are three solid ones who are worth taking a second look at. In the Wood Memorial (gr. I), all you have to do is look the tape of the Tampa Bay Derby (gr. III), as the horses are in the post parade and then approaching the gate. You will notice a tall, blackish colt crawling out of his skin, sweating, bouncing, and bucking as if he were going to boil over. This was uncharacteristic of Swingforthefences, who simply lost it on this day. He broke running, got stuck between horses, while pressing the early pace, and hit the front way too soon. This was a total departure from the colt who rated beautifully, then exploded at the head of the stretch to win an allowance race Gulfstream by 5 1/4 lengths the race before.Despite everything going against him, he never quit, and battled gamely to the wire after getting passed by Limehouse on his outside and Mustanfar on his inside. At the finish, he was beaten only 1 1/4 lengths, while still raising his Beyer Speed figure from a solid 96 to a 98.He's back in his old barn at Aqueduct, and just has a short walk to the paddock. He's eating well, feeling good, and could be ready for a big effort in the Wood.In the Blue Grass (gr. I), the colt who finished second in the Tampa Bay Derby, Mustanfar, had a nightmarish trip. He was slammed into and squeezed back at the start, then made a wild, premature rail move the entire length of the backstretch until he ran smack into a wall when longshot pacesetter Very Formal M.D. came over and shut off the rail. When the leader began his retreat, Mustanfar had to sit back and wait for something to open. When it finally did, he put in a strong second run, was steered to the inside, pulled on even terms with the rallying Limehouse and just fell short, losing by a neck. This colt should keep improving with each added furlong. It's going to be tough catching Lion Heart, while having to outclose some classy stretch runners, but at 15-1 on the morning line, he's worth a shot.Finally, in the Arkansas Derby (gr. II), all you have to do is watch the Louisiana Derby (gr. II) to know that Shadowland has to be given a shot to rebound big-time. After cruising up to the leaders along the inside on the far turn and moving every bit as well as the winner, Wimbledon, Shadowland's race, for all intents and purposes, ended at the five-sixteenths pole when the pacesetting Indian War Dance backed up his face. Pat Day rose in the saddle and had to stop riding him for more than a sixteenth of a mile until something opened up. By now, Wimbledon was charging to leaders and was gone. Finally, at the three-sixteenths pole, Day had no recourse but to try to squeeze through a narrow opening on the rail. He didn't make it. The hole closed quickly, and Day had to snatch Shadowland up severely or he would have wound up over the rail. After that, Day, realizing he was going nowhere, pretty much wrapped up on the colt, who coasted the rest of the way.There are other intriguing longshots this weekend, such as the improving Hornshope in the Wood; That's an Outrage, who was dead-short in the Lane's End (gr. II), in the Blue Grass; and even the long-forgotten Mr. Jester, coming off a sizzling :58 4/5 work, in the Arkansas Derby, as well as the improving Harvard Avenue and Tricky Taboo. But, from a visual standpoint, the three colts mentioned above certainly have the potential to improve dramatically from their previous start, and deserve another chance to show what they've got.



Copyright © 2015 The Blood-Horse, Inc. All Rights Reserved.