Kentucky Derby Trail: From Paupers to Princes
by Steve Haskin
Date Posted: 4/4/2004 10:11:45 PM
Last Updated: 4/7/2004 2:34:18 PM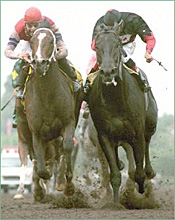 Castledale, left, duels Rock Hard Ten to win the Santa Anita Derby.
Photo: Benoit & Associates

It was August 4 of last year. The Saratoga and Del Mar meets, as they do each year, were beginning to showcase the royally-bred 2-year-olds from the nation's high-powered stables. This is the time when Kentucky Derby dreams take life, becoming more intense with each victory until it encompasses the psyche of owners and trainers across the country.But Derby horses nowadays can spawn from any tiny crevice, and on this day, while the rich and famous were admiring their blue-blooded steeds, two horses were toiling in mediocrity, light years away from the Twin Spires on the first Saturday in May.But somehow, the often unexplained forces that guide the Sport of Kings managed to lift these two horses out of obscurity and onto the threshold of Kentucky Derby immortality.On this particular August morning, as the horses at Calder Race Course were trying to beat the oncoming heatwave, across the Atlantic Ocean at tiny Naas Race Course, a lowly maiden named Castledale was finishing fourth as the 7-2 favorite in a field of 14 runners. Naas, located off the N7, about a 30-minute drive from Dublin, was just one of the small race courses in the area at which Castledale was attempting to break his maiden. He had failed twice at Tipperary, and would finally find the winner's circle at Gowran Park. It wasn't until after he tasted additional defeats at Tralee and Leopardstown that he finally found his way to the gem of Irish racing, the Curragh, where his fate would be sealed.Several hours after Castledale's fourth-place finish at Naas, another unheralded 2-year-old named Imperialism just barely got up by a nose to win a $32,000 claiming race at Calder for little-known trainer Angel Salinas. Imperialism was as much at home in the heat and humidity of South Florida as an eskimo in the Sahara. After the race, he came down with one of his several cases of heat stroke. He eventually managed to climb his way out of the claiming ranks and into stakes competition, where his fate, too, was sealed.Both horses were purchased – Castledale by Irish-born TVG analyst and former Breeders' Cup-winning trainer Frank Lyons, and Imperialism by automobile dealer Steve Taub – and brought to California. Several months later, these two unlikely heroes finished first and second in the $750,000 Santa Anita Derby (gr. I), establishing themselves as leading contenders for the Run for the Roses. So, although the stars continue to fall from the sky on this year's Derby trail, Thoroughbred racing at least has again brought the often-used "Cinderella story" and "rags-to-riches" cliches to the fore to brighten things up a little.Yes, it's easy to get discouraged over the disheveled pile of Derby preps that lay strewn across the entrance to Churchill Downs. It's easy to get frustrated over the rash of longshot winners and the consistent failure of the leading contenders. The fact is, there will be a Kentucky Derby winner this year, and we now have to accept the fact that we won't be seeing the reincarnations of Affirmed and Alydar squaring off on the first Saturday in May.What we have in Castledale is an improving colt who has finished in the money in eight of his ten starts, and who has the pedigree to easily handle a mile and a quarter. We have a colt by Peintre Celebre, who I had the privilege of seeing win the Prix de l'Arc de Triomphe (Fra-I) in one of the most spectacular performances I have ever witnessed in 35 years of watching races. His explosive acceleration was something to behold as he quickly burst clear from a classy, international field to win by five lengths, taking two full seconds off the Arc record. Only three horses had ever broken 2:28 for the Arc, and he covered the mile and a half in an amazing 2:24 3/5, shades of Secretariat's Belmont time. It was the only time I have ever groveled at the feet of an owner, as I pleaded with Alec Wildenstein after the race to bring him to America for the Breeders' Cup. This horse was something special and it's a rare treat having one of his sons heading to the Kentucky Derby.Imperialism definitely earned his way to Kentucky, especially after the speed sheet gurus all predicted he was going to bounce big-time off his two victories. Although the rapid turn of foot he demonstrated in his two previous starts was missing, he still battled on determinedly along the inside, where he apparently dislikes running due to the partial blindness in his right eye. Sometimes, when a horse closes like a rocket in shorter races, then loses that sudden burst going long, it could mean he's not as suited to longer distances. But because of the circumstances, it's too early to determine if that's the case with Imperialism. That can only be determined after the colt gets a clean run on the outside, where he does his best running.What we should appreciate the most is that, in an era when many horses go into the Derby off three or four career starts, we have two horses heading to Kentucky with a combined 25 starts. And you can add 10 more to that total from Illinois Derby (gr. II) winner Pollard's Vision. So, it was at least a good day for durability. And if you want toughness, how about Castledale trying to savage the outrider's pony coming back after the race?As for the disqualification, although it didn't look that bad on ESPN, let's just assume the Santa Anita stewards have better angles and had a better perspective of the incident. At least, let's hope so. They decreed that Rock Hard Ten was guilty of shutting off Imperialism. But if this were a hockey game, Victor Espinoza, aboard Imperialism, would have at least been given two minutes for diving. For years, the Santa Anita riders have mastered the art of melodrama, and why not, because it obviously works. Last fall, Pat Valenzuela managed to convince the stewards that Elloluv had interfered with his mount, Adoration, in the Lady's Secret Handicap (gr. II) when he reacted to a seemingly non incident as if he had run smack into a herd of stampeding water buffaloes. Even David Flores, aboard Rock Hard Ten, figured he might as well claim foul on the winner, not knowing how the stewards are going to rule. Espinoza, who tattooed Imperialism with a barrage of mostly left-handed whips, appeared to be headed for a close third-place finish when he shot up from the saddle as if he had sat on a pin cushion. Whether the disqualification was justified is a matter of opinion. But, once again, it was another bravura performance by one of the Santa Anita jockeys, who obviously have found an audience. As a result of the ruling, it is now possible that the loss of second-place earnings could keep Rock Hard Ten out of the Kentucky Derby if his connections decide they want to get ambitious and make the big move. The mammouth black colt ran a super race in only his third career start, getting caught four wide on the far turn and five wide turning for home. He certainly lived up to his rave reviews, and looked like a Sherman tank in between two jeeps down the stretch, but do you now run him back in four weeks in the Derby off a taxing effort, with only three starts under him? That's a question his owners and trainer will have to answer. As of now, it looks as if Gary Stevens will return from France to ride him in the Derby.There's no use speculating what happened to Wimbledon and St. Averil. One made a premature move between horses through a :24 third quarter and now has to return to square one, and the other never ran a lick, for whatever reason. Wimbledon was not trained hard for this race, and was supposed to make one late run to set him up for the Derby, but the game plan blew up in Bob Baffert's face when Javier Santiago pulled the trigger way too soon.



Copyright © 2015 The Blood-Horse, Inc. All Rights Reserved.