Pat Valenzuela's Suspension Extended Remainder of Year
Date Posted: 4/2/2004 4:28:31 PM
Last Updated: 4/3/2004 3:23:39 PM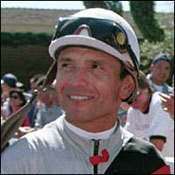 Pat Valenzuela will not be permitted to ride this year.
Photo: Benoit

Jockey Pat Valenzuela, who has had a history of drug related problems during his career, today had his current suspension extended through the remainder of 2004 by the Santa Anita stewards.The stewards originally suspended Valenzuela on Jan. 23. In their ruling today, they did state the 41-year-old jockey could attempt to regain his license on Jan. 1, 2005.Valenzuela was issued a conditional license in December 2001. He has won several major Southern California racing meet titles since. He was an Eclipse Award finalist for leading rider in 2003.On Jan. 23, the stewards suspended Valenzuela's conditional license indefinitely and referred the case to the California Horse Racing Board for further investigation. Valenzuela took off his mounts Jan. 22, saying he had a sprained ankle, but failed to show up later that afternoon for a requested drug test. He met informally with stewards nearly three weeks later in a closed-door meeting and reportedly explained he had been depressed over the dissolution of his marriage. The stewards met with Valenzuela again March 28 for less than an hour, during which time he presented documents from doctors regarding his mental state both currently and at the time of his suspension. They were entered into evidence to be considered for his punishment.Valenzuela could appeal the stewards' ruling to the California Horse Racing Board. The case would be referred to an administrative law judge, who would hear the case and make a recommendation to the Board. The seven racing commissioners would rule on the recommendation. Valenzuela could also request a stay from the CHRB to allow him to ride pending the appeal.Valenzuela was suspended Feb. 11, 2000 for "engaging in the use of a dangerous drug -- amphetamine." Nearly two years later, the CHRB issued a one-year license to Valenzuela on Dec. 14, 2001, subject to 12 conditions specified in a contract, including requirements that he report to the CHRB office each race-day morning, at which time he could be tested, and that such tests be conducted at least eight times each month. He signed identical contracts each year thereafter.



Copyright © 2015 The Blood-Horse, Inc. All Rights Reserved.