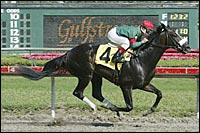 Edited from Churchill Downs reports
Trainer Nick Zito announced Friday that Buckram Oak Farm's Eurosilver has been removed from consideration for this year's Kentucky Derby (gr. I) due to the lingering effects of a glandular infection.Zito told Churchill Downs officials that the son of

Unbridled's Song

had missed nearly two weeks of training because of a lingering temperature and treatment of the infected gland in the colt's neck.Zito said he met on Thursday with Buckram Oak owner Mahmoud Fustok, racing manager Mohammed Moubarak, and the colt's veterinarians and that the decision was made to end Eurosilver's bid for the 2004 Kentucky Derby."He's doing very well right now, but the time element was our biggest problem," said Zito. "He's missed so many days and Mr. Fustok has told me now to 'take all the time you want.' He wants this horse 100%, so with that there's nothing I can do but withdraw from the Kentucky Derby. There's no sense even attempting to do something silly, because the horse wouldn't be at his best anyway."Eurosilver shipped to Keeneland with Zito's other Kentucky Derby contenders, Marylou Whitney Stable's Birdstone and Robert V. La Penta's The Cliff's Edge, on March 18. The colt spiked a temperature the following day and the gland problem was discovered. Zito said Eurosilver's coat now looks "beautiful" and he is close to returning to serious training, but there is not enough time left to get him to the Derby in top shape."He's doing terrific, he looks great and I've almost got him back to training," he said. "But we're going to proceed with caution and take as much time as he needs." As a result of the decision, wagering has been suspended on the colt in Pool 3 of the Kentucky Derby Future Wager. Kentucky Derby Future Wager rules state that wagering must be suspended on one of its wagering interests if Churchill Downs learns that an injury or ailment would definitely prevent that horse from competing in the Kentucky Derby. Eurosilver, who was listed as number five among the 24 wagering interests in Pool 3, stood at odds of 26-1 after Thursday's first of four days of wagering in the pool. A total of $27,464 was wagered in the pool on Thursday and $834 had been bet on Eurosilver. There are no refunds in the Kentucky Derby Future Wager.