Kentucky Derby Trail: The 'Future' is Now
by Steve Haskin
Date Posted: 4/1/2004 6:06:31 PM
Last Updated: 4/3/2004 3:05:08 PM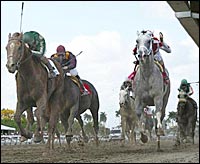 Was the Florida Derby victory by Friend's Lake as bad as the speed handicappers would have you believe?
Photo: Equi-Photo

With the Pool 3 Kentucky Derby (gr. I) Future Wager bets locked in before the big April 10 preps, this is when you can actually get good value for your money. Just find a Funny Cide-type of horse and get past one more hurdle next weekend..Florida Derby still alive and kickingNothing has taken more abuse this year than the Florida Derby (gr. I), as the leading handicappers have all ripped the race to shreds for the slow final time and low Beyer Speed Figure. What is puzzling is why Friends Lake's 92 Beyer Speed Figure is so atrocious, yet Madcap Escapade, who earned a 95 figure winning the Forward Gal Stakes the same day is still being called the next Ruffian, and is the horse to beat in the upcoming Ashland Stakes (gr. I) against 2-year-old filly champ Halfbridled, whose 93 Beyer in the Santa Anita Oaks (gr. I) didn't exactly bring a rash of criticism.If the Florida Derby was that bad, then one has to believe that Read the Footnotes, once deemed the fastest 3-year-old in the country by far by the Beyer pundits, ran a shocking 27 points below his previous start at the same time the once brilliant Value Plus was running 17 points below his previous start. What a difference four weeks can make, that the two fastest 3-year-olds in the country could suddenly turn into two of the slowest 3-year-olds in the country. At the same time those two were disintegrating right before our eyes, so too were Tapit, who ran 15 points below his previous start, and The Cliff's Edge, who ran 11 points below his previous best figure, and Friends Lake, who ran seven points below his previous best figure. Their average high Beyer of 105 crumbled to an average of 89...all at the same time.Granted, if Value Plus and The Cliff's Edge both stagger home in tortoise-like time in the Wood Memorial, you can toss everyone in the Florida Derby, but if they should both run big numbers, or even if one runs a big number, then maybe, just maybe, that Florida Derby time was an aberration. We'll know soon enough. Also, see how Farnum Alley (a fast-closing fifth in the Florida Derby) does in Saturday's Illinois Derby (gr. II). In the meantime, if you think there is the chance that all those horses did not pick the same race in which to fall apart, then you could be rewarded with some juicy Future Wager prices that will be locked in before they run the Wood. Maybe all these horses are slow, but are they that much slower than much-praised Madcap Escapade, whose Beyer number (even though she won easily) just happened to drop 13 points the same day?I'm not including Tapit in that Wood scenario, because there is no way of gauging a horse who missed 19 days of training with shin problems before the Florida Derby, then came out of the race with a cough, a "significant" amount of mucous in his trachea, and an abscess on his left front foot. Considering this is not exactly trainer Michael Dickinson's modus operandi preparing a horse for a big race, it's best to tread carefully here. Even if Tapit should run big in the Wood, the main test will come afterward -- seeing how he came out of the race. And according to the Tapit page on the Tapeta Farm web site, the colt hasn't worked since the Florida Derby, and Dickinson is pretty much redirecting all inquiries about Tapit to racing manager David Fiske.Field DayThe mutuel field for Pool 3 will be a much better price than in the first two pools, and there are still some talented runners left in there. The only drawback is that the Illinois Derby, which is inundated with "field" horses, could singlehandedly knock down the price if one of them wins very impressively. The Future Wager field horses include the likely favorite, Pollard's Vision, as well as El Camino Real Derby (gr. II) winner Kilgowan, Suave, Song of the Sword, Pure American, Farnum Alley, and stakes winners Skipaslew, White Mountain Boy, and O.K. Mikie.But if the winner does not set the world afire, and doesn't have too much bearing on the price of the mutuel field, you'll get that horse, along with such potential Derby candidates as Mustanfar, Shadowland, Purge, Swingforthefences, Breakaway, Harvard Avenue, Little Matth Man, Fire Slam, Tricky Taboo, Pro Prado, Seattle Borders, That's an Outrage, Royal Assault, and Mr. Jester; not to mention a few questionable horses like Lexington (gr. II) starters Saratoga County and Pomeroy. All in all, those horses, plus the Illinois Derby winner, make up an enticing package.Overlays and paydaysAs for the potential overlays among the 23 individual betting interests, the ones to watch are: Action This Day (Blue Grass) -- The more people knock him the more I try to like him. Just being contrary again. But he should be a good price compared to what he was in the first two pools, and you have a 50-50 shot whether he'll run back to the San Felipe or the Sham. The latter puts him right there with Preachinatthebar, Master David, and Borrego. He had an unusual 1:43 mile work Thursday, which could be Mandella trying to take away some of the sharpness that got him in trouble in the San Felipe. Between him and Birdstone, who knows what we'll see next.Master David (Wood Memorial) -- Yes, he looks better as others keep losing, but still, out of sight, out of mind. And he could be a pretty decent price for a Bobby Frankel horse sitting on move-forward effort in the Wood Memorial.Eddington (Wood Memorial) -- Now that he has his detractors (two prominent trainers don't like him at all), this could be the opportunity to get value on a very talented horse with the right kind of pedigree, who needs to get his head straightened out in the next four weeks. If you want to take the chance that Jerry Bailey can finally get him to change leads and level off earlier in the stretch , then go for it. A big effort in the Wood and you won't even be able to squeeze your way onto his bandwagon. Value Plus (Wood Memorial) -- His Florida Derby was discussed earlier, but this is about talent and phyiscal prowess, not about slow times. No one really knows just how good this imposing colt is, and he is the one horse capable of airing in the Wood. He's already proven he's not one you want to tangle with too early. He's just too big, too fast, and too intimidating. With his pedigree, there's a big question how far he wants to go, but he's certainly capable of running away with the Wood. And if you can get anything near a decent price on him as a result of the slow Florida Derby time, you'll at least have a lot of fun in the three weeks leading up to the Derby.The two mutuel field horses who could be live Kentucky Derby contenders are Mustanfar (Blue Grass) and Shadowland (Arkansas Derby), both of whom have been discussed in detail in earlier columns. Another horse I've been extremely high on since last August is Purge (Arkansas Derby), but he has an awful lot of catching up to do. If the Kentucky Derby doesn't work out, definitely watch out for him in the Preakness (gr. I).Also, if Wimbledon runs big in the Santa Anita Derby, don't forget about Borrego, who runs in the Arkansas Derby. Check out his price and take him seriously based on the company he's kept in his last two starts, and his circuitous route to a solid second-place finish in the Louisiana Derby.One would-be intriguing Derby horse, King Hesperus, from the Aidan O'Brien stable, will not be coming for the Wood Memorial, for which he was nominated. O'Brien informed the International Racing Bureau he would not be represented in the Wood or the Blue Grass Stakes.



Copyright © 2015 The Blood-Horse, Inc. All Rights Reserved.