On This Day...
Date Posted: 4/5/2004 6:39:20 AM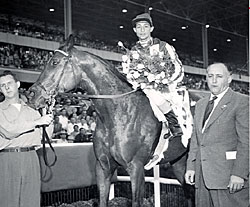 Hill Prince
Photo: The Blood-Horse Library

April 5, 1950
Hill PrinceWhy was Hill Prince assigned 124 pounds on the April 5 Experimental Free Handicap No. 1 for 3-year-olds at Jamaica?Because that was his weight assignment on the Experimental Free Handicap for 2-year-olds of 1949. Whatever weight a horse earned from his juvenile efforts, that's what he or she was assigned for Experimental No. 1 at six furlongs and Experimental No. 2 at 1 1/16 miles.Hill Prince, the co-champion 2-year-old male of 1949 with Oil Capitol, captured Experimental No. 1 by 1 1/4 lengths as the odds-on favorite while giving two to 18 pounds to his six rivals. Ten days later in Experimental No. 2. Hill Prince again was favored, but finished unplaced after encountering difficulties. He got back on track with a winning effort in the Wood Memorial Stakes at Jamaica two weeks before the Kentucky Derby.Hill Prince finished second in the Run for the Roses behind Middleground, then evened the score with that rival by winning the Preakness. The two also met in the Belmont Stakes and Middleground won, with Hill Prince running seventh.



Copyright © 2015 The Blood-Horse, Inc. All Rights Reserved.