Record 152 Horses Nominated to Arkansas Derby
by Blood-Horse Staff
Date Posted: 3/26/2004 1:27:26 PM
Last Updated: 3/26/2004 5:36:32 PM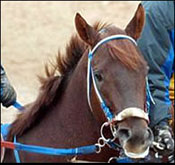 Oaklawn star Smarty Jones will have plenty of competition for the Arkansas Derby spotlight.
Photo: Jeff Coady

Someday Farm's Smarty Jones, unbeaten in five career starts, heads a record list of 152 nominations for the $1-million Arkansas Derby (gr. II) April 10 at Oaklawn Park. The 1 1/8-mile stakes is the highlight of the eighth and final day of the Racing Festival of the South, and also closing day of the live meet at the Hot Springs track.The purse for the Arkansas Derby was increased from $500,000 to $1 million this year. It will be the richest race in the 100-year history of Oaklawn. The purse hike was tied to a $5-million bonus for a horse that wins the March 20 Rebel Stakes at Oaklawn, the Arkansas Derby, and the May 1 Kentucky Derby (gr. I).Smarty Jones, a Pennsylvania-bred by Elusive Quality, won the Rebel and remains eligible for the $5-million bonus. Sunny's Halo is the only horse to win the three races, and he did so in 1983.Todd Pletcher, who saddled back-to-back Arkansas Derby winners Graeme Hall and Balto Star in 2000 and 2001, has nominated 26 horses to this year's Arkansas Derby. Among them are Tampa Bay Derby (gr. III) winner Limehouse (by Grand Slam), and Ashado (by Saint Ballado), the only filly nominated to the race.D. Wayne Lukas has nominated 14, and Bob Baffert nine.Here's the complete list of Arkansas Derby nominees:Archie B
Ashado
Battle Hero
Best to Be King
Boboman
Borrego
Boston Brahmin
Boundary Bay
Breakaway
Bustin' Out
Bwana Charlie
Caiman
Capejinsky
Carrington
Chapel Royal
Chaseur
Cherry Bomb
Chivalric
Cinematic
Coldntight
Come Out Smokin'
Consecrate
Courageous Act
Cryptograph
Cuba
Dancefortyniner
Decibel
Deputy Storm
Don'tsellmeshort
El Galante
El Prado Bob
End of an Era
Erik's the Charm
Everwood
Every Advantage
Farnum Alley
Forest Danger
Forest Grove
Forestwood
Forty Five
Foxtrot Oscar
Friends Lake
Gamblin
Gethsemani
Got the Goods
Gradepoint
Gran Prospect
Harvard Avenue
Hasslefree
Heckle
Heroic Moment
Hickory Pete
Hippocrates
Hosco
Houndstooth
Icy Atlantic
Imperial Ruler
Imperialism
Indian War Dance
Jose
Judiths Wild Rugh
King of Décor
Limehouse
Lion Heart
Maisie's Son
Major Success
Mambo Train
Master David
Maxwell Terrace
Methuen
Minister Eric
Mr Playboy
Mr. Jester
Mr. Mabee
Mr. Spock
Mustanfar
Nightlifeatbigblue
Nighttime Affair
Odds On
Old Gold
Oneverycoolcat
Perfect Moon
Perpetual Peace
Pies Prospect
Polish Rifle
Pollard's Vision
Pomeroy
Possess
Preachinatthebar
Prince Arch
Pro Prado
Proper Prado
Purge
Pyramid Performer
Quick Action
Quintons Gold Rush
Race for Glory
Read the Footnotes
Reggie for Three
Rhythm King
River Jordan
Riverside Blues
Rock Hard Ten
Royal Assault
Saint Afleet
Saltire
Seattle Borders
Shadowland
Shaniko
Shiloh Bound
Silent Gold
Silver Minister
Skipaslew
Smarty Jones
Smoocher
South Africa
Speedjama
Spellbinder
Statesman
Stolen Time
Suave
Summertime Mood
Sunday Times
Sunshinenbeer
Swingforthefences
Tabacchi
Tales of Glory
Tapit
Teton Forest
The Cliff's Edge
There Goes Rocket
Thunder Touch
Tiger Hunt
Titanius
Toasted
Total Command
Totally Platinum
Tricky Taboo
Two Down Automatic
Uncivil
Under Caution
Value Plus
Victory Light
Voladero
Watershed
West Virginia
Wild Tale
Willy o'the Valley
Wimbledon
Wimplestiltskin
Wulpe
Yankee Mon



Copyright © 2015 The Blood-Horse, Inc. All Rights Reserved.