On This Day...
Date Posted: 3/29/2004 2:42:16 AM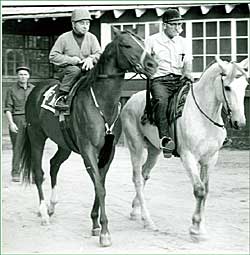 Majestic Prince with trainer Longden up
Photo: The Blood-Horse Library

March 29, 1969
Majestic Prince in the Santa Anita DerbyMajestic Prince, a $250,000 world-record priced Keeneland yearling, was doing what he was supposed to be doing: Winning.Unbeaten Majestic Prince had steadily worked his way up in distance to the 1 1/8 miles of the March 29 Santa Anita Derby. He started the year by winning the Los Feliz at 6 1/2 furlongs, then the San Vicente Stakes at seven, and then the San Jacinto Stakes at a mile.Majestic Prince had the benefit of a trainer who knew from a bird's-eye view what it took to win the Run for the Roses.The colt's trainer, Johnny Longden, had ridden the great Count Fleet to a Triple Crown sweep in 1943.Nine lined up to take on 1-5 favorite Majestic Prince in the Santa Anita Derby, and it proved to be no contest. Ridden once again by Bill Hartack, Majestic Prince won eased up by eight lengths.Majestic Prince nearly duplicated Count Fleet's feat. He started out by winning the Derby and Preakness, both close contests over Arts and Letters. Worried about the colt's condition after the two tough contests, Longden voiced his disapproval over running Majestic Prince in the Belmont Stakes, but was overruled. Majestic Prince was beaten by Arts and Letters in the Belmont and never raced again.



Copyright © 2015 The Blood-Horse, Inc. All Rights Reserved.