Busch League
by Ray Paulick
Date Posted: 3/23/2004 9:02:29 AM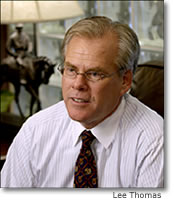 Ray Paulick
Editor-in-Chief


Michael Busch wields a great deal of power in Maryland. The Democratic speaker of the House of Delegates is such a force that he could single-handedly kill a major industry, one valued at $10.6 billion that provides more than 20,000 jobs in his state. It's Maryland's horse industry I'm referring to, of course. A March 21 Baltimore Sun op-ed piece by John Lee Jr. and Grove Miller pointed out there are $5.2 billion worth of equine-related assets in Maryland; $3.9 billion worth of land, fencing, and facilities owned by Maryland horse people, comprising over 685,000 acres, and representing 10% of all state land; 20,200 horse farms; an economic impact of $1.5 billion; and 87,000 horses (40% involved in racing) worth $680 million. Maryland's horse industry has not only been an important economic engine for many years, but it has a long and storied history featuring a Thoroughbred many say was the greatest in history, Man o' War, and one of the most influential sires the breed has ever seen, Northern Dancer. Man o' War did his early training in Maryland at the Glen Riddle Farm of his owner, Samuel Riddle. Northern Dancer was the world's most sought-after stallion during the 1970s and '80s, and his owner, E.P. Taylor, knew he didn't have to send the horse to Kentucky to succeed with him. Maryland was just fine. Maryland's racing industry is not so fine now. Hasn't been for awhile. Frank De Francis, profoundly influential with the state legislature, was a Renaissance man for Maryland racing. He got things heading in the right direction after buying controlling interest in Pimlico and Laurel, and his untimely death in 1989 was a terrible blow to the industry. Son Joe De Francis had big shoes to fill when his father died, leaving him the dual tasks of manager of the two tracks and lobbyist in the state capital of Annapolis. Joe's feet weren't big enough. The 1990s was a lost decade for the Maryland racing and breeding community. Minimum capital was put into the infrastructure of the two tracks, and it showed. Unlike his father, Joe De Francis was not a consensus builder or a persuasive force with politicians. De Francis was tarred and feathered by some legislators who were appalled that he stood to hit the jackpot with his 2002 sale of the tracks to Magna Entertainment if slot machines eventually were permitted. Democratic Gov. Parris Glendening's successor, Republican Robert Ehrlich Jr., was elected in 2002 in large part because of his position to bring in slot machines to help bail out the state's $800-million budget deficit. He kept his campaign promise and pushed for slots at racetracks last year, shortly after taking office. But Busch essentially killed a slots bill in a House committee. The legislation would have leveled the playing field with tracks in neighboring states that benefit from slot machine revenue. Busch has remained mum during the current legislative session. Mum, except for an occasional insult tossed in the horse industry's direction, such as his comment that the "average age of a racing fan in Maryland is deceased." This year, the House speaker has proposed casino wagering away from the track, with the horse industry having a few crumbs scattered in its direction. He wonders why racetracks should receive preferential treatment and thinks state-owned casinos operated by Las Vegas companies would maximize revenue potential to Maryland. That would be a death sentence for the tracks, and for the web of businesses and industry employees--from the backstretch to the horse farms--who are the forgotten people in Michael Busch's world. Time is running out on this year's session of the Maryland legislature. Unless the powerful Busch can be persuaded to rethink his position on slots and all that the issue means to this important agribusiness, time may be running out on Maryland's horse racing and breeding industries, too.



Copyright © 2015 The Blood-Horse, Inc. All Rights Reserved.