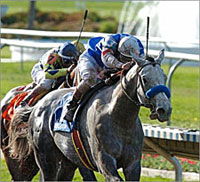 "He went very, very good," Mulhall said. "It was the first time he went without company since I got him. I always put him in company before because they said he wasn't a very good work horse and kind of lazy in the mornings. He wasn't supposed to go that fast and he got kind of excited.

"He'll have two nice, easy works before the (Santa Anita Derby). I don't need to do too much more with him, especially after today."

Another Santa Anita Derby candidate who can't be ignored is Quintons Gold Rush, fourth in the San Felipe in his stakes debut, who worked a bullet five furlongs in :59 2/5 Tuesday at Hollywood Park.Trainer Rafael Becerra said he's leaning toward the Santa Anita Derby with San Felipe (gr. II) runner-up, St Averil, but says he won't make up his mind until this weekend after getting results back from blood tests. "I just want to make sure everything is OK, because it would be 20 days back to the Santa Anita Derby," Becerra said. "Right now, there's a pretty good chance that we'll run him here."Other leading contenders for the Santa Anita Derby are Louisiana Derby runner-up Borrego and the undefeated Rock Hard Ten, who is also a possibility for the Arkansas Derby (gr. II).Action This Day, who suffered a laceration going into the first turn of the San Felipe before fading to seventh, is still on the Kentucky Derby trail, according to trainer Dick Mandella. "We won't be able to train him for a couple more days, but it's stitched and he seems to be doing fine," Mandella said. "He may not be able to make the Santa Anita Derby. He may need one more week, and we'd look at the races on April 10, like the Blue Grass." Mandella is still undecided where to run Minister Eric, who now may run in the Santa Anita Derby instead of the Blue Grass, as had originally been planned.San Felipe winner, Preachinatthebar, will ship to Keeneland for the Blue Grass Stakes, enabling red-hot jockey Javier Santiago to ride both him and Wimbledon. Bobby Frankel said Sham winner Master David, who missed the Florida Derby (gr. I) due to a cough, likely will leave for New York on April 6 or 7 to prepare for the Wood Memorial. Frankel, however, hasn't ruled out the Blue Grass if he feels it comes up a better spot.Also on the work tab Wednesday was Santa Anita Derby possibility Lucky Pulpit, who ran a disappointing race in the San Rafael. The son of

Pulpit

breezed five furlongs in 1:00 1/5.Baffert will run two horses, Consecrate and Teton Forest, in the WinStar Derby at Sunland Park on March 28. Consecrate, third in the San Vicente and San Rafael, worked Tuesday without blinkers and Baffert will take them off for the WinStar Derby.In other 3-year-old news, trainer Michael Dickinson said Tapit, sixth in the Florida Derby, is due to fly home to Tapeta Farm Thursday. "He coughed 10 times after the race but has not coughed since," he said. "He appears to be in good spirits but he was very tired and will take a long time to recover. We're on track but we don't know which track."Margaret Ransom contributed to this article.