Fair Grounds President Responds to <i>Blood-Horse</i> Article
by Blood-Horse Staff
Date Posted: 3/15/2004 1:49:34 PM
Last Updated: 3/15/2004 2:25:05 PM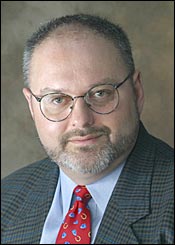 Fair Grounds president/general manager Bryan Krantz.
Photo: Lou Hodges Jr.

In a letter to horsemen at Fair Grounds Racecourse in New Orleans, La., track president and general manager Bryan Krantz has responded to comments by trainer Tom Amoss that were published in The Blood-Horse and New Orleans Times-Picayune. Here is the complete text of Krantz' letter."To Fair Grounds Horsemen:"I read with great regret comments made by Tom Amoss published in both the recent Blood-Horse and Times-Picayune articles, and I wish to address these for you."In the years of my family involvement in this business, we have at all times been proactive with both horsemen and customers. Some have continually opined how this business should be run, but mainly have offered only generalities and criticism when things have not gone well for their own interest. In fact, last year one solution offered for reversing the downward trend in starters per race was to terminate Mervin Muniz as Racing Secretary. My response was to assure the critic that we were making moves to bolster the racing office by bringing in new key support for Mervin with the acquisition of Ben Huffman as stakes coordinator and Jason Boulet as Mervin's chief assistant. Both men are considered to be rising stars within our industry in their capacity as racing officials. Yet rather than give any new staff member the benefit of Mervin's depth of knowledge, much less give Mervin the respect of living his last year with dignity, this trainer would have us toss him aside after years of dedication and productivity of high order."This year, under the direction of Ben and Jason, we have made strides in our number of average starters per race for this meeting in the face of the negative bias by some, the wet winter and continued competition from increased purses at Delta Downs, Oaklawn Park and Tampa Bay Downs. All of us are aware that the most likely solution for improving the field size numbers at Fair Grounds is increased purses. This cannot be achieved until the reorganization plan is complete and slot income provides the new revenue necessary. In addition, our new racing office staff has made adjustments to how condition books are presented and managed to balance the purse budget so that no overpayment or purse cut will occur, even with downward trends in wagering at this race meeting."One comment that was particularly sad is we are not in touch with our patrons. We have for many years interacted with our customers seeking constructive review of our operations. Numerous customer surveys and demographic studies indicate Fair Grounds enjoys a near 80% customer satisfaction ranking for its overall racing experience. Our pricing for services is very competitive when compared to other sports venues in the area and racetracks in similar markets around the country. Free general parking, $4 valet parking, $1 general admission and $4 clubhouse admission are relative bargains in our industry. Our food pricing and quality on concession stands and in our main dining room compete favorably with pricing and quality of other local venues. In contrast to this opinion, we receive regular rave reviews from customers on food quality and service. The phased-in automatic teller machines provide more convenient service to customers and have performed well as noted by increased on-track wagering many days this season with comparable attendance. This trend in customer service is also in use at many other tracks such as Del Mar, Philadelphia Park and Sam Houston. More than 60% of the Philly and Houston business is transacted by STAN terminals. This transition is no different than what the banking industry has done with ATMs or the airline industry has done with their ticketing. In addition, our grandstand is one of the cleanest and well-kept facilities in racing. It has been acknowledged by many of the leaders of our industry as an ideal facility for customer service. We regularly receive accolades from customers for their experience at the track."Fair Grounds' player rewards system has become a model for the industry. We were among the first to offer this type of recognition to our customers and have thousands enrolled in the program. Our account wagering flexibility allows for seamless convenience for fans to access their accounts at home, at local OTBs and at Fair Grounds. Combined with metro-area wide cable distribution, even the most casual fan has easy accessibility to our sport. While our growth has been stymied by a dispute with TVG, an employer of Mr. Amoss, we have developed a significant infrastructure for maintaining brand identity in our own market for customer retention against intruding out-of-state account services. This regional-based presentation provides our local fans a product with which they can identify in the local market, rather than being force-fed a product driven by consolidated track ownership.We have not only invested in convenience for racing fans, but Fair Grounds has also made significant investment in backstretch improvements during our stewardship. This includes millions of dollars in dormitory renovations, roof replacements and upgrades to electrical systems and plumbing. With the added pressure for living accommodations on site for backstretch personnel in the last several years, Fair Grounds has given greater emphasis to security for those living in on-site housing during our racing season. We have been one of the few racetracks providing social services to all backstretch personnel. With the large influx of Hispanic help over the last several years, we have attempted to address both the social and cultural issues created by this growing demographic along with the responsibility for those needs previously presented. Fair Grounds was one of the first tracks to offer substance-abuse counseling and fully support a chaplaincy to address general safety-net social services for trainers' employees. By partnering with the local YMCA and other local social support organizations, we have made progress toward providing a better environment in which to live and work for the work force for Fair Grounds' trainers. We readily acknowledge a need for additional housing on the backstretch and have been delayed by our current financial struggles in building the new dormitory and room additions necessary. This will be a priority for next year along with continuing renovation of existing facilities. We will also institute new maintenance review procedures for tracking day-to-day issues that have gone unattended. For anyone to suggest racing and backstretch conditions at Fair Grounds have not made marked strides in the last 14 years must view life from the myopic circumstance of a very narrow agenda."We have numerous challenges ahead in the next three weeks. We await further court action on our appeals in the litigation with the LHBPA and we must submit a reorganization plan to the bankruptcy court. While this race meeting winds down, I will take satisfaction in knowing Vickie and I have done the right thing. Not only have we acted honestly by following the statutes as directed by our regulators, but we also have stepped up with millions of dollars of hard cash to fight to keep this business alive. Once again, my family has sacrificed to continue our involvement in the sport we love so much. We have not taken the easy way out. We are committed, in much the same way Marie Krantz and Mervin Muniz were, to seeing racing and the Fair Grounds is a success for many years to come."



Copyright © 2016 The Blood-Horse, Inc. All Rights Reserved.