Lewises Offer Share of 2-Year-Olds to New Owners
by Tom LaMarra
Date Posted: 3/12/2004 3:20:29 PM
Last Updated: 3/15/2004 2:27:18 PM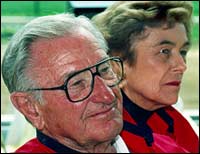 Horse owners Bob and Beverly Lewis.
Photo: Anne M. Eberhardt

Fifteen first-time Thoroughbred owners will be offered the opportunity to invest in some of the 2-year-olds in the stable of Bob and Beverly Lewis under a new owner-recruitment initiative called Premier Thoroughbred Ventures.The Lewises, who live in California and have won the Kentucky Derby (gr. I) with Silver Charm and Charismatic, will offer a 10% interest in their 2-year-olds to "high net-worth people," Barry Weisbord, publisher of Thoroughbred Daily News, said March 12. The individuals will be first-time owners, and some may be "culturally popular," Weisbord said.Lewis, who along with his wife won the Kentucky Derby (gr. I) with Silver Charm and Charismatic, said Weisbord approached him with the concept, and it was taken to Keeneland. Keeneland and TDN are providing support services to the endeavor. Keeneland is the financial engine behind The Greatest Game, an owner-recruitment initiative that began a few years ago.The 15 investors would each own an equal share--two-thirds of 1%--of the 10% under the scheme. (The Lewises currently have 27 2-year-olds purchased at public auction, but they could buy more at the Keeneland April sale of 2-year-olds in training.) Investors will pay a one-time fee, and ownership of the horses extends through their lifetimes, including breeding careers.Weisbord said the investment would be about $135,000 a person based on current numbers. The partners will be offered concierge services at industry events and access reserved for owners, as well daily information on how the horses are progressing.Among the 27 horses are a filly by Saint Ballado bought for $1.4 million at the 2003 Keeneland September yearling sale, and a colt by

Storm Cat

purchased for $1.2 million at the same auction. A majority of the horses went for six figures. The total purchase price for the 2-year-olds exceeds $10 million.Said Lewis: "We're delighted to have been chosen for this opportunity, and we look optimistically to the new year, which I feel begins with the Kentucky Derby. Of course, we have no way of guaranteeing anything, but I'm certainly optimistic (about how the horses will perform)."Weisbord said though it is a pilot program, the hope is it "expands to other owners and starts a new stream of potential players into the business."Weisbord said the investors would be selected in quick order, hopefully before the May 1 Derby. He said himself, Lewis, Keeneland, and other industry leaders offered suggestions on how to attract them.Weisbord said the plan is to "expose it from Wall Street to Hollywood." The prospectus could be ready by March 20."We believe this is a unique opportunity for new owners to get involved in the Thoroughbred business for a very reasonable investment, and hopefully experience it at the highest level," Keeneland president Nick Nicholson said. "Bob and Beverly are wonderful ambassadors of racing. They are always gracious in giving back to the sport."Weisbord said the Lewises have had recognized success in the business, and their strategy is something that "would best propagate profitable Thoroughbred ownership for others."



Copyright © 2015 The Blood-Horse, Inc. All Rights Reserved.