Magna Hopes to Be 'Part of Constructive Solution' in New York
by Tom Precious
Date Posted: 3/11/2004 3:32:04 PM
Last Updated: 3/13/2004 1:49:54 PM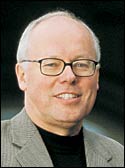 Magna president Jim McAlpine.
Photo: File

Magna Entertainment Corp., even though the New York Racing Association rejected its partnership proposal, continues to have a keen interest in New York racing, president Jim McAlpine said.The NYRA board of trustees March 10 opted not to partner with MEC. "Our board is not interested in a joint venture," chairman Barry Schwartz said just after the meeting broke up at Aqueduct. "The pitch was to join forces, to take NYRA private."Schwartz said he and MEC chairman Frank Stronach never reached the stage of talking finances.On March 11, McAlpine declined to specifically state what the company's intentions are for NYRA or its franchise. But he said MEC, as the biggest racetrack operator in North America in terms of holdings, has a keen interest in the industry's health in New York.When asked what alternatives MEC has in the wake of rejection by NYRA, McAlpine said: "There are always lots of alternatives, but our focus is to try to be constructive and to try for this to be a win, win, win, win: a win for us, a win for NYRA, a win for the state, and a win for the industry."McAlpine said "the status quo isn't good enough" in New York, though he declined to elaborate. When asked if NYRA should continue in its current form, he said: "That's not the way to look at it.""NYRA has a franchise granted by the state, and at some point, presumably that franchise has an expiration date, and the state needs to look at all the options," McAlpine said. "We'd like to be part of a constructive solution."McAlpine said MEC naturally is very interested in the New York market, but noted there are some "unique issues including the status of the NYRA franchise extension and the city of New York's ownership of New York City Off-Track Betting Corp." Earlier the week of March 8, McAlpine and Stronach, along with their lobbying team, met with members of Gov. George Pataki's senior staff as well as Assembly Speaker Sheldon Silver and Senate Majority Leader Joseph Bruno.McAlpine said the talks were "undertaken in an effort to offer some constructive suggestions for improving the current situation in New York and racing generally. Our goal is to work with the industry in New York to try to solve New York issues, and to address issues common to the national scene."When asked what Magna suggested as it relates to NYRA's franchise extension push, he said: "We're not suggesting anything specific with respect to that issue."



Copyright © 2015 The Blood-Horse, Inc. All Rights Reserved.