Ferguson, Magnier Resolve Rock Of Gibraltar Dispute
by Mark Popham
Date Posted: 3/10/2004 8:39:41 AM
Last Updated: 3/10/2004 3:00:01 PM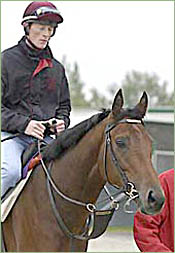 Rock of Gibraltar, at center of dispute between John Magnier and Alex Ferguson.
Photo: Anne M. Enerhardt

The protracted dispute over the ownership of stallion Rock Of Gibraltar between John Magnier, who heads one of the world's most powerful bloodstock empires in Coolmore, and Manchester United soccer manager Sir Alex Ferguson has been settled.Ferguson was given a half-share in Rock Of Gibraltar early in the horse's racing career and didn't pay toward training fees. Rock Of Gibraltar turned out to be a champion, having won a record seven consecutive group I races in Europe, and is now hot property as a stallion. The reported settlement amounts to at least £2.5 million after taxes, a lot less than the half-share of the stallion income Ferguson had asked for, but more than the original Coolmore offer."We have all decided to move on," Ferguson said. "It's over now. This has been a tough time for the families of all those involved, and I am just looking forward to getting back to normal life. While we were working this out, I spoke personally with John Magnier, and that helped. And I am glad that it has been an amicable settlement. Both parties had to compromise to get it settled, and I am satisfied."The dispute, which started last year, came very much in the public arena, particularly in recent months as Magnier put pressure on Manchester United by questioning past transfer deals and agents' involvement in them, including Ferguson's son, Jason.Dermot Desmond, a Manchester United shareholder and racehorse owner, helped resolve the dispute. The terms of the settlement haven't been disclosed, but it either amounts to a cash-up-front equivalent of four Rock Of Gibraltar nominations a year, two in the Northern Hemisphere and two in the Southern Hemisphere, or two nominations for between 12 and 20 years.Ferguson dropped the legal action he initiated last year in Ireland. Some Manchester United fans protested against Magnier and threatened disruption of the Cheltenham Festival the week of March 22 until Ferguson asked them to desist.



Copyright © 2015 The Blood-Horse, Inc. All Rights Reserved.