Sugar and Spice
by Ray Paulick
Date Posted: 3/9/2004 7:14:09 AM
Last Updated: 3/18/2004 1:44:12 PM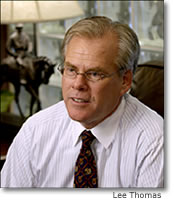 Ray Paulick
Editor-in-Chief


Tabasco Cat is a horse trainer D. Wayne Lukas will never forget. The

Storm Cat

colt, who died of an apparent heart attack while covering a mare at a Japanese stud farm on March 6, was involved in one of the lowest points of the Hall of Fame trainer's life in December 1993 when he nearly killed his son and chief assistant, Jeff. Less than six months later, that same horse pulled the Lukas stable out of a prolonged slump and began a record string of victories in Triple Crown races that may never be duplicated. The victories by Tabasco Cat in the 1994 Preakness (gr. I) and Belmont Stakes (gr. I) were looked upon by the late William T. Young as his happiest moments in racing. Winning the Kentucky Derby (gr. I) with homebred

Grindstone

two years later was more significant, Young later said, but he enjoyed Tabasco Cat's classic wins the most because they were shared with one of his dearest friends, David Reynolds. Reynolds owned the dam, Barbicue Sauce, a daughter of Sauce Boat, while Young provided the stallion nomination to Storm Cat. The happiness Tabasco Cat gave Reynolds and Young was in stark contrast to the darkness he brought into the life of Jeff Lukas on the Santa Anita Park backstretch that December morning. Tabasco Cat had broken away from his handlers at the Lukas barn and began running down a pathway. Jeff Lukas stood in his way in an attempt to flag him down, but Tabasco Cat ran over the 36-year-old Lukas, causing his head to slam against the hard ground. He spent several weeks in a coma as doctors did their best to keep him alive. After regaining consciousness and going through a lengthy rehabilitation program, Lukas briefly returned to the racetrack that summer, but he was unable to maintain the demanding pace of the job. The last 10 years have not been easy for him. At the time of the accident, Tabasco Cat was one of the few bright spots for Lukas, who was stung by criticism earlier in the year when Union City suffered a fatal injury in the Preakness. By Breeders' Cup day, it had been more than two years since Lukas had saddled a grade I winner, and Tabasco Cat--one of only two Lukas starters on the day--could do no better than finish third to Brocco at odds of 33-1 in the Juvenile (gr. I). Things were unusually quiet around an operation that was accustomed to sending out as many as four runners in one Breeders' Cup race alone. Tabasco Cat soon became a household name, but for all the wrong reasons. Lukas gathered key staff members together after the accident and told them, "It will be easy to be angry at the horse for what he did. But we have to take a positive approach with him." Lukas set the example, working tirelessly with Tabasco Cat from that point forward, taking him to the track virtually every day. "He wasn't mean," Lukas recalled, shortly after learning that Tabasco Cat had died. "He was what you might call free-spirited. He absolutely loved going to the track to train, but he was a handful." Tabasco Cat progressed under Lukas' care that winter and spring, finishing second in the Santa Anita Derby (gr. I) in his final prep before heading to Kentucky. He had starting gate troubles in the Derby and never got untracked, finishing sixth behind

Go for Gin

. Two weeks later he won the Preakness, overpowering Go for Gin in the stretch to win by three-quarters of a length. It ended a grade I drought that began in October 1991 and started Lukas' incredible string of six consecutive victories in Triple Crown races. Thunder Gulch, Timber Country, and Grindstone completed the feat. But it all began with Tabasco Cat.



Copyright © 2015 The Blood-Horse, Inc. All Rights Reserved.