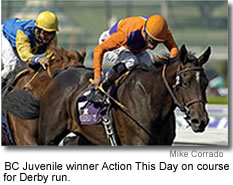 Ten of those stakes winners won graded events, including Symboli Kris S., who won his second Horse of the Year title in Japan. Five-year-old Whitmore's Conn excelled on the turf. Action This Day was joined by other 2-year-old stakes winners Tiger Hunt and Lucky Story (in England) to boost Kris S. to a runner-up finish on the 2-year-old sire list.However, it was a pair of 3-year-olds that showed the classic and stamina abilities of offspring by Kris S. Kris Kin, out of the group III-winning Angel in My Heart (Rainbow Quest -- Sweetly, by Lyphard) won the classic Epsom Derby (Eng-I) at 1 1/2 miles. In the U.S., Kicken Kris, out of stakes-placed Kicken Grass (

Jade Hunter

-- Became a Lark, by T.V. Lark), won the 1 1/2-miles Secretariat Stakes (gr. IT) and Lawrence Realization Stakes (gr. IIIT).Kris S. is by champion and classic influence Roberto. Roberto, the sire of 86 stakes winners from 500 foals has other successful sons at stud including

Dynaformer

, Silver Hawk, and

Lear Fan

. Action This Day is out of the stakes-placed mare Najecam, who was bred in Pennsylvania by the late Marshall Janny's Derry Meeting Farm. Just a basic look at her pedigree (Trempolino--Sue Warner, by Forli) suggests stamina. Trempolino, by Sharpen Up, was champion 3-year-old colt in France in 1987, based on his victory in the 1 1/2-miles Prix de l'Arc de Triomphe (Fr-I), and second-place finishes in the 1 1/2-miles French Derby (Fr-I) and Breeders' Cup Turf (gr. IT). As a broodmare sire, Trempolino is responsible for 18 stakes winners. Forli, Najecam's broodmare sire, is a classic influence in his own rite, siring 60 stakes winners from 620 foals. Sue Warner, Action This Day's second dam, was unraced, but she produced the two-time stakes-placed filly Lady Ilsley, a full sister to Najecam, and Quiet Down (by

Quiet American

), who ran third as a 2-year-old in last year's one-mile Blue Hen Stakes at Delaware Park.Those stamina influences are tempered by the brilliant speed further back in Najecam's tail-female line. Bitty Girl, Action This Day's third dam, was champion 2-year-old filly in England in 1973, winning three group stakes including the Queen Mary Stakes (Eng-II) run at Royal Ascot in June. A quick learner and top performer on the track, she was equally adept as a broodmare, producing three black-type performers including sire Beaudelaire (by Nijinsky II), whose best wins came at less than a mile. Bitty Girl, by Habitat, was a full sister to English group I-winning 2-year-old Hot Spark. As well, Bitty Girl was a half-sister to Richmond (by Royal Palm), who won two stakes in Ireland as a 2-year-old in 1961 and ran second in the National Stakes.

Sire: KRIS S., dkb/br, 1977-2002. Raced 2 yrs, 5 sts, 3 wins, $53,350. Won Bradbury S.Lifetime: 19 crops, 808 foals, 685 rnrs (85%), 515 wnrs (64%), 134 2yo wnrs (17%), 76 sw (9%), 2.46 AEI, 2.07 CI, 248 sale yrlgs, avg $171,563, 3.8 TNA.In 2003: 12 sw, 46 2yos, 11 2yo rnrs, 7 2yo wnrs, 10 sale yrlgs, avg $242,200.1st dam: Najecam, ch, 1993. Bred by Derry Meeting Farm and London Thoroughbred Services (Pa.). Raced 4 yrs, 33 sts, 6 wins, $175,243. 2nd Princess S (gr. II); 3rd San Clemente H (gr. IIT), Honeymoon H (gr. IIIT), Kenneth L. Graf Memorial H (T). Dam of 3 named foals, 3 rnrs, 2 wnrs, 1 sw. ($90,000, 1994 ftsaug yrlg; $550,000, 1998 keenov, Gulch).1999: Gold Ace, ch c, by Gulch. Raced 1 yr in Eng, 3 sts, 0 wins, $1,769. ($155,000 keesep yrlg).2000: Sicily, dkb/br f, by Kris S. Raced 1 yr in Eng, 5 sts, 1 win, $11,148. ($150,000 keesep yrlg).2001: ACTION THIS DAY, b c, by Kris S. ($150,000 keejul yrlg).At 2: Won Bessemer Trust Breeders' Cup Juvenile (gr. I).2002: Barren.2003: B f, by Dynaformer.Broodmare sire: TREMPOLINO, ch, 1984. Sire of 125 dams of 364 foals, 275 rnrs (76%), 172 wnrs (47%), 62 2yo wnrs (17%), 1.15 AEI, 1.72 CI; 18 sw.2nd dam: Sue Warner, dkb/br, 1988. Bred by Derry Meeting Farm and London Thoroughbred Services (Pa.). Unraced. Dam of Lady Ilsley (f, Trempolino; $35,845, 2nd Prix de la Cochere; 3rd Prix de Lieurey, in Fr; producer).