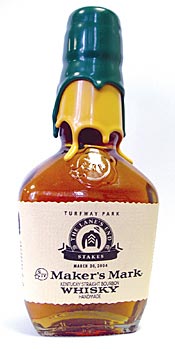 The issuance of the bottle not only celebrates the two products for which Kentucky is world-famous -- the best racehorses in the world and the finest bourbon -- but also recognizes the specific role Northern Kentucky has played in the history, prestige, and pageantry of Thoroughbred racing. Racing has been conducted in the area since 1883 and Turfway Park continues that tradition with the Lane's End Stakes.

As a prep race leading to the May 1 Kentucky Derby (gr. I), the Lane's End Stakes ranks as the most important race in the area. It annually draws top horses and some of the country's most prominent trainers looking to secure a spot in the Run for the Roses and a chance at the elusive Triple Crown.

"We are excited to be invited again by Turfway Park to participate in its spring celebration of Thoroughbred racing," said Samuels. "And we are delighted not only to add this special bottle to the race's history but also to thank our loyal customers with this one-of-a-kind presentation of Maker's Mark."

Maker's Mark will sponsor the Lane's End Stakes VIP Tent again this year, and both Samuels and Hall of Fame jockey Steve Cauthen will be on hand on race day to sign limited edition bottles that patrons bring with them (no more than two per person). The signing will take place from 10 a.m. to noon EST in Turfway's second-floor Chalk Room.

The history of Maker's Mark reaches back to 1780, when Robert Samuels settled in Kentucky. His grandson, T.W. Samuels, built the family's first commercial distillery around 1840 and developed its first bourbon. The family recipe was changed in the 1950s by Bill Samuels Sr., who purchased a tiny distillery in Happy Hollow, Kentucky, burnt the old family recipe, and set his focus on handcrafting a fine bourbon that would bring good taste and "tastes good" together for the first time in bourbon. The result was Maker's Mark, which would redefine the American whisky category and 50 years later become the world's most asked-for premium bourbon.

Lane's End Farm, a world leader in the Thoroughbred breeding and sales industry, is owned by William S. Farish, U. S. ambassador to the United Kingdom, and his wife, Sarah. In both 1992 and 1999 Farish was recognized with the Eclipse Award as the industry's outstanding breeder. The farm is located in Versailles, Ky., and runs a second operation in Hempstead, Texas.